Operation Fortune: Ruse de Guerre
2.5 Stars
Director

Cast

Rated

R

Runtime

114 min.

Release Date

03/03/2023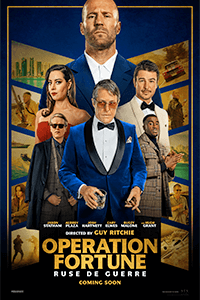 Operation Fortune: Ruse de Guerre is the unwieldy title of Guy Ritchie's latest, a spy-actioner reminiscent of his (underrated) take on The Man from U.N.C.L.E. in 2015—complete with another standout Hugh Grant performance. Using a French term meaning to deceive in war, the title sounds fancy enough until you realize that Fortune refers to Jason Statham's character, Orson Fortune. The character sounds like a hammy James Bond rip-off or a parody worthy of Jean Dujardin in the French OSS: 117 series by Michel Hazanavicius. And indeed, there's a reliable strain of comedy running through the movie, with Statham as the straight-man mercenary opposite Aubrey Plaza, Cary Elwes, Bugzy Malone, and Josh Hartnett. But refreshingly, Operation Fortune is the latest of Ritchie's straightforward productions, devoid of the whizzing edits and flashy camerawork accompanying his early breakthroughs, Lock, Stock and Two Smoking Barrels (1998) and Snatch (2000). The result is a serviceable chunk of entertainment that will probably work best with lowered expectations. 
The screenplay, credited to Ritchie and co-writers Ivan Atkinson and Marn Davies, recalls most Mission: Impossible movies—a globe-trotting spy yarn about an elite team of chummy specialists chasing down the resident MacGuffin. Here, everyone's after "The Handle," though no one quite knows what it is or what it does. But British intelligence (represented by Eddie Marsan) learns the wrong people are interested in the whatever-it-is, so they enlist the suave Nathan Jasmine (Elwes) to assemble a recovery team. Orson is the rugged point man who can seemingly do anything. But we're told he's a fusspot—a detail that might've led to some humorous eccentricities, except Ritchie introduces the notion only to show little onscreen evidence. Plaza plays Sarah Fidel, a tech whiz who can hack into anything with a few keystrokes. The British rapper Malone stars as J.J. Davies, who spends much of his time hanging back with a sniper rifle. Together, the team faces the challenge of stopping billionaire arms dealer Greg Simmonds (Grant) from selling "The Handle" to an infamous buyer. 
While hopping planes to London, Hollywood, Morocco, Madrid, Antalya, and then Doha, the mission requires Orson to enlist famous actor Danny Francesco (Hartnett). Simmonds is a devoted fan, and the Ruse de Guerre aspect requires Danny and Sarah to pose as a couple while Orson acts as the actor's manager. Once they get inside Simmonds' inner circle, they can locate the MacGuffin at his villa in Turkey. However, at every turn, a competing mercenary group led by Mike (Peter Ferdinando)—a name laughably plain next to the movie's other absurdly named characters—thwarts their plans. While the plot requires chases, shootouts, and computer hacking, there's never a grand stunt or set piece worthy of Ethan Hunt. Ritchie's ambitions aren't so lofty. Instead, the proceedings never get more entertaining than when Grant appears onscreen, continuing his recent trend of playing small but memorable roles. In character as Simmonds, his skin looks tan and leathery, he speaks in a nasally Cockney accent, and he dons oversized tinted glasses—trappings that Grant clearly enjoys wearing alongside his character's amusingly quirky yet dangerous demeanor. 
Although Ritchie spent much of the 2010s working with blockbuster-sized budgets on major studio productions (King Arthur: Legend of the Sword in 2017; Disney's Aladdin in 2019), I prefer his smaller, more intimate crime and spy movies both before and since. His last feature, Wrath of Man (2021), was among his best. Like that film, Ritchie makes excellent use of his cast in Operation Fortune. Statham shines when he's a stoic badass opposite flashier performers, and both Plaza and Hartnett fulfill that requirement nicely. Plaza plays into her persona as sarcastic and intelligent, letting her eyes do the work in a performance similar to her April Ludgate on Parks and Recreation, only sillier and more expressive. And, much like his modest but memorable part in Wrath of Man, Hartnett proves he's best as a character actor and seems to be enjoying himself in that capacity. A mid-credits scene featuring Hartnett and Grant is downright hilarious, suggesting the cast had a blast experimenting with accents and speaking their juicy criminal dialogue. 
Originally slated to open last year, Operation Fortune was reportedly delayed by the distributors due to its depiction of Ukrainian villains. After Russia invaded Ukraine, the studio doubtlessly wanted to show its support and avoid representing Ukrainians in a negative light. Even with those reasons and not the customary retooling delays, the production feels like a patchwork at times, as though Ritchie and editor James Herbert sometimes had to make ungainly cuts to meet external demands. Some of the action and transitions look clunky and far from Ritchie's usual high-energy style, and the subtitles when characters speak English but with thick accents are unnecessary. Still, Christopher Benstead's score is memorable, and the clear chemistry between everyone onscreen goes a long way to distract from the overly intricate plotting. Operation Fortune might be diverting enough on a lazy Saturday afternoon, but its light tone, familiar setup, and adequate execution won't impress. Fans of this cast, however, will enjoy watching them play.