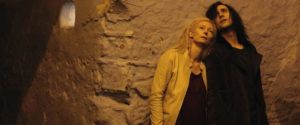 Only Lovers Left Alive
3.5 Stars
Director

Cast

Rated

R

Runtime

123 min.

Release Date

03/23/2014
Most Jim Jarmusch films are slow-moving, arty meditations that follow protagonists on the margins of society. His characters observe the strange and wonderful world, appreciate finer art and literature through engaging dialogue, and mourn the lows reached by humanity. Whether shooting in his oft-used black & white or his typically restrained color palate, the supreme arthouse independent has explored such characters since his hipster breakthrough Stranger Than Paradise in 1984. In Jarmusch's Down By Law from 1986, a trio of escaped convicts (Tom Waits, Roberto Benigni, and John Lurie) reject conformity and form a band of misfits. Johnny Depp's Cleveland accountant gets an education in the lawless Wild West in Dead Man (1995), and finds an other-worldly spirituality in the process. In Ghost Dog: The Way of the Samurai (1999), Forest Whitaker's loner hitman preaches the bushido code to a child, and a mobster dishes Public Enemy rhymes. Similar characters inhabit Only Lovers Left Alive, another Jarmusch film about outsiders looking in and around and everywhere in-between.
Those familiar with the subcultural writer-director's output may not believe it, but Only Lovers Left Alive is also a vampire film. Stranger still, this meditative look at love and art appreciation for immortals also feels vaguely autobiographical. Now 61, the indie filmmaker no doubt feels like a vampire—Jarmusch is cut off from the doggedly commercial film industry. Having worked with and modeled his career on the likes of Samuel Fuller and Nicholas Ray, he looks back at history and the history of great art, and, seeing that few in younger generations regard history through such a lens, he can only lament the state of the world. But rather than a superficial rift on the post-Twilight moviegoer obsessed with fanged creatures of the night, Only Lovers Left Alive uses vampirism as a metaphor for his long-honored discussion of artistic and cultural reflection. And, surprisingly, there's nothing that feels gimmicky or mainstream about the picture, despite some vamp-winks at the audience—including a blood popsicle and ultra-fast vampire movements. The vampire protagonists may as well be aged bohemians who've developed an exceptionally sophisticated taste for the arts.
A nocturnal mood piece, Jarmusch's film is actually a romance centered on Adam (Tom Hiddleston) and Eve (Tilda Swinton), although any relation to the Biblical pair remains uncertain, but not impossible. Married for centuries and still sorely in love, the two can spend years apart and it feels like nothing more than a separate vacation. He's holed-up in an old abandoned house in Detroit, making ethereal ambient rock-n-roll, listening to vintage vinyl, collecting classic guitars, and tinkering with Tesla-grade electricity—pointedly advanced. His only contact is the "zombie" (the vampire term for humans) Ian (Anton Yelchin), Adam's gopher who worships him as an indie-rock god and sells his music anonymously on the underground music scene. Meanwhile, Eve is in Tangiers with their longtime friend Christopher Marlowe (John Hurt), who's been long harboring his secret authorship of Shakespeare's oeuvre. After checking in with Adam and finding him borderline suicidal, Eve decides to rejoin her husband, and once together, they're like newlyweds again. Indeed, their relationship is aptly compared to particles in Einstein's theory of entanglement.
Both Adam and Eve look like alternative types, their hair long and unkempt, their styles suited to their respective Yin and Yang looks of black and white, an unsubtle visual metaphor. And when they're not reminiscing about their various encounters with the likes of Schubert and Lord Byron over the years, they sleep entangled into the night (their day), or orgasmically drink blood from their supply, provided by a doctor at the local hospital (Jeffrey Wright). One might consider their need for blood something like drug addiction, but this life-giving and necessary habit is restrained by their belief that killing isn't "modern", a refreshing sentiment not shared by all of their kind. (However, the film never loses itself in exploring vampire mythology in too much detail.) Take Eve's sister Ava (Mia Wasikowska): she's a killer, an impetuous and annoying sort about whom Adam and Eve have foreboding dreams. Her presence, although comical and frustrating as uninvited guests can be, signals the only aspect of Only Lovers Left Alive that might constitute a plot; but her appearance is a just catalyst for a shift in the central relationship, sending Adam and Eve from Detroit back to Tangiers together.
After settling into the unhurried reflections of Adam and Eve, the mellow film carries on with a pacing that's both bewitching and quietly absorbing, with brief moments of humor and irony embedded into the proceedings. Hiddleston brings sad humanity to Adam, whereas Swinton's unique skeletal structure makes her brief moments of ferocity all the more intimidating, her presence at once oddly sexy and unnerving. Together, these two are incredibly fascinating and represent the most interesting vampires onscreen since last year's Byzantium, another intricate vampire film by an artist-director. Ultimately, Only Lovers Left Alive is like falling into an infectious rhythm where each day is spent appreciating great music and literature with a lover. Eve tells Adam not to dwell on humanity's flaws, to find solace in "nature, kindness, and dancing," and the two manage to be utterly content with one another, without the need of anyone else. A certain kind of viewer will find the material boring and impenetrable and plotless, whereas another kind, probably those familiar with Jarmusch or arthouse cinema in general, will find it to be the most achingly romantic film they've seen in recent memory. After all, what could be more romantic than spending every day appreciating your mutual passions with the one you love?