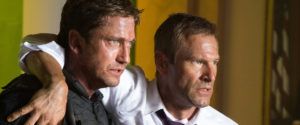 Olympus Has Fallen
1.5 Stars
Director

Cast

Gerard Butler

,

Aaron Eckhart

,

Morgan Freeman

,

Rick Yune

,

Angela Bassett

,

Melissa Leo

,

Radha Mitchell

,

Dylan McDermott

,

Ashley Judd

Rated

R

Runtime

120 min.

Release Date

03/22/2013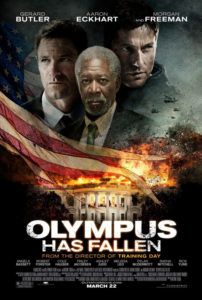 When the White House falls, and the President is held for ransom by a North Korean terrorist named Kang, former Secret Service hero Mike Banning tells the terrorist leader that, when it's all over, he's going to put his knife in Kang's brain. By the final bout, after a long series of bloody deaths and destruction on and inside the White House property, Banning keeps his promise and stabs Kang in the brain. That's just the kind of movie you're getting with Olympus Has Fallen, a setup crossed between Die Hard and Air Force One, but with copious buckets of blood splattered onto the proceedings. From director Antoine Fuqua, who's still coasting on his accolades from Training Day despite following it up with two duds (Shooter and Brooklyn's Finest), this actioner is corny and overwrought, and it might fall into the so-bad-it's-good category if it wasn't such a criminal waste of talented actors.
After losing the First Lady (Ashley Judd) in a car accident, shunned Special Agent Banning (Gerard Butler) is reassigned elsewhere because his presence is too hard for the surviving President (Aaron Eckhart) to bear. But Banning quickly becomes America's only hope when Kang (Rick Yune) launches a merciless assault on Washington D.C. with dozens of North Korean soldiers making quick work of White House defenses. During the initial attack, the terrorists emasculate the country's capital by destroying the Washington Monument; and if that wasn't enough, American flags receive no end of punishment from bullets and fire. That's how we know it's serious, as if the dozens of dead bodies didn't tell us already. With Kang and his crew locked inside an underground White House bunker with the President and his cabinet as their prisoners, Speaker of the House Trumbull (Morgan Freeman) is temporarily promoted to 'Acting President' and faces some hard decisions: let Banning single-handedly take down some forty terrorists, or send in a military team to wipe out the threat. As Trumbull mulls over his decision, red digital meters count down to the deadly moment when Kang is granted access to America's nuclear weapons.
Had Trumbull made a different decision and chose not to allow Banning to play out this Die Hard scenario, not only wouldn't there have been a movie but the audience would have been spared Butler's inane radio banter with Kang—a far less interesting villain than the Alan-Rickman-opposite-Bruce-Willis dynamic. At one point, with all seriousness, Banning utters into a radio, "Let's play a game, Kang. It's called 'Fuck Off"… You go first." Screenwriters Creighton Rothenberger and Katrin Benedikt apply thick layers of cheese product onto this patriotically-themed action cracker, and perhaps if Fuqua hadn't tried to elevate the proceedings with faux gravitas, it might've been a cracker worth eating. Instead, throughout the movie, Fuqua is careful to remind his audience that America is in grave danger when he cuts to a tattered flag. He also cuts to a lot of newscasters who outline the stakes for those incapable of following an action-movie plotline. Meanwhile, much time is spent with Banning slaying bad guys one by one, while politicians in the Pentagon remain incapable of controlling the situation.
Almost instantly, we wonder why Gerard Butler is the smartest character onscreen in a film boasting the likes of Aaron Eckhart and Morgan Freeman's caliber. Also making appearances are Angela Bassett as a Secret Service Director, Oscar-winner Melissa Leo as the Secretary of Defense, Radha Mitchell as Banning's estranged wife, Robert Forster as a trigger-happy General, and Dylan McDermott as a shifty-eyed former Secret Service agent. Most of their characters seem brighter than Banning, but their body count is much less, and that's what matters here based on the high number of dead onscreen. Butler, who also co-produced the movie, drags the material down with his swagger and macho-ness, giving Banning an unlikely stubble-faced badass look, as opposed to that of a clean-cut soldier-turned-Presidential guard appearance one might expect. Moreover, the credibility of the rest of the cast outweighs the Scottish star, whose appearances in junk like The Bounty Hunter and The Ugly Truth far outnumber his rare gems like Coriolanus and RocknRolla.
Olympus Has Fallen would've made a better Die Hard movie than the most recent sequel in that franchise, A Good Day to Die Hard, but as a stand-alone action movie attempting to elicit any real feelings of patriotism, it's unintentionally funny. The error resides somewhere between the sense of importance in Fuqua's direction and the low-brow hammy quality of both Bulter's acting and the script. Tone down the bloodshed and curb Butler's chummy hero routine, and you have a serviceable thriller. Dump the futile attempts at emotion and underline the story's silliness, and you have a watchable B-grade action movie. These qualities never synchronize, and the movie proves to be a tonal mess. But if Hollywood has taught us anything in the last six months, it's that North Korea doesn't stand a chance in an open conflict with America—a lesson learned both on Olympus Has Fallen and last year's remake Red Dawn as well. What's more, these movies have taught us that it takes only a handful of Americans, sometimes just one, to take down an entire invading country.