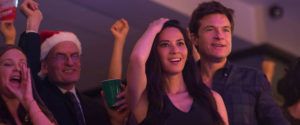 Office Christmas Party
2.5 Stars
Director

Cast

Jason Bateman

,

Olivia Munn

,

T.J. Miller

,

Jillian Bell

,

Courtney B. Vance

,

Kate McKinnon

,

Randall Park

,

Vanessa Bayer

,

Jennifer Aniston

Rated

R

Runtime

105 min.

Release Date

12/09/2016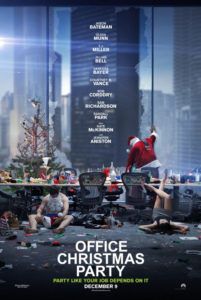 Hollywood comedies often take an ensemble of funny people and allow them to riff dialogue around a thinly outlined plot, thinking the approach will make for a lot of laughs, thus a good movie. Popularized by the frat pack (Will Ferrell, Ben Stiller, Vince Vaughn, Owen Wilson, etc.) in titles like Old School and The Wedding Crashers, this method permeates in comedies that overstuff their casts with familiar faces, assuming the outtakes running over the end credits would be enough to sell tickets. Sure enough, tickets are sold, audiences laugh, and the technique validates itself in the eyes of studios and filmmakers. But no matter how loudly we laugh at the film, if the material doesn't resonate and fails to retain a place in our memory banks beyond a few moments after seeing it, then it isn't necessarily a good movie.
Office Christmas Party comes from co-directors Josh Gordon and Will Speck, best known for Blades of Glory and The Switch, if you remember those. Along with three credited writers, the movie's behind-the-camera talent seems versed in those funny but forgettable comedies you won't think about until you see one of them appear streaming on Netflix and say to yourself, "Oh yeah, that." The premise bears questionable similarities to a two-year-old Saturday Night Live sketch from when Amy Adams hosted, in which a dull office party receives an injection of alcohol, two live DJs, and Christmas-colored lights. And much like every SNL sketch ever, the movie doesn't know when to end.
When Carol (Jennifer Aniston), the Scrooged CEO of the tech firm Zenotek, threatens to downsize or even shut down the Chicago branch, her well-meaning brother Clay (T.J. Miller) promises to land a crucial deal before Christmas to save jobs. Along with his corporate cohort Josh (Jason Bateman, in his dry straight-man routine), and Josh's techie "work wife" Tracey (Olivia Munn, once again confirming herself as Goddess of the Nerds), Clay tries to impress a huge client (represented by Courtney B. Vance) by throwing an epic Christmas party—which Carol has forbidden. Complete with live reindeer, loud music, and a cash wind tunnel booth, the evening's impromptu office shindig quickly gets wild with excess, especially after someone replaces the snow machine's fake flakes with cocaine.
Much of the movie involves watching stuffy coworkers lose their inhibitions. Resident HR rep (Kate McKinnon, basically doing her Hilary Clinton impression) tries to quash the festivities, but she soon finds herself onstage singing along with DJ Kool's "Let Me Clear My Throat." Josh and Tracey flirt with a long overdue romance. A seemingly reserved guy (Randall Park) exposes his mommy fetish to the office caretaker (Vanessa Bayer). And so on. The trouble occurs when office dweeb Nate (Karan Soni) hires an escort (Abbey Lee) to pose as his girlfriend and impress his coworkers, but her pimp, Trina (Jillian Bell), decides to kidnap Clay for the $300,000 in cash he's reserved for year-end bonuses. Meanwhile, Carol catches the party in full swing and proclaims the branch will be shut down. Could Tracey's new airborne internet solution possibly save Christmas and Zenotek in the process? Probably.
The story and humor are both very predictable, but you'll laugh a lot along the way. The amiable cast delivers a few memorable lines, such as Aniston's F-U to a child or one couple's iPad-parenting technique. I particularly enjoyed Miller's brand of improvisational delivery (carried over from HBO's Silicon Valley) and his line about why he doesn't need a winter coat: "I just put on fifty pounds every winter by eating," he says, a fresh-baked pretzel in each hand. In typical, broad comedy fashion, the movie ends with several beat-the-dead-horse callbacks to earlier jokes, as well as the obligatory credits outtakes. But there's no substance to the characters or situations; it's an extended sketch. To be sure, Office Christmas Party looks like one of those comedies that was more fun to make than it is to watch. Everyone onscreen appears to be having a blast. But much like last year's Christmas revelry comedy, The Night Before, you will probably forget about this title come next year when you're assembling a watchlist of holiday favorites.