Director

Cast

Rated

Runtime

122 min.

Release Date

01/16/2009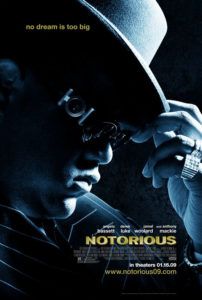 Biopics created in the fashion of George Tillman Jr.'s Notorious, which no one should have any trouble differentiating from Alfred Hitchcock's 1946 masterpiece of the same name, follow a standard formula that's tired and ready for a long sleep. You know the score: Burgeoning star rises from out of the ashes to achieve greatness with success and money and drugs and sex, only to lose it all in some catastrophic form or another. If there's another way of telling the story, I'd like to see it, because Hollywood has tapped this vein one too many times.
Produced in part by Sean Combs and Violetta Wallace, the latter the Jamaican immigrant mother of the late Christopher Wallace—better known as Notorious B.I.G., Biggie Smalls, and Big Poppa—the film takes an overly sympathetic eye to its topic. Presented is a subjectively, jealously compassionate argument versus an unbiased account. Dismissing all the unfortunate truths about the former gangsta rapper, the movie features Wallace narrating his life from the grave, explaining away his less redeemable qualities to make way for an ending wrought with aggrandized absolution and theatrical epiphany.
However melodramatic the biography formula may make Wallace's life out to be, there's an effective tragedy at work, like an engine propelling the young man into stardom and ultimately to his own infamous murder. In true biopic style, the first scene shows us Wallace's death in 1997 as he drove away from Petersen Automotive Museum in Los Angeles. But rather than probe into who killed Biggie and why, the film acknowledges simply that it happened, leaving the mystery to more daring-if-overzealous filmmakers like Nick Broomfield and his confrontational 2002 documentary Biggie and Tupac.
Moving back to Wallace's childhood, Tillman and his writers (Reggie Rock Bythewood and  Cheo Hodari Coker) focus on a chubby youth whose eyes flash dollar signs when he sees the potential bling dealing crack will bring him. After justifying sales to a pregnant woman because he's such an entrepreneur (oh, but it's okay, since the movie shows us later that she and her child survived intact), Wallace spends time in prison, gets out and decides to focus on a rap career, and makes ties with up-and-coming mogul Sean "Puffy" Combs (Derek Luke).
His success is met by all-too-common musician life-story tropes, as the business, at least in its Hollywoodized depictions, always contaminates its players by way of women or drugs or some other form of abuse. Accordingly, there are plenty of sweaty sex scenes and arguments about womanizing. Wallace's conquests range from his Brooklyn sweetheart Jan (Julia Pace Mitchell), his own discovery Lil' Kim (Naturi Naughton), and his wife Faith Evans (Antonique Smith). Luckily, Wallace is played with considerable humor and presence by inexperienced actor Jamal Woolard, himself a rapper called "Gravy", allowing for an impressive amount of audience sympathy through his impersonation. He's able to coax us into forgiving his transgressions and infidelities, almost as well as he convinces those women.
The final day of Wallace's life is represented as glimmering with a polish of sophisticated retrospection. The hero rapper finally resolves all disputes with his fiery women, finally becomes a respectable and responsible father, and finally reaches the epiphany of becoming a man. And of course, this is the day he dies. Absolving him of any responsibility, these transparent scenes are blatantly manipulative and indeed shameful.
The legacy of B.I.G. resides in his significant contributions to hip-hop, which contains as many successes in his posthumous career as his living one. Always happily dancing the line between "true" statements about street life and utter embellishment, the rapper is shown as the medium's enthusiastic accomplice, but he's also shown as its greatest casualty. Biggie and fellow "thug life" progenitor Tupac Shakur (Anthony Mackie) are revealed as mere victims to the whole East Side and West Side battle, for which the media gets the blame.
Notorious spins a myth that portends to be a docudrama, which is a little insulting when there's so much more informative and enlightening material out there on the rapper, his life, and especially the circumstances of his death. Attempting to be as seductive and telling as the output of its rapper-subject, Tillman's well-made film may serve apologists a welcomed product ripe with glorification, but doesn't bother suggesting that audiences should come to their own conclusions.