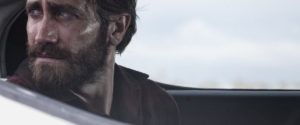 Nocturnal Animals
3.5 Stars
Director

Cast

Amy Adams

,

Jake Gyllenhaal

,

Michael Shannon

,

Aaron Taylor-Johnson

,

Isla Fisher

,

Laura Linney

,

Andrea Riseborough

,

Michael Sheen

Rated

R

Runtime

117 min.

Release Date

11/30/2016
Tom Ford's Nocturnal Animals confronts his audience with a series of parallels. From the film's structure that balances visceral pulp with a reflective character drama to the presentation's duality of coarse and formally inventive visual styles, Ford's sophomore effort showcases a confident filmmaker willing to engage in challenging material. Serving as both a work of considerable drama and also a gut-wrenching thriller, the film's aesthetic and narrative interplays prove to be both beautiful and ugly, fascinating and repulsive, and laden with symbolism throughout. From the opening credits where nude obese women, garbed only in an American crown, wave sparklers and perform a burlesque dance before a crimson red curtain, the film calls attention to itself. And while it might be tempting to label Ford's work as pretentious, that would be far too simple a description for such a multilayered film.
Ford typically uses exposed flesh to grab his audience's attention; just look at his many campaigns as a designer for Gucci and Yves Saint Laurent. But after his equally elegant and garish credits sequence, Nocturnal Animals settles into an adaptation of Austin Wright's novel Tony and Susan from 1993. Unlike Ford's debut, A Single Man from 2009, this feature is less concerned about surfaces and style than the reasons and substance behind them. He tells two interwoven stories, one of which spends a lot of screentime split between the present day and flashbacks, while the other is fictional. The film's structure may be nonlinear, but Ford gradually establishes a rhythm to how these storylines function alongside one another, and the viewer settles in for a corrosive and ultimately devastating experience.
The film opens with the Los Angeles art scene, a pretentious lot of over-styled, perfectly formed specimens of self-involvement. Susan (Amy Adams), a curator and failed artist, endures a cold marriage alongside her philandering trophy husband (Armie Hammer), her second. Sleepless as her perceived success crumbles around her, she receives some comfort from her more successful friends, among them the drippy socialite Alessia (Andrea Riseborough) and her gay husband Carlos (Michael Sheen). "Believe me," says Carlos, "our world is a lot less painful than the real world." Not all fantasy is so contented, however, as Susan receives a package from her ex, Edward (Jake Gyllenhaal), containing a manuscript for his novel, which he has dedicated to Susan. Susan reads the book—titled "Nocturnal Animals" after his former nickname for her—with renewed interest in her past, a more hopeful and promising time in her life.
Cross-cutting into the book-within-a-film, Nocturnal Animals takes a more engrossing turn into Edward's seedy Texas noir novel. The story involves a man named Tony (also Gyllenhaal) who drives his wife (Isla Fisher) and teen daughter (Ellie Bamber) across West Texas overnight. A threesome of rednecks begins a series of tailgating road wars that leads to both parties on the side of the highway. The toughest of the hillbilly toughs (Aaron Taylor-Johnson) clearly has his sights on Tony's wife and daughter, and over the course of the evening he carries out a horrifying crime with the help of his two cohorts. Over the next year or so, Tony teams up with cowboy detective Bobby Andes (Michael Shannon) to see justice done, whether it's by the book or not.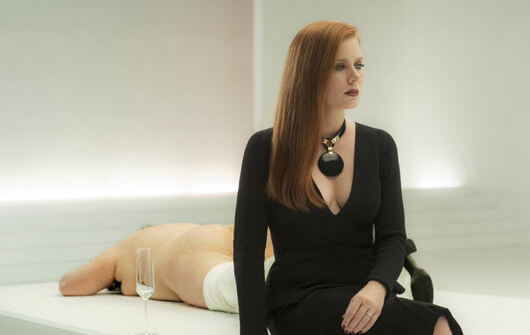 Though the film alternates between reality and fiction, it also bounces between past and present, before and after. Susan's sleepless nights reading are interrupted by early memories of her marriage to Edward nearly twenty years ago. We see a different version of Susan in these scenes, then an optimistic and lively grad student determined to remove herself from the comfortable, "bourgeois" lifestyle relished by her wealthy, rather abominable Texas elite mother (Laura Linney). Back then, Edward was a fledgling writer invigorated by Susan's potential future as an artist. But over time, Susan begins to yearn for a comfortable, "organized" life filled with goal-oriented results—hardly the life for two creatives. As the film reveals more about the progression and disintegration of Susan and Edward, the connections between their marriage and Edward's book become achingly clear, as do the reasons for Susan's current status as an icy, unhappy vampire.
Ford's direction, alongside editor Joan Sobel and his cinematographer Seamus McGarvey, keeps the three timelines separate but intuitively interwoven. Carefully manicured scenes in the sterile L.A. art studios recall the first part of David Lynch's Lost Highway, meticulously restrained and intentionally over-stylized, while the sprawling Texas landscapes seem dodgier, like something out of Lynch's Wild at Heart. A studied film buff, Ford uses his obvious knowledge of other filmmakers and aestheticizes his timelines, but he's not so self-serious as to avoid some humor. Once again taking a cue from Lynch, there's an intentional camp value to Linney's scene, as her caked-on makeup and pearls remind us of Diane Ladd in Wild at Heart, whereas Shannon's dry matter-of-factness is a hoot. Beyond his obvious eye for colors and composition in nearly every scene, Ford develops intricate characters, helping Adams create a monumental performance (her second in 2016, after Arrival). Gyllenhaal, Shannon, and Taylor-Johnson are all incredibly effective as well.
Ford adopts the aforementioned style of Lynch, but also a wonderfully melodramatic, Sirkian edge in the present-day scenes. Elsewhere, the director evokes Hitchcock when the hypnotic score by Abel Korzeniowski seems to channel Bernard Herrmann. For all his stylistic influence and homage, Ford maintains the structural balancing act of Nocturnal Animals quite well, only faltering because Susan remains a passive protagonist whose conflict exists only in her mind. Although the final, terrifically acted scene completes the existential journey of the film, upon reflection Nocturnal Animals is really about Susan reading a book and thinking about her life, while nothing much actually happens. That's both the genius and somewhat disappointing reality of this film. From this, it might be tempting to describe Ford's efforts as the empty work of a formalist, except the film's emotions remain profound, unnerving, and at times downright spellbinding.