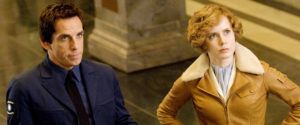 Night at the Museum: Battle of the Smithsonian
1 Star
Director

Cast

Ben Stiller

,

Amy Adams

,

Owen Wilson

,

Hank Azaria

,

Christopher Guest

,

Alain Chabat

,

Robin Williams

,

Steve Coogan

,

Jon Bernthal

Rated

PG

Runtime

105 min.

Release Date

05/22/2009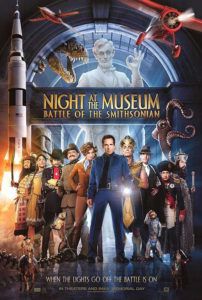 Night at the Museum: Battle of the Smithsonian is one of those summer family movies that's less for the family and more for the children. Adults tolerate the pitifully bland storytelling because the youngsters seem to be having an okay time and the product is relatively inoffensive. Children come away having learned more about pop-culture references than about history. And though brimming with computer special effects and celebrity cameos, the movie's marvels are hardly impressive, given that they've recycled everything from the first and just added a couple new features for good measure.
Get to the museum already! That's what you're saying to yourself through the first nail-pulling fifteen minutes. Except, when the movie gets there, things don't improve much. They just get a lot stupider. Larry Daley (Ben Stiller), now a successful infomercial inventor of Glow-in-the-Dark Flashlights, once again finds himself as the night watchman presiding over lively museum exhibits. When the New York Natural History Museum pieces are transferred to the Smithsonian, he realizes the mystical Egyptian tablet that allows the statues and dioramas to come alive at night went with them. So to Washington he goes not only to wrangle up his old friends, but to fend off a new cavalcade of feisty historical figures. Should I even bother describing more of the plot further? Would it matter if I told you Hank Azaria plays a snooty would-be Pharaoh determined to regain his tablet and unleash an undead army? It doesn't matter much to the filmmakers, so it shouldn't matter much to you.
All you need to know is plenty of celebrities, special effects, and not-so-impressive costumes make up famous figures from history. These range from Ivan the Terrible (Christopher Guest) to General Custer (Bill Hader) to an animated version of Edward Hopper's painting Nighthawks. And Amy Adams makes an energetic appearance as Amelia Earhart, giving her bubbly best, despite being much, much better than the material provided her. More involved in its pointless cameos than telling a story, the movie offers familiar faces doing very unfunny things. Robin Williams once again plays Teddy Roosevelt; Owen Wilson returns as a rambunctious cowboy; Steve Coogan is the Roman soldier Octavius. Indeed, this review could mostly consist of lists of comedians and their corresponding roles. Unfortunately, despite all the comedic backers of this project, there's very little to laugh at. The humor is based in that painfully unfunny sarcastic confusion, where no one seems to understand what anyone is saying. They respond with sardonic comments on top of half-finished sentences, and enough "Oh, really? Really? Okay… Uh, no. Nope. I don't think so"-type moments inserted into the dialogue to inspire viewer walk-outs.
Like the first Night at the Museum, there's no semblance of history incorporated into the story; Shawn Levy's lackluster direction once again blows that possibility. We might've learned some minute history lesson beyond the standard born-lived-died summaries, but the filmmakers aren't concerned in the slightest about communicating historical facts, even though the picture takes place in one of the most comprehensive museums in the world. They'd rather plug Motorola cell phones and discuss pop-culture. And how is it these historical figures are so hip to pop-culture references, anyway? Floating cupid statues sing "Lovebug" by the Jonas Brothers. Einstein bobbleheads enjoy KC & the Sunshine Band. Everyone in the audience becomes a little dumber in the process.
Night at the Museum 2 went into production because its predecessor made more than $250 million at the box-office. Every aspect of this movie says so. The script feels like random ideas strung together. Stiller sleeps through his performance. The effects crew works toward overkill and does their job with a vengeance. Children might find the result diverting, in a bland, elementary-school-history-come-to-life sort of way. But the rest of us squirm in our seats, check our watches, or perhaps take a nap. Or all of the above.