Director

Cast

Naian Gonzalez Norvind

,

Diego Boneta

,

Mónica Del Carmen

,

Fernando Cuautle

,

Darío Yazbek

,

Eligio Meléndez

Rated

R

Runtime

88 min.

Release Date

05/21/2021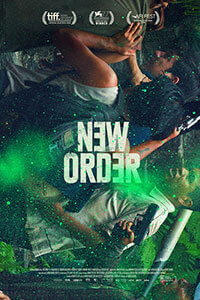 Mexican filmmaker Michel Franco opens New Order with a montage of stark, fragmentary images. They preview some of the violence and terror that will unfold in the course of this 88-minute film, which feels achingly long given what occurs. Green paint splashes against a window as a bride tries on her wedding gown. Protestors toss furniture into a pile on the ground. A woman stands naked in a square. Water tinted green overflows down some stairs. The sequence lasts just a few seconds, but already our brains have been trained to fear green paint. It means danger. When the color appears in a water faucet inside a home later, it puts us on high alert. Franco's tricky way of implanting dread, coupled with his story's focus, positions the viewer on the side of a wealthy family caught in a coup d'etat by faceless anti-government revolutionaries taking out their collective rage on the elitist class that has oppressed them. 
The film begins on the wedding day of a high-society couple. Not far away, gunfire and rioting spill over into the streets. But the bride, Marianne (Naian González Norvind), attends to guests in her parents' walled Mexico City home that recalls the house from Bong Joon-ho's Parasite (2019). While she and her well-to-do fiancé mingle, Rolando (Eligio Meléndez), a retired former employee, visits the house to ask for money. The chaos outside has left his ailing wife turned out of her hospital bed. She needs heart surgery, and he cannot afford the cost of a private clinic. Rolando first speaks to Marianne's mother (Lisa Owen), then her brother (Diego Boneta), and both seem put out by the timing and nature of his request. But Marianne hears Rolando's situation and quickly arranges to leave her wedding to bring the clinic her credit card. On the way, she's nabbed by a warped group of military personnel. Meanwhile, back at the house, protesters scale the walls and begin looting everything and shooting everyone. 
In a scarily abrupt shift from moneyed contentment to social unrest, New Order charts the collapse of this society with chilling detail, capturing both the frenzy in the streets and the martial law that follows. Marianne finds herself the victim of a horrific blackmail scheme, along with a cage full of other prisoners. Most of the characters we've come to know end up dead. At one point, Franco cuts from a mass rape to a mass funeral. To be sure, the film is not for the easily shaken—it has a disquieting, uncomfortable veracity that makes you want to look away, walk out of the theater, or shut off your television (take your pick). Franco's choice to spend much of his time with a privileged family should not indicate his sympathies, however. After all, Michael Haneke's body of work critiques his central bourgeois characters in films such as Caché (2005) and Happy End (2017). If there's a culprit, blame the whole damn country, as Franco evidently does by lingering on the Mexican flag in a few shots.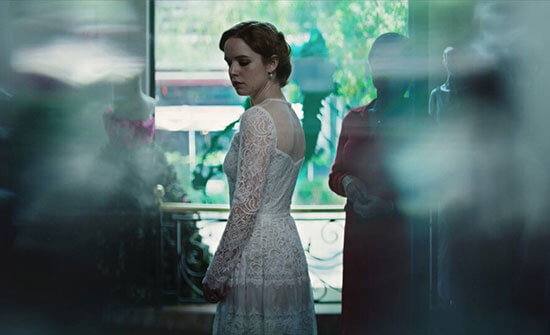 Film writers have written at length about New Order as an investigation into class warfare, racial and economic divides, and political insurrection. Some take offense to its perceived statements and representational choices; others question if Franco has anything to say at all. He's made an in-your-face film that isn't easily ignored, though it should be admired for its sheer formal confidence. But like many provocateurs, from Gaspar Noé (Irreversible, 2002) to Lars von Trier (Antichrist, 2009), Franco invites viewers to find meaning for themselves. The degree to which a provocateur impregnates the material with clues and readable passages often determines whether or not the audience will find it a meaningful and valuable experience. Many have watched New Order and asked, Yeah, so, what's the point?—only to determine that there was no point. 
While watching the film, I found myself less concerned with the oppositional divisions—wealthy and poor, Indigenous and White Mexicans of European descent—and the generalizations they perpetuate. Instead, I was drawn to Cristian (Fernando Cuautle) and Marta (Monica del Carmen), a driver and a housekeeper in Marianne's home. They remain on the periphery until the film's last third. They're not involved in the insurgency or participating in the riots, and they're not blindly devoted to their employers either. But, eventually, Marianne's kidnappers enlist them to serve as go-betweens to communicate with her family and carry the ransom across dangerous checkpoints. If New Order has any point at all, I expect it concerns how ordinary people not strictly devoted to any ideology become the collateral damage in an escalating culture war. In simplistic terms, the film's elites could be accused of exploiting and oppressing the poor; the rebels could be accused of violence that leaves innocent victims in its wake. But Franco isn't pointing his finger at any one group; he's giving the finger to just about everyone. 
New Order is a nightmare scenario, underlined when a guard declares, "Welcome to hell, assholes!" Franco depicts hell as humanity unhinged, acting according to impulse, opportunism, and cruel gratification under the auspices of sociopolitical change. The brutality on display looks like something from Capital Riot videos only heightened to dystopian extremes, especially after the initial violence calms and Franco shows us soldiers overseeing church services and traveling limited to two-hour windows. Cinematographer Yves Cape shoots it all with clarity and kinetic energy, recalling Costa-Govras' work on Z (1969), and the film's urgent visuals will undoubtedly incite a response. You may question what it all means, including the choices Franco made, and why, but it will not be a passive experience. When so much of today's cinema comes with a shrug of familiarity, New Order feels like something you cannot ignore.