Director

Cast

Odessa Young

,

Josh O'Connor

, ,

Patsy Ferran

,

Emma D'Arcy

,

with Glenda Jackson

,

Olivia Colman

,

Colin Firth

Rated

R

Runtime

110 min.

Release Date

03/25/2022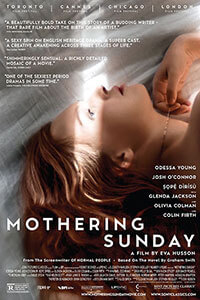 Don't be fooled by the marketing for Mothering Sunday. At first glance, you might imagine another of Julian Fellowes' upstairs-downstairs dramas, such as Gosford Park (2000) or Downton Abbey (2010-2015). Indeed, set predominantly in 1924, the film looks like another in a long line of British productions about the demarcations between classes, albeit from the perspective of a servant. Much of it takes place on palatial estates, some of which served as the shooting locations of more conventional stories. However, despite the familiar scenery, the film explores how a maid experiences individual, artistic, and sexual awakenings through passion and loss. Based on the 2016 novella by Graham Swift, the nonlinear film leaps through time in a patchwork of images that eventually form a full impressionistic portrait of an author's emergence. The third feature by Eva Husson—the French director of Bang Gang (2015) and Girls of the Sun (2018)—it's a film about how this particular Mother's Day gives birth to identity, romance, lust, heartbreak, loss, and creative ambition.  
Odessa Young delivers a marvelous performance as Jane Fairchild, a maid to Godfrey (Colin Firth) and Clarrie Niven (Olivia Colman), a pair of well-to-dos shattered by the loss of their children to World War I. Given the titular holiday to herself, Jane bikes to meet in secret with Paul (Josh O'Connor), an aspiring young lawyer with whom she's having an affair. They spend the afternoon making love and talking. Paul calls Jane his "true friend," a remark that emphasizes the degree of social expectation that robs the upper class of being individuals—punctuated by Paul's impending marriage to another of his class. Elsewhere, Husson intercuts scenes of Jane sometime later, living the bohemian life with Donald (Ṣọpẹ́ Dìrísù), a philosophy writer, and working on a book about her experiences. She loses herself in those memories and translates them into autofiction.  
Mothering Sunday distinguishes itself from the usual British period piece with the first shots. Dreamy, off-center imagery captured by cinematographer Jamie Ramsay underscores the film's theme of looking from a unique perspective, both social and temporal. Throughout, Husson and Ramsay offer extreme close-ups of objects, flowers, books, mouths speaking, horse legs galloping, and naked bodies in an evocative structure. Editor Emilie Orsini creates a dissonant arrangement that interrupts the story's progression with momentary glimpses of, say, the much older Jane (Glenda Jackson) sitting at a typewriter. Then, the film shows us Young sitting at the same typewriter or scribbling words on a notepad. Elsewhere, working as a maid, Jane's evident interest in words signals her future passion. And while initially the editing might seem formless and distractingly interruptive, Husson's look at the formation of an artist feels like a visual nebula coming together from disparate particles in space and time.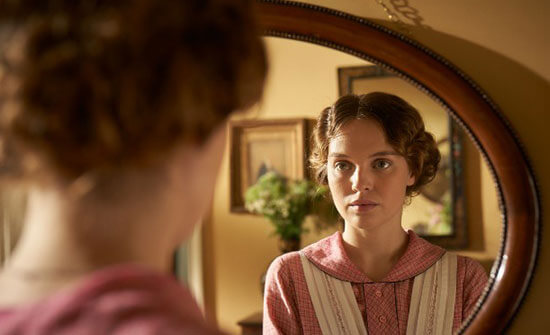 Alice Birch's script remains ambiguous about whether what we see represents Jane's remembrances or a mental projection of her fiction. Maybe the entire film takes place on Jane's page, and the only real-life Jane is Jackson's brief appearance. That uncertainty makes Mothering Sunday more complex than it might seem. The aesthetic echoes the film's interest in memory, and the ethereal way creative desire and personal inspiration amass in the artist's mind. Along similar lines, Husson's direction dwells on the sensual and experiential, shooting from both the filmmaker's point of view and Jane's memory's. Given all this, the audience feels their way through Mothering Sunday's more reflective moments: scenes drenched in sunlight; Jane alone and exploring Paul's home with frank and shameless nudity; and achingly intimate moments that resist cliché, such as Jane removing her diaphragm to smell the residue of her lover. It's not always a cohesive technique, but then memory is hardly reliable or consistent.  
And so, there's no evidence of a rigid, preplanned conceptual structure to Mothering Sunday. It's a film that Husson and Orsini appear to have found in the edit, trying to evoke the ungraspable quality of memory and artistry. Watch the first date scene between Jane and Donald, and how what might've been a simple two-shot becomes an array of angles, almost distractingly so. Regardless, the performances throughout create an emotional anchor. Firth and Colman, with limited screen time, give familiar performances of aching restraint and inwardness that feel tragic and perfect. O'Connor and Dìrísù also give their characters dimension with relatively few scenes, though they are far more expressive and open. Of course, Young is exceptional here—a breakthrough, really. She transforms from a servant and orphan, an "occupational observer of life" who is "comprehensively bereaved," and therefore a permanent outsider, and she makes that damage a strength. It's a performance that walks the line between wounded and empowered.  
Husson's restrained and lyrical treatment of the material proves effective, if literary, and occasionally jarring for its leaps in perspective. Where Mothering Sunday falters are the last minutes, where the temptation to bring everything to a satisfying conclusion cheapens the overall approach. A final smile at the camera represents an indulgence that feels out of place, even if one might interpret the moment as Jane realizing what she must become. So, too, does the preceding scene when Jackson's author dismisses awards because she's won them all. What started as a staggeringly intimate study of an author's subjectivity and creative process becomes suddenly winking. Similarly, the unsubtle, bordering on modern score by Morgan Kibby feels overstated. Setting such quibbles aside, Mothering Sunday hosts several terrific performances that, no matter the focus, hint at a profound inwardness. Sometimes that means stifling inhibition, and sometimes that means an enriched life of the mind behind the surface.