Director

Cast

Sandra Bullock

,

Jon Hamm

,

Michael Keaton

,

Allison Janney

,

Steve Coogan

,

Geoffrey Rush

,

Pierre Coffin

Rated

PG

Runtime

91 min.

Release Date

07/10/2015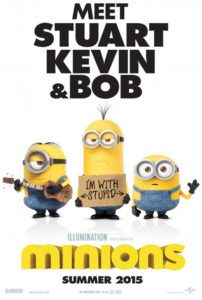 From the popular Despicable Me series, the gibberish-speaking and goggles-wearing yellow henchmen of would-be supervillain Gru get their own spinoff prequel, Minions, which should keep fans at bay until Despicable Me 3 opens in 2017. Universal's Illumination Entertainment once again places directors Pierre Coffin and Kyle Balda behind the camera for an animated feature more about cutesy characters and their potential marketing synergy than a story that needed to be told. Slapstick and absurdist humor reign supreme when your titular characters talk nonsense, with the occasional silly-sounding English-language word like "banana" and "papaya" thrown in for good measure. But the screenplay by Brian Lynch doesn't bother exploring these pill-shaped cartoons in any meaningful way. Granted, Lynch covers their backstories; however, in the end, they remain one-dimensional characters.
Because they can't speak for themselves, at least not in any intelligible way, Geoffrey Rush provides narration early on, telling us about the early days of Minion life. Since dinosaurs roamed the Earth, Minions have sought the biggest, meanest "boss" to serve (sort of like pilot fish following a shark), including a doomed Tyrannosaurus rex, the biggest caveman, a wicked Egyptian pharaoh, and Count Dracula—all inadvertently disposed of due to Minion bungling. When they come into service of Napoleon, their ineptitude leads to the failed Russian campaign, and the short emperor exiles them. After a couple of hundred years of living in a wintry cave, presumably in Siberia, the Minions have grown weary and in need of servitude. Though a few dozen of the minions appear onscreen, one of them named Kevin takes the initiative to scout for a new "boss". Joining him on the journey are the shorter, childlike Bob, and the one-eyed hipster Stuart. The lot of them are voiced by co-director Coffin.
Kevin, Bob, and Stuart arrive in New York circa 1968 and ditch their Antarctica sheepskins, without which they're ostensibly naked (nothing's down there, though, except butt-cracks). And so, they must find clothes to fit in—as much as yellow jabbering globs can "fit in"—leading to their discovery of dungarees, an apparently pivotal moment that doesn't feel pivotal at all. Eventually, they hitchhike with a seemingly normal family of bank robbers (colorfully voiced by Michael Keaton and Allison Janney) down to Orlando to attend Villain-Con, a bad guy convention showcasing Scarlett Overkill (Bullock),"the world's first female supervillain" (I guess Lynch didn't know Catwoman has been around since 1940, Poison Ivy since 1966). Unbalanced and clinging onto some issues from childhood, Scarlett holds auditions to find herself loyal henchmen, and guess who gets the job?
Relocated to London in the midst of the swinging sixties, the Minions meet Scarlett's groovy husband Herb (Jon Hamm). The dastardly couple wants to steal the crown of Queen Elizabeth (snootily voiced by Jennifer Saunders) and overtake England. But the ultimate throughline of the film is less about Scarlett's lame scheme and her constant berating of the Minions, and more about finding a home for the remainder of their clan, who are all but bored to death playing soccer in their ice cave. It's difficult to care much about their plight, ennui, or the lack of stable villainy to support. One cannot help but wonder if the Minions could have worked for Adolf Hitler, would they have? Probably not, since they turn into heroes once Scarlett becomes too much of a baddie. Fortunately (or perhaps, unfortunately, depending on your point of view), Minions keeps the proceedings simple and unchallenging in hopes of entertaining the youngest segment of the viewing audience.
At times, the animation busies our brains. The zany chase scenes are distracting, and the animation has improved since Despicable Me 2. But the standout is the sixties milieu, from impressively rendered cityscapes to retro attire, all beautifully animated. The soundtrack is possibly the best aspect of the film, featuring classic songs from period-appropriate groups like The Rolling Stones, The Doors, The Kinks, and The Who. Still, not even good songs can make up for the emptiness of this experience, which relies far too much on the Minions' cuteness to carry the film. Mindless humor, colorful action, and virtually no emotional content spell out a rousing success for most children in the audience, and maybe even the adult fans of the original two films. It's simple, unsophisticated stuff, but it's also very popular, and this critic's low opinion of the series is the minority one.
The Minions themselves don't have enough personality to justify their own film, as Minions proves. Maybe a short film. Maybe. They're essentially pantomime characters, but unlike, say, WALL•E, the characters of limited speech here don't evoke a range of emotions. At least with Despicable Me and Despicable Me 2, the filmmakers found a human core when Gru adopted three relatively normal children with whom audiences could relate. Some viewers may glean a message about family, or something of that nature, from the story, but the theme is hardly emphasized. Just a few weeks before Minions opened, Pixar's Inside Out hit theaters and may have single-handedly changed the way children think about and embrace their emotions. When something so touching, funny, sad, and entertaining comes from Pixar, it's difficult to care much about the comic trifle that Illumination has put together here. But then, more often than not, audiences love a Happy Meal-of-a-movie like this one. On those terms, Minions delivers the kind of fast food which today's general audiences consume on a regular basis.