Director

Cast

ohn Goodman

,

Cathy Moriarty

,

Simon Fenton

,

Omri Katz

,

Lisa Jakub

,

Robert Picardo

,

Kellie Martin

,

Dick Miller

Rated

PG

Runtime

98 min.

Release Date

01/29/1993
There's a sequence in Matinee where John Goodman's B-movie showman Lawrence Woolsey describes to a boy the magic of the movie theater experience and the effect of a great horror yarn: "People who go like this at the scary parts," he says, covering his eyes. "They're not getting the whole benefit. You gotta keep your eyes open… Okay, like a zillion years ago, a guy is living in a cave. He goes out one day—BAM!—he gets chased by a mammoth. Now he's scared to death, but he gets away. And when it's all over with, he feels great… He goes home, back to the cave. The first thing he does, he does a drawing of the mammoth. And he thinks, 'People are coming to see this. Let's make it good. Let's make the teeth real long and the eyes real mean.' Boom! The first monster movie. That's probably why I still do it. Make the teeth as big as you want, then you kill it off, everything's okay, the lights come up…" Woolsey sighs in safety.
Set in a time of nuclear paranoia, director Joe Dante's 1993 comedy Matinee is part coming-of-age romance, part 1960s nostalgia, and part reflection on the innocence of Atomic Age horror movies. It's a film about simpler times, and the bustling romances of several teenagers growing up in Key West, Florida, during the Cuban Missile Crisis of November 1962. Here a new film is set to arrive at their local Strand Theater, a film called "Mant!" (complete with an exclamation point), a nod to titles like Them! (1954) and The Fly (1958), but also gimmick-laden fare pitched by hucksters like William Castle. As its writer, director, producer, and promoter, Woolsey wants to slip "Mant!" under Hollywood's nose to test out his latest cinematic trickery. A con man turned film peddler, he's also passionate about his profession and blindly devoted to the escapist wonder inside the moviehouse. Teeming with small-town sensibilities and repressions, Matinee holds a contagious longing and affection for the simplicity of moviegoing thrills and the discovery of adolescence and reminds us of what made us fall in love with the movies.
When the film opens, teen Navy brat Gene (Simon Fenton) and his little brother watch the coming attractions at the Saturday matinees. The trailer for "Mant!" appears onscreen, boasting oodles of kitsch, atomic explosions, and a hilariously corny tagline: "Half Man, Half Ant, All Terror!!! So terrifying only screams can describe it!" Indeed, this is an era of black-and-white B-movies where our villains were monstrous mixed creatures as perceptible as the previous decade's Adolf Hitler, and not so incomprehensible as the gray area politics of the subsequent decades of Richard Nixon and the Vietnam War. After their feature, the boys head home to catch a news broadcast that outlines the developing Cuban Missile Crisis, and their mother informs them their father is aboard one of the U.S. boats surrounding Cuba. Suddenly seeing "Mant!" becomes a crucial and very relevant form of escape for Gene—his bedroom walls covered with schlock movie posters, his floor strewn with copies of horror magazines—who has seen all of Woolsey's films.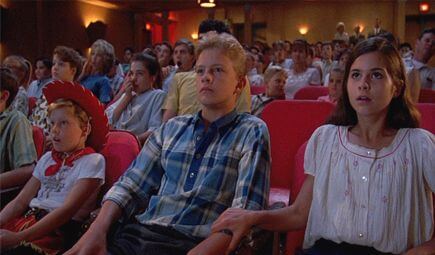 Woolsey, a larger-than-life showman with a thousand lines and a thousand more tricks up his sleeve, was based on William Castle, a B-movie showman even bigger than Goodman's fictionalized character. Castle tested his audiences with publicity stunts galore; his gimmicks had names like buzzer-seat "Percepto" for The Tingler (1959) or the 3-D-esque "Illusion-O" for 13 Ghosts (1960). For Macabre (1958), Castle offered life insurance policies to his audience in case they should die of fright. Screenwriter Charles S. Haas gives Woolsey one of Castle's best tricks: he keeps a nurse in the theater, and she asks patrons to sign a waiver in case they're scared to death by the show. This is Ruth Corday (Cathy Moriarty), who also happens to be the star of "Mant!" and Woolsey's girlfriend. Woolsey's latest—"shot in Atomo-Vision, featuring Rumble-Rama!"—features buzzers wired into the seats, has literal sparks ready to fly, and features a guy in a Mant suit who emerges and terrorizes the audience. A big kid always chomping on a gargantuan cigar, Woolsey loves his job; he might be Gene in twenty-five years.
Meanwhile, young love sprouts amid Gene's new group of friends. With his father's job keeping them moving from place to place, Gene never made many friends; his niche is the culture of movie stars and B-movie monsters on the screen each Saturday afternoon. How appropriate then that Gene meets Woolsey in person and sees what's hiding behind the wizard's curtain. But Gene is also of the age where he begins to notice girls like Sandra (Lisa Jakub), whose comically liberal-minded parents seem open to just about anything. Elsewhere, Gene's friend Stan (Omri Katz) has just confirmed a date with the "experienced" Sherry (Kellie Martin), whose greaser ex-boyfriend Harvey (James Villemaire) warns Stan to stay away, or else… First kisses and jealous confrontations explode during the premiere screening of "Mant!"—for an audience as restless as the creatures watching Snow White and the Seven Dwarves in Dante's Gremlins—where the tremors of Rumble-Rama play on the moviegoers' atomic paranoia. And before it's over, Gene and Sandra have escaped (un)certain death into a bomb shelter, where they quickly resolve to repopulate the planet.
In an age where teens are played by actors in the latter half of their twenties, Dante refreshingly casts age-appropriate youngsters, all of whom are capable of handling their roles with expert sincerity. They look and behave like '60s children, and they never seem like they're kids from a modern era pretending to be from another older one. Of course, every child performer is outshined by the larger-than-life Goodman, in his prime during his popularity on TV's Roseanne. He's top-billed and sells the picture with a recognizable face on the poster, but his role is secondary next to the teen romance center. Still, Goodman perfectly embodies the towering, overgrown child persona that is Lawrence Woolsey. There's also a healthy dose of Dante's usual troupe: Dick Miller (best known as Mr. Futterman from Gremlins) is one of Woolsey's promotional spies; Robert Picardo as the bomb-scared theater manager; the great Kevin McCarthy appears in the hilarious movie-within-a-movie segments of "Mant!" as an army general.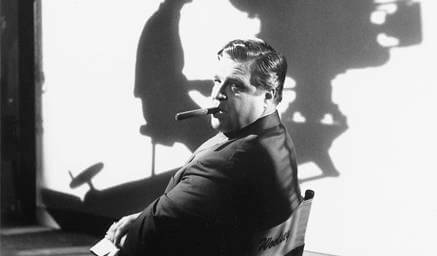 Not unlike Woolsey, Dante loves movies just as much as he's nostalgic for the innocence of youth; this is evident in every film he's made, starting with Piranha in 1978, a Roger Corman-produced cheapie respectfully riffing on Jaws, up to his most recent kids-in-peril adventure The Hole. It seems fitting that Dante's work often features children, too, as the films we see during our impressionable adolescence shape us for the rest of our lives. Like Woolsey and Gene in Matinee, Dante grew up on a steady diet of cinema, and so his own movies smack of cinephilia, with sometimes subtle, sometimes direct references to the pictures that inspired him. Watching a Joe Dante film is about the story as much as it is about identifying where and how cleverly he's drawn from his inspirations. With this, Matinee may very well be Joe Dante's finest work, a picture that acknowledges the kind of movie magic needed to transform a film buff into a filmmaker, and encapsulates Dante's movie-loving approach to his films in both style and narrative.
Today, Matinee seems to be an all but forgotten and overlooked film from the early 1990s.  Although it received enthusiastic reviews from critics, who by definition can relate to a film saturated in film buffery, it wasn't very successful and, perhaps because of its PG-rating, never achieved a place among the pantheon of Dante's other cult movies (The Howling, Innerspace, The 'Burbs, etc.). Certainly, the film's B-movie affectations are mostly relatable for cinephiles who grew up confounded by the opposite sex yet fascinated by the movies, but it's also just a plain fun and touching experience for any viewer. And so, Matinee belongs on a short list of great "films about film," and among the best projects under Dante's name. When Woolsey loses himself in one of his many speeches about the power of movies, the importance of escape, and the joy it brings him to realize these notions for his audience, we sense this is exactly how Dante feels, and that joy is instantly catching.