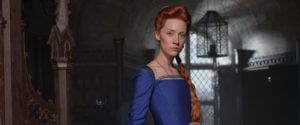 Mary Queen of Scots
2.5 Stars
Director

Cast

Saoirse Ronan

,

Margot Robbie

,

Jack Lowden

,

Joe Alwyn

,

David Tennant

,

Guy Pearce

,

Gemma Chan

,

Martin Compston

,

Ismael Cruz Cordova

,

Brendan Coyle

,

Ian Hart

Rated

R

Runtime

124 min.

Release Date

12/07/2018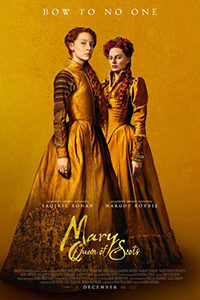 Everything about Mary Queen of Scots is competent and straightforward, sometimes even admirable. It recounts a true story of Tudor England with a welcomed nod toward historical accuracy. Two of today's best young female performers occupy the lead roles of this capable production, representing a rare point in history in which women held two of the most powerful roles in the Western world—and the prestige of having Saoirse Ronan and Margot Robbie on your poster can only help matters. Costume designer Alexandra Byrne, who wardrobed the stars of Elizabeth (1998) and its lesser sequel, Elizabeth: The Golden Age (2007), supports the characters with impressive decorative and functional pieces that reflect their status in the sixteenth-century monarchy. The costume drama even incorporates some social themes that render the five-hundred-year-old proceedings relevant for today's audiences. And yet, all the while, the viewer waits in vain for Mary Queen of Scots to reach beyond the point of a history lesson and engage on some significant emotional level.
Ronan stars as Mary Stuart, newly returned to Scotland after the death of her first husband, France's King Francis II, in 1560, and accompanied by a foursome of lady attendants. She's presented as a benevolent queen, accepting of all religions (at least Christian ones) and unconcerned by the secret homosexuality of her male squire. Facing pressure to conceive an heir, Mary poses a threat to England's throne as, according to complicated monarch logic and her title in the house of Stuart, she could claim the throne if she marries well and gives birth to a boy. Meanwhile, Robbie stars Elizabeth I, the so-called Virgin Queen, and Mary's cousin, who tries to appease the volatile division between her own Protestantism and the lingering Catholicism across the land. One thing's for sure, John Knox (David Tenant), an embittered Protestant leader and zealot, isn't interested in living in a world in which a Roman Catholic queen holds sway over his sizeable beard. Knox schemes to usurp Mary's authority by exploiting her various potential enemies—including her weak-willed second husband, Lord Darnley (Jack Lowden); a duplicitous advisor, Lord Maitland (Ian Hart); and her brother James (James McArdle). At the same time, Elizabeth strategizes with her advisors (Guy Pearce, Adrian Lester) to secure England's future under a Protestant ruler.
The screenplay was written by Beau Willimon, scenarist of political intrigue from George Clooney's The Ides of March (2011) to Netflix's ill-fated House of Cards. Willimon adapts the 2004 book Queen of Scots: The True Life of Mary Stuart, meticulously researched by Dr. John Guy, and the conspicuous presence of the author's scholarly title in the credits should suggest to the audience the historical accuracy of the film. But setting aside historicity, Willimon drains the material of its dramatic potential by placing far too much emphasis on the dry political machinations of both Mary and Elizabeth—and their noblemen consultants who, behind the backs of their respective queens, lament having to answer to women. Amid the repetitive discussions of advantageous marriages and heirs to the throne, Willimon forgets to adequately develop the emotional stakes for Mary and Elizabeth, aside from cursory allusions to Elizabeth's resigned solitude and Mary's national pride. Nevertheless, he writes some excellent, fiery speeches for Mary, which Ronan delivers with sharp intensity.
Josie Rourke, a Cambridge-trained theater director versed in stage adaptations for England's best theaters, makes her film directing debut with Mary Queen of Scots. Rourke draws comparisons between Mary and Elizabeth, revealing how their unique roles in a male-dominated world could, ironically, only be fully appreciated by one another, and yet they remained adversaries. Although Elizabeth clung to her power by resisting marriage, even to the point of reluctantly sending her would-be lover Robert Dudley (Joe Alwyn) to Mary as a possible suitor, Mary's approach was selfless and impassioned. She married three times and produced a child, who later became King James over Scotland and England after Elizabeth's death. Still, Elizabeth clung to her throne for 45 years, from 1558 to 1603, and ensured her competition would never take control when she had Mary executed for an alleged assassination plot. In any case, the associations that Rourke establishes between these women, who never met in real life, comes to a head in a fateful scene where they arrange for a secret face-to-face discussion. The airless scene, annoyingly set amid hanging laundry, and well-acted by Ronan and Robbie, feels less like a turning point or dramatic apex in the film than it should.
Mary Queen of Scots doesn't have an angle on history, and therefore the political double-dealings and frequent betrayals often feel less like a high drama than historical recreation. This is also an ugly film, costumes and performers aside; the digital lensing by John Mathieson sometimes has a modern, period-inappropriate look, recalling a similar incongruity in Michael Mann's Prohibition-era gangster film Public Enemies (2009). Rourke and Mathieson have also dressed their film inside the color palette of a portrait painter's brown soup, which may be realistic but, combined with the digital photography, robs the material of an aesthetic luster, which cannot help but distance the viewer from the often tragic, twisting plot. Ultimately, the story and grim fate of Mary Queen of Scots has been better told by filmmakers such as John Ford (in 1936, starring Katherine Hepburn) or Charles Jarrott (in 1971, featuring Vanessa Redgrave in an Oscar-nominated role), who may not have leaned toward historical accuracy, but they staged gorgeous productions with a dramatic import worthy of the subject matter.