Director

Cast

Liam Neeson

,

Diane Kruger

,

Jessica Lange

,

Alan Cumming

,

Danny Huston

,

Adewale Akinnuoye-Agbaje

,

Colm Meaney

,

Daniela Melchior

,

Seana Kerslake

,

Francois Arnaud

,

Ian Hart

Rated

R

Runtime

114 min.

Release Date

02/15/2023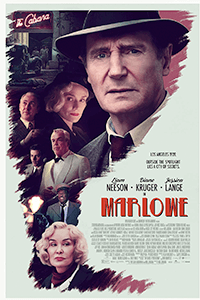 Something's missing from Neil Jordan's latest film, Marlowe, but it's difficult to identify precisely what. The result is especially puzzling because everything about the production holds promise. Based on The Black-Eyed Blonde, the 2014 hard-boiled detective novel where author John Banville (using pen name Benjamin Black) borrows Raymond Chandler's venerated private eye character, Philip Marlowe, the film features Liam Neeson in the title role. The production's impressive supporting cast—including Diane Kruger, Jessica Lange, Alan Cumming, Danny Huston, Adewale Akinnuoye-Agbaje, and Colm Meaney—consists of skilled character actors. They spend much of the film chewing the 1930s scenery, complete with chain-smoking, liberal pours of afternoon whiskey, and juicy dialogue. And Jordan adapted the screenplay alongside Oscar-winning scribe William Monahan (The Departed). So why don't these elements coalesce into the brilliant film we might expect from these talented people? Whatever the reason, somewhere between the jagged cutting style and flatly presented scenes, Marlowe is a potboiler that never quite manages to get beyond medium heat. 
Marlowe is the fourth collaboration between Jordan and his fellow Irishman, Neeson, including the actor's iconic turn as Michael Collins in the director's 1996 drama, a memorable appearance in Breakfast on Pluto (2005), and the middling supernatural comedy High Spirits (1988). Neeson, at 70, is the oldest actor to play Marlowe. Setting aside his action hero mode of the last decade, Neeson follows an expansive list of actors to play Marlowe in film and TV, including Dick Powell, Humphrey Bogart, Robert Montgomery, James Garner, Elliott Gould, Robert Mitchum, Powers Boothe, and James Caan. The actor is well-cast, and the screenplay uses his age to inform the story in admirable ways, such as when his Marlowe turns down the advances of a woman a quarter-century younger because of their awkward age difference. With his hair dyed light brown and grumbling the customary, "I'm getting too old for this," he gives the gumshoe an imposing stature. More than one character remarks on Marlowe's size, as Neeson towers over most costars.
Set in Los Angeles in 1939, the film recalls the throwback style of Chinatown (1974). Jordan's filmmaking adopts a similar aesthetic, albeit steeped in nostalgia for the early Golden Age of Hollywood and film noir storytelling. The plot begins with a familiar catalyst—a duplicitous blonde, Clare Cavendish (Diane Kruger), enlists Marlowe to find her "disappeared" lover, Nico, an armorer for Pacific Pictures. Although Nico is believed dead, having been run over beyond recognition outside the Corbata Club, Claire believes he's still alive and in hiding. When the nightspot's manager (Danny Huston) proves cagey about supplying information, Marlowe suspects a conspiracy involving sex, drugs, and Hollywood. Several other parties seem to be looking for Nico, too—including a shady nightclub owner (Alan Cumming); some Mexican gangsters; and Clare's mother (Jessica Lange), a wealthy former starlet. While Marlowe tries to figure out how they're all connected, he receives some tenuous help from old friends (Ian Hart, Colm Meaney) in the police department, who point him in the right direction.     
As the story unfolds, it's easy to admire Monahan and Jordan's work on the script. It's saturated with literary references from playwright Christopher Marlowe to author James Joyce—one scene even features a character reading aloud from The Elements of Style—and is rich with allusions and clever wordplays. Although not exactly quotable in the manner of many noir pictures from the era, there's a refinement and sophistication to the writing that makes one appreciate the effort's intelligence. The actors perform the dialogue to the best of their ability, but somehow, the material never clicks. Everyone seems to be playing dress-up, as opposed to embodying their roles. Production designer John Beard creates a convincing period milieu, with costume designer Betsy Heimann's suits and gowns looking the part, but the visually striking mise-en-scène also has a superficial quality that renders any drama or suspense inert. 
The bloody climax and verbal sparring scenes stand out, but Jordan never makes the stakes or intrigue feel imperative. Much of this is due to the lackluster visual presentation. Editor Mick Mahon's leisurely pacing fails to propel a consistent or engaging narrative thrust, even as he creates an edgy editing style that abbreviates scenes in uneasy ways. Director of photography Xavi Giménez also mixes styles, sometimes adopting a classical distance and other times using a distracting shaky-cam approach that feels unpleasantly anachronistic. Still, Marlowe isn't a disaster, though I spent much of the runtime both admiring the production and wondering why it wasn't working. Jordan's talented actors inhabit a film that's easy to appreciate for its handsome L.A. noir trappings, even though many moments fall flat. Noir aficionados may better appreciate what everyone involved had hoped to achieve. But for this Jordan fan, Marlowe is a disappointment for having all the components to make something great yet resulting in a mediocre genre exercise.