Director

Cast

Channing Tatum

,

Alex Pettyfer

,

Matthew McConaughey

,

Olivia Munn

,

Cody Horn

,

Matt Bomer

,

Riley Keough

Rated

R

Runtime

110 min.

Release Date

06/29/2012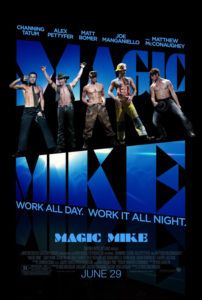 Steven Soderbergh's Magic Mike tells a familiar story about someone who's locked inside a job that pays well but remains unfulfilling. The main character, played by Channing Tatum, has aspirations to start his own business building durable custom-designed furniture. He has plenty of money, although the banks refuse to grant him a loan due to his bad credit. And so he keeps dreaming. It's something most of us can relate to, working somewhere that pays the bills yet leaves us feeling like we're capable of so much more, wishing we had the faculty to escape our current situation and follow our ambitions. Then again, the film makes the male stripper nightlife of Tatum's eponymously named character seem like a nonstop bash of sex, drugs, and an endless line of women just waiting to tuck their singles down his thong. Sure, there are consequences like loneliness, but there's no doubt a large section of the male audience would happily change places with Mike.
Even if it amounts to a quibble, that's the crucial and distracting flaw of this film, which may be the only one of its kind to handle this subject matter with a surprising degree of seriousness. To be sure, Soderbergh has not made the male stripper version of Showgirls or Coyote Ugly. The concept behind the screenplay by Reid Carolin, who based the film's events on Tatum's real-life experiences as a male stripper, was pitched to Soderbergh when the director and actor met while making Haywire. And so, Tatum's involvement in his own story demands a certain level of integrity. But the story is not entirely devoid of sexual camp for the sake of female moviegoers and some occasionally corny laughs. During my screening, I was one of maybe two men in a theater stocked with hordes of chatty ladies waiting for their eye candy to appear onscreen. And for the first forty minutes or so, they enjoyed their fair share. Weren't they surprised, though, when the film's second half boasted emotional turns and genuine dramatic merits, instead of an all-out hunkfest like the trailers advertise?
The problem is, Soderbergh's film has too much fun showing us the wild partying lifestyle of these male strippers, who are drawn to their jobs by the copious amounts of cash and loose women. It opens with the ever-shirtless Matthew McConaughey on stage; he plays Dallas, an energized male strip club owner whose oiled-up, chiseled torso presents a kind of teaser of what's to come. Soderbergh then cuts to Tatum waking up the morning after a casual threesome, another in a long line of emotionally detached hookups with Joanna (Olivia Munn). "Magic" Mike is then off to his side job at a construction site, where he meets 19-year-old Adam (Alex Pettyfer), who has just arrived in Tampa and lives with his disapproving sister, Brooke (Cody Horn). Mike takes Adam under his wing and introduces him to the male stripping trade. Young and naïve, Adam immediately takes to the nonstop good time of free love and constant sexual vilification, and eventually takes a downturn into drugs. Mike, meanwhile, struggles with turning away from a prosperous income to pursue his furniture business and, in turn, gain the respect of Brooke, with whom he's falling in love.
In another director's hands, Magic Mike could've been something akin to any number of commercial dance movies. Plenty of scenes revolve around the sometimes elaborately choreographed dancing of Dallas' crew and the crowd's resultant tantalization. Tatum, whose moves were on display in his big break Step Up (2006), demonstrates his stage talent, while others resort to the standard fireman or Tarzan routines. These scenes are played up for laughs, as the crowds of women are made to look almost absurdly fanatical over the performers thrusting in the air. To avoid an NC-17, the film resists any major full frontal and sticks with plenty of butt shots; ironically enough, there are more topless women here than male genitalia. Fortunately, Soderbergh, also serving as cinematographer (credited to his pseudonym Peter Andrews), uses an array of visual techniques to keep the formal presentation interesting. With all the color gels and saturations, offbeat angles, and dynamic editing, the result might be mistaken for an arthouse film. If it weren't for the lively, giddily-toned stripping scenes, this film would have much more in common with The Girlfriend Experience, Soderbergh's 2009 arthouse piece about a high-end call girl played by adult film star Sasha Grey.
Had this been a stripper movie about women, no doubt the proceedings would've included a commentary about the business' exploitative and soul-selling qualities that equate to veritable prostitution. Of course, none of those themes emerge in a film about male strippers, none of whom seem to feel objectified by being on stage. Until an interlude with ecstasy and grumpy drug dealers spoils the fun, there's little else but Mike's desire for something more to pull his character away from his unproblematic profession. As such, Magic Mike's message feels a little mixed, even if the story ends in a satisfying, cliché place. Soderbergh resists such melodrama in favor of his subtle storytelling and the natural performances he draws out of his actors; even the usually empty expression on Tatum's face is enlivened, perhaps because he's experienced first-hand most of what he relays. Reservations aside, as always, Soderbergh's treatment manages to make familiar material into something that surprises us when we realize how emotionally involved we've become.