Director

Cast

Channing Tatum

,

Matt Bomer

,

Joe Manganiello

,

Kevin Nash

,

Adam Rodriguez

,

Gabriel Iglesias

,

Amber Heard

,

Donald Glover

,

Stephen "tWitch" Boss

,

Michael Strahan

,

Andie MacDowell

,

Elizabeth Banks

,

Jada Pinkett Smith

Rated

R

Runtime

115 min.

Release Date

06/23/2015
Magic Mike XXL is about getting your smile back. Steven Soderbergh directed the 2012 original into a surprisingly thoughtful account of the titular character trying to reconcile his aspirations with his reality. But whereas Magic Mike considered the exploitation, drugs, sexual perks, and aimless lifestyle of male stripping, the sequel forgoes much of its predecessor's dramatic heft for something funnier, airier, and more playful. Gregory Jacobs, who has served as Soderbergh's first assistant director since the early 1990s, takes the helm for a sequel with less on its mind but more to offer in terms of sheer entertainment. Adopting a road-movie template, the film's episodic and cameo-laden structure helps distract from a few sequences that feel overlong. In a more complex way, the story recalls Sherwood Anderson's 1919 short story "Sophistication," where a moment of unselfconscious pleasure and human connection fills the void of ambition left in the wake of the impossible American Dream. Okay, so that's a lofty comparison for a male stripper movie, but it's not without merit.
Reid Carolin's screenplay picks up a few years after the original and awkwardly disposes of some formative characters central to the first movie. While Mike struggles to make his custom furniture business a success, Brooke (Cody Horn, unfortunately absent) has left him after turning down his marriage proposal. Then, one day, he receives a call from Tarzan (Kevin Nash), his former colleague at the Tampa strip joint, who tells him that their relentless emcee Dallas (Matthew McConaughey) has since abandoned the troupe with the Kid (Alex Pettyfer) for a gig in Europe, leaving everyone else twisting in the wind. With their years advancing and prospects dwindling, the remaining dancers convince Mike to join them for a "last ride"—a road trip to a Myrtle Beach stripping convention—before they switch careers. Afterward, their futures remain uncertain. They each have dream jobs they hope to pursue; they each have their eyes on something else, telling themselves that stripping is a means to an end. But along the way, each "male entertainer" realizes that dancing is another kind of passion. Can't a person have more than one?  
The original's secondary cast comes to the forefront in Magic Mike XXL. Tarzan, the gentle giant, dreams of becoming a painter. Matt Bomer plays Ken, the New Agey guru who hopes to become a singer. Tito (Adam Rodriguez) has started a food truck, selling artisanal probiotic frozen yogurt alongside their DJ (Gabriel Iglesias), who spends much of the movie in the hospital after some MDMA causes a crash. Joe Manganiello returns in a more significant role as "Big Dick" Richie, whose sizable member has scared off so many women that he worries he'll never find a "glass slipper" in vaginal form. However one note some of these character motivations may sound, Jacobs finds playful ways to explore them. In the film's most hilarious sequence, Richie's confidence issues prompt the others to encourage him to dance for a scowling gas station attendant. If he can make her smile, it's all worth it. So he proceeds to strip, aided by Cheetos and bottled water, to the Backstreet Boys' "I Want It That Way," much to the (eventual) befuddled amusement of the woman behind the register. Herein lies the simple, sex-positive lesson of the movie: it feels good to make people happy.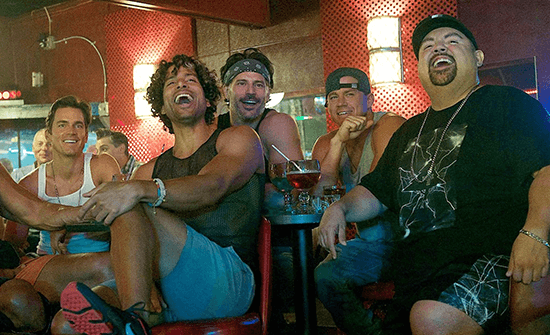 Their Odyssey takes them on a series of mostly lighthearted adventures, starting with a stop at a drag show. Afterward, there's a beach party where Mike meets a struggling photographer, Zoe (Amber Heard), a clear stand-in for Brooke. To be sure, Zoe is initially dismissive of Mike's dancing trade, but like Brooke, she's totally interested. Next stop, Savannah, where Mike rekindles a relationship with Rome (Jada Pinkett Smith), a madame who operates a subscription-based male dancing establishment called Dominia from inside a refashioned Georgia estate. There, Donald Glover joins the posse as a wiry inclusion among the muscle-bound men, offering his songsmith skills to the talent roster. Afterward, it's a stop at another Southern estate, where Andie MacDowell hosts an evening of copious wine and middle-aged ladies who air their sexual frustrations—which, of course, the dancers can help resolve. Finally, the dancers arrive at the convention and face a couple of last-minute obstacles: the first is Elizabeth Banks, and the second is an impossible one-night planning montage to develop entirely original dance routines (choreographed by Alison Faulk). 
Maybe it's the inherent rambling nature of the story, but the sequel feels less stylistically cohesive than the original, even though Soderbergh serves as cinematographer and editor under his respective pseudonyms, Peter Andrews and Mary Ann Bernard. Even so, the sequel's blithe energy finds effortless joy in watching these men perform; however, there's less just-plain-stripping than in Magic Mike. Rather, the sequel invents pseudo-philosophical reasoning behind their performance. Ken insists they are "healers" who listen when women tell them what they want. Each performance becomes a way for women to acknowledge and celebrate their desire safely. Some of these ideas seem silly when, in the finale, the men appear on stage under the team name "Rez-Erection" and compete against dance troupes with themes such as The Matrix, Twilight, Three Amigos, and Spartans—but no matter. Their custom dances, which are less stripping than performance art vignettes laden with a whip cream orgasm and much dry humping, each themed according to the respective dancer's dream, prove wildly entertaining anyway.  
Magic Mike XXL never ridicules or passes judgment on male strippers, which is perhaps a point against the 2012 film, whose Brooke couldn't imagine a future with Mike as a dancer, and he ultimately agrees. Instead, the movie buoyantly legitimizes the trade here, affirming that the joy it brings to the spectators and the performers can't possibly be wrong. There's a surprising amount of emotional intelligence contained in an otherwise simple theme of finding one's joy and smile again. Whether it's Zoe's photography or Richie's desire to follow a staged marriage with a sex swing routine set to Nine Inch Nails' "Closer," it's all relative. But there's also an undeniable pleasure in watching the technical and physical skill on display, particularly concerning Tatum and Rome's top dancer, the late Stephen "tWitch" Boss. In these ideas and the impressive dancing sequences surrounding them, the film is light, often hilarious, sexy, and ridiculous in a charming way, assuaging any heaviness for an effortlessly fun experience I would happily revisit.