Director

Cast

Ben Stiller

,

Chris Rock

,

David Schwimmer

,

Jada Pinkett Smith

,

Sacha Baron Cohen

,

Cedric the Entertainer

,

Andy Richter

Rated

PG

Runtime

86 min.

Release Date

05/27/2005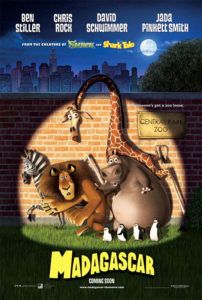 To dismiss Madagascar as merely passable children's fare doesn't deride this lame excuse for entertainment half as much as it deserves. Children suffering from advanced hyperactivity might find themselves mildly amused by the clickety movements, bright colors, and loudness of the whole the thing, but the rest of us, bored out of our minds, wonder when other studios will get a clue and follow the Pixar standard for universal entertainment. Oh, some might argue that Madagascar includes referential humor and "adult" jokes for the parents' benefit. Aren't all animated features doing that nowadays? With movies like this, my skills as a critic are tested to their limits, as I'm not the intended demographic. But I don't need to be a Nickelodeon-addicted pubescent to understand how exactly such a product will appeal to its audience. I'm quite fond of children's movies, actually, and I'm more than capable of watching with a child's eyes. But the child in me was befuddled, and the adult in me annoyed.
How could someone find such displeasure from a movie made for youngsters, you might ask?  Shouldn't I consider the audience the film was made for, and then determine how they would like the result based on my screening? I would respond by insisting that all children's movies are in some part intended for adults. After all, we're the ones escorting the kids into the theater. We're half the audience, and we shift in our seats with boredom when a movie like this comes along, because the events onscreen certainly aren't made to entertain us.
The plot is simple: Virtually domesticated animals escape from New York's Central Park Zoo and find themselves in the wild of Madagascar, suddenly without daily feedings and so forth, having to fend for themselves. Marty the zebra (voice of Chris Rock) is in bliss, having long dreamed of escaping the confines of his urban cell. Melman the giraffe (voice of David Schwimmer) struggles with being away from his many prescriptions and veterinary treatments. Gloria the hippo (voice of Jada Pinkett-Smith) misses her luxury meals. And Alex the lion (voice of Ben Stiller) has newfound cravings to hunt and kill his friends… Alas, he never does.
Beyond this thin description, little happens. Penguins steal the show with some amusing pseudo-spy antics. Local lemurs headed by King Julien (voice of Sacha Baron Cohen) use Alex to ward off invading predators. But largely the film's runtime is occupied by scatological humor—enough fart and poop jokes to appease any viewer obsessed with anus emanations. And then there's the music, mostly used for pop-culture winks that range from the Chariots of Fire theme to that of Hawaii Five-O. Not to mention the irritating use of "I Like to Move It" both in the movie and during the end credits (there's even a music video on the DVD for those disturbed few that didn't get enough of the tune during the film).
Even the animation looks shoddy and videogame-esque. Dreamworks animators seem reliant on geometric shapes to get them through the creative process. Alex's head, for example, resembles a furry pentagon. Too many straight lines are used to conceive round animals. Hippos aren't supposed to have angles, and rarely are quadrilaterals found in the jungle. I suppose it's the same post-modern stylistic choice any production artist must make prior to character-designing a computer-animated kids film, but the choice here was a lousy one.
Madagascar exercises its audience's tolerance for overly random humor and forced hipness. We get the sense that filmmakers Eric Darnell and Tom McGrath aspire for Looney Tunes-type behavior, complete with outlandish violence and an impossible cartoon reality driving the film. But unlike the shorts of Chuck Jones and Tex Avery, there's no artistry backing their product, nothing for adults to appreciate, and little substance for children to remember. Not only is the film forgettable, it's gallingly despicable.