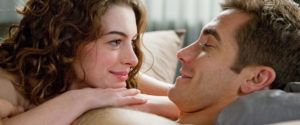 Love & Other Drugs
2.5 Stars
Director

Cast

Rated

R

Runtime

102 min.

Release Date

11/24/2010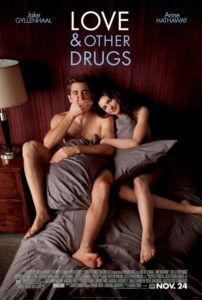 Mention Edward Zwick's name and most moviegoers think of sprawling, action-packed epics filled with humanist characters in dire, pointedly inhuman circumstances. Titles like Glory, Legends of the Fall, The Last Samurai, Blood Diamond, and Defiance come to mind. But Zwick's hand in developing TV's thirtysomething and Once and Again should not go unnoticed when considering Love & Other Drugs, a dramatic romance that doubles as a sex-infused comedy. Though romance is not Zwick's specialty, he handles the material, for the most part, intelligently, avoiding typical genre devices that would otherwise spoil the movie's couple, played by Brokeback Mountain co-stars Jake Gyllenhaal and Anne Hathaway. Still, even with its average runtime, the movie feels overlong, as the story has far too many distracting, underdeveloped subplots when all it needed to do was explore the relationship at the center.
Based on Jamie Reity's book Hard Sell: The Evolution of a Viagra Salesman, the story opens in 1996, in anticipation of the drug company Pfizer's top-selling erectile dysfunction pill. Underachieving doctor's son-turned-pharmaceutical salesperson Jamie Randall (Jake Gyllenhaal) tries to make his quotas by turning the prominent Dr. Knight (Hank Azaria) from the competitor's Prozac to Pfizer's Zoloft. While working his fast-talking salesperson charm in Knight's office, Jamie, a noted ladykiller, meets Maggie (Anne Hathaway), whose early-onset Parkinson's leaves her hesitant to relationships lasting beyond a one-night-stand. Attracted to her free will in the bedroom but baffled by her unwillingness to trust, he pursues her and finds himself falling in love. Both have commitment issues, yet together they're happy. Then Viagra arrives on the prescription drug scene, sparking instant success for Jamie. However, what the drug's arrival has to do with Jamie and Maggie as a couple remains elusive, except that it provides Jamie with success that he must eventually sacrifice for Maggie.
It would be a mistake to enter Love & Other Drugs and expect formula rom-com fluff. This very adult movie offers numerous intimate bedroom scenes and suggests the unforgiving reality of Maggie's disease. Gyllenhaal and Hathaway display evident chemistry as they bare all and seem completely comfortable in their scenes together talking and making love, presenting a rare, truthful portrayal of romantically involved lovers, both who still have emotional skin to reveal. In terms of the disease, there's a moment where the husband of a lifelong Parkinson's sufferer warns Jamie about what his life will be like should he stay with Maggie, and it's hard to imagine a more cynical, or honest, outlook. Along with Hathaway's trembling and impressive control of her hands during scenes where the disease takes hold, these are some of the most affecting moments in the movie.
However, singlehandedly demolishing any hope of leaving the theater feeling sanitary is Josh Gad in the obligatory rom-com sidekick role, playing Jamie's ultra-rich sleazeball brother. Whenever the movie begins to warm you up with its emotional candor, Gad is there with his raunchy antics (masturbating to his brother's sex tape, uttering misogynistic dribble, etc.) to bring the viewer down to a very low, grimy level. Gad specializes in playing 'the obnoxious guy', as proven with appearances in 21 and The Rocker. His chubby, unshaven, perverse, and rather disgusting character would be the genetic opposite of Gyllenhaal's Jamie, something akin to Danny DeVito's brother of Arnold Schwarzenegger in Twins. When he isn't filling the movie with coarse dialogue, he's reducing this otherwise smart material into standard genre fare.
Much like Gad's role, there's a desperate, transparent attempt by screenwriters Charles Randolph, Marshall Herskovitz, and Zwick to appeal to both sexes, to broaden their audience beyond mere female rom-com fans to the male crowd. Gad's sexist, loudmouthed pervert role is backed by copious amounts of random topless women (this is in addition to the candid bedroom scenes between Gyllenhaal and Hathaway). Together, they're supposed to keep the typical male viewer occupied, all while their date eyes well up with tears over Hathaway's admittedly exceptional performance. The range of extreme appeals to varied demographics could hardly satisfy just one segment of the audience, but it doesn't have broad reach either.
In terms of plot and audience appeal, there's so much going on in so many directions that it all couldn't possibly work. Indeed, Love & Other Drugs is something of a mess, which is unfortunate. Gyllenhaal and Hathaway give strong performances in their involving roles; had the movie simply been about two lovers who struggle with their personal resistance to commitment, the result might have played better. What's worse, the half-handed critique of the pharmaceutical industry doesn't pack the wallop a more composed movie could have, and next to the romantic center, it feels more like a distracting afterthought—which is not how a major sociopolitical issue should feel. Instead, the sleaze factor of Gad, a persistence of drug salesperson orgies, and failed attempts at comic relief distract from what works: the emotional insight between the two main characters.