Director

Cast

Hugh Grant

,

Liam Neeson

,

Colin Firth

,

Laura Linney

,

Emma Thompson

,

Alan Rickman

,

Keira Knightley

,

Martine McCutcheon

,

Bill Nighy

,

Rowan Atkinson

,

Martin Freeman

,

Chiwetel Ejiofor

,

Rodrigo Santoro

,

Andrew Lincoln

,

Billy Bob Thornton

Rated

R

Runtime

135 min.

Release Date

11/14/2003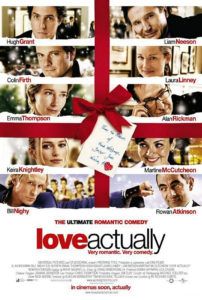 Richard Curtis' Love Actually claims the prize of being the "ultimate romantic comedy" not through daring or originality, but by covering every cliché imaginable offered by the genre, and doing so with style. Presented here is a mosaic of characters, all converging around Christmastime through love in some form or another. There are longstanding marriages, some newlyweds, enduring friendships, young love, and very, very young love. There're a couple of bosses who fall for their respective secretaries with varying outcomes, some relationships that are never meant to be, and even love discovered in Wisconsin, if you can believe that.
Crammed within the span of a little more than two hours, Curtis connects everyone through meaningless associations that you can discover for yourself. They're meaningless, but also relative in that everyone has or searches for love in some form or another. That, I suppose, is Curtis' thesis. He's saying, Look at love in all its glory and varieties, or rather: "Love actually is all around." And Curtis takes his movie all around. It's actually surprising how much ground is covered and how few characters feel neglected. Curtis' script jumps around, mind you, so it takes time for these characters to develop, leaving the last half-hour for everything to come together in true romantic comedy form.
The movie begins a few weeks before Christmas and builds up to the day of. An aging rocker named Billy Mack (Billy Nighy, whose ragged face and shaky voice show the wear of his character's overexposure to sex and drugs), records his latest single, a Christmas-infused cover of The Troggs' "Love Is All Around." Mack knows that it's rubbish, as does his manager Joe (Gregor Fisher), but people love Christmas music around that time of year, so it sells. Mack's commercialized single is everywhere in the background of the movie, the other characters watching and enjoying like we do as Nighy acts all fried and loosey-goosey.
Continuing on, the newly appointed bachelor Prime Minister (Hugh Grant) takes one look at his blushing-yet-foul-mouthed new assistant (Martine McCutcheon) and knows she's going to be trouble—in a good way, of course. Alan Rickman plays a bordering-on-unfaithful husband, whose secretary comes on harder than he knows how to react to. Another employee in his office, played by Laura Linney, has her sights on the office man-meat but said dude is thrown off when her mentally unstable brother keeps interrupting their first night together. There's an adorable storyline about a widowed father (Liam Neeson) helping his 10-year-old stepson (Thomas Sangster) gain the courage to confess his love to a girl in his class. But there's also a not-so-adorable storyline about two bashful pornstar stand-ins who realize they love each other from their bland chit-chats between takes; in the end, they're married. There's no word on whether they found a new line of work.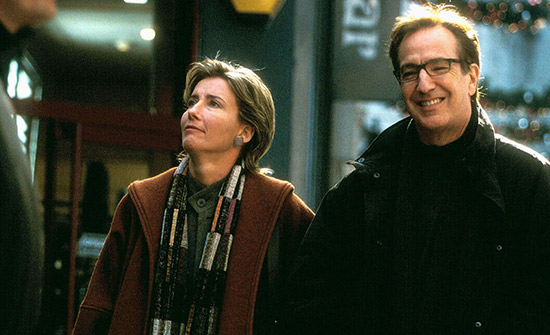 Think that's all? Not even close. Colin Firth plays a writer who goes away to a French provincial cabin after he finds out his wife is cheating on him, only to fall for his non-English-speaking maid, played by Portuguese actress Lúcia Moniz. Theirs is the hammiest storyline, involving both characters talking to each other, saying the same thing, but not understanding because of the language barrier. It works because Firth is such a fine actor. Meanwhile, Andrew Lincoln plays a man secretly in love with his best friend's new wife (Keira Knightley). This plot doesn't quite meet the standard of "the one that got away," and it has a curious, somewhat unsettling way of being resolved. And finally, there's Kris Marshall's character Colin, an ugly Brit that believes American girls will dig his accent, and he's right.
Aside from those already mentioned, the cast includes Emma Thompson, Billy Bob Thornton (playing the American President, no less), Chiwetel Ejiofor, Rodrigo Santoro, Rowan Atkinson, Elisha Cuthbert, and Claudia Schiffer, among others. So, while not every British actor makes an appearance, Curtis comes darn close to getting them all: Kenneth Branagh, Simon Pegg, Rhys Ifans, and Ralph Fiennes are conspicuously absent. And the only types of stories lacking were homosexual romance or any mature, let's call them ripened folks. Ian McKellen could have filled either quota alongside Vanessa Redgrave or Peter O'Toole, perhaps. After all, old people love too, and it's not always the opposite sex.
Anyway, Curtis is no slouch when it comes to rom-coms, having written Bridget Jones's Diary, Four Weddings and a Funeral, and Notting Hill. He knows how to make good use of his cast, particularly Grant and Nighy, whose storylines I enjoyed the most. Although, the cracks about McCutcheon's thighs were baffling; where I'm from curves are known as sexy. The film's major fault was spending too much time on one or two of the stories and leaving the others as mere asides. Those involving Rickman's husband and Linney's lonely office worker just peter out, and Curtis could have resolved them better. Though some audiences complained about the length, I would've preferred a 3-hour rom-com epic, as opposed to several unfinished or barely explored subplots.
My first time with the movie, admittedly, I didn't care for it. Too many characters and not enough time spent with the ones I was interested in. Alas, the same complaint stands, but more than enough of these stories are more loveable than not, and those that are, make it worth your time. If two or three stories don't work out the way we'd prefer or might seem frivolous when compared to ones to which we most relate, then so be it. There are about seven or eight others to enjoy. If Love Actually has too many characters and too long a running time, there's still a movie of reasonable length in there somewhere. And that's the movie I'll be watching next Christmas, even if I have to yawn my way through the rest.