Director

Cast

Dev Patel

,

Rooney Mara

,

David Wenham

,

Nicole Kidman

,

Abhishek Bharate

,

Divian Ladwa

,

Priyanka Bose

,

Deepti Naval

,

Tannishtha Chatterjee

,

Nawazuddin Siddiqui

,

Sunny Pawar

Rated

PG-13

Runtime

119 min.

Release Date

11/25/2016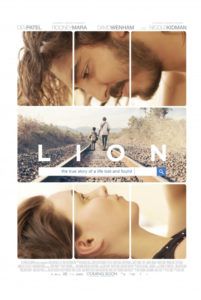 Lion is a true story about a Khandwa-born orphan who grows up in Australia, where he uses Google Earth to locate his biological mother in a densely populated section of India. You may have heard a similar short take on your local news or read about it in the headlines. Or maybe you read the book, A Long Way Home, an autobiographical account of the events, authored by Saroo Brierley and published in 2014. First-time feature director Garth Davis helms the adaptation for The Weinstein Company, based on the screenplay by Luke Davies, and the outcome manages to produce a few tears and moving performances, regardless of the picture's blatant attempts at feel-good storytelling. And when it's not obviously vying for Oscar gold or propagandizing for the Google machine, Lion happens to be tender in its consideration of home and family as concepts.
The wonderfully Dickensian first hour follows the five-year-old Saroo (newcomer Sunny Pawar), who lives in a small village with his mother (Priyanka Bose), newborn sister, and older brother, Guddu (Abhishek Bharate). Out looking for work with Guddu one night, Saroo falls asleep on a decommissioned train, which begins moving and doesn't stop for several days, some 1,600 miles later in Calcutta. Saroo, who only speaks Hindi and not the local Bengali tongue, searches overcrowded train stations for his family. He eventually takes to the streets, where he must avoid an assorted variety of predators. One of them, a seemingly kind woman, gives Saroo a meal and introduces him to a suspicious gentleman, who looks the boy over and says, "He's exactly what they're looking for." Those chillingly vague words are enough to send Saroo back on the run.
When authorities find him, they're unable to locate Saroo's family, as the boy is fuzzy on details about his hometown and only knows his mother as "mum." After a time in an orphanage, he's adopted by his kindly new parents (David Wenham, Nicole Kidman) in Tasmania, who later adopt Mantosh (Keshav Jadhav), another boy but with severe mental disorders. After more than twenty years, Saroo, now played by Dev Patel, studies to receive a degree in hotel management in Australia and enjoys a romance with a fellow student, Lucy (Rooney Mara). But when he starts recalling his childhood in India, friends tell him about Google Earth, and he embarks on a point-and-click journey into his past. The project takes months and floods Saroo's memory with aching images. Meanwhile, for reasons that feel amplified for dramatic effect, Saroo pushes away his adoptive family and girlfriend.
Of course, the story ends as happily (if bittersweet) as you might expect. While it's perhaps too easy to feel cynical about Lion's modus operandi as a two-hour product placement for Google Earth, Davies' dialogue talks about the geobrowser's functionality in suspicious detail. (Perhaps now is a good time to mention that Davis used to direct commercials.) But no matter how much the film feels like a manipulation of our sympathy for a corporate agenda, the fact remains that it happened, for the most part, and that's pretty astonishing. The film also looks gorgeous, courtesy of Greig Fraser's wandering overhead camerawork, as though the photography itself was a better-looking version of Google Earth. Several early sequences of Saroo lost in Calcutta, shot on location, provide the most stirring visual dynamic with the fragile, innocent boy unprotected in a city swarming with mostly indifferent people who do not speak his language.
To be sure, you would have to be inhuman not to have a compassionate reaction to what occurs onscreen. The emotional power of watching Pawar (in perhaps one of the best performances ever by an eight-year-old) navigate the streets alone cannot be bested by Patel's otherwise affecting scenes of inward pain and feeling misplaced (however un-cinematic they may be). But the adult cast remains impressive. Kidman, stripped of her makeup and botox, looks downright human, complete with the raw power she's demonstrated in films like Eyes Wide Shut and Birth. Divian Ladwa is also excellent as the damaged, older version of Mantosh. Finally, it's worth noting that Mara turns on her rarely seen charms as Lucy in an underdeveloped role; she often plays morose or distant characters, at which she excels (see The Girl with the Dragon Tattoo, Side Effects, Her), and so it's a pleasure to see her smile, dance, and flirt.
In a postscript following a few touching shots of the actual Saroo with his Australian and Indian mothers meeting for the first time, titles tell us that over 80,000 children go missing in India every year (a haunting factoid ungainly juxtaposed with a thumping, upbeat, end credits soundtrack). Besides being a human-interest story, Lion also has a humanitarian cause, indirectly calling for viewers to follow the example of Saroo's adoptive parents: Resist the selfish need to bring a new life into this world, given the countless children already in need around the globe. Whatever self-interest or influence on Lion that Google may have, the message's power and the generally heart-wrenching quality of the film remains. Similarly, no matter how many feelings the film stirs up, we cannot help but greet it with suspicion through our tears.