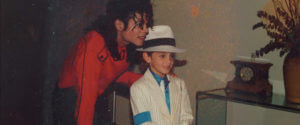 Leaving Neverland
3.5 Stars
Director

Cast

Rated

Unrated

Runtime

236 min.

Release Date

03/03/2019
Throughout the upsetting four-hour documentary Leaving Neverland, director Dan Reed cuts away from his interview subjects to the palm trees and lavish neighborhoods around Los Angeles. The allure of Hollywood, fame, and superstardom reside at the center of this story about Wade Robson and James Safechuck, two grown men in their thirties who accuse the late pop-culture icon Michael Jackson of sexually abusing them in their youth. The film gives voice to victims whose testimonies have been questioned and criticized. Millions, if not billions of people the world over still hold a relentless fandom for Jackson, whose celebrity and talent always seemed to outweigh the strange reports of the star's relationships with little children, mostly boys. The mothers of Robson and Safechuck, along with the majority of Jackson's fans, were convinced by the allure and certainty of fame, using whatever mental gymnastics were necessary to dismiss his behavior and persuade themselves of his innocence. Leaving Neverland presents the unpopular view that Jackson was a predator, using the profoundly affecting testimonies of his victims, and in doing so, threatens the former King of Pop's legacy and brand that have fuelled a lasting billion-dollar industry maintained by his estate.
The film, which debuted at the 2019 Sundance Film Festival where it was picked up and subsequently distributed by HBO, is a documentary of depth, not breadth. It does not present an objective analysis of the Jackson case. It consists exclusively of interviews with Robson and Safechuck, and their families, and does not delve into dissenting opinions or even alternative witnesses. It's not a discussion of the topic of Michael Jackson's alleged pedophilia; it's a condemnation of it. Of course, documentaries rarely consider every perspective, as their very creation is a subjective process. Objectivity remains impossible given the medium, which requires that a director and editor make decisions to shape the story in a way that is accessible for spectators. Leaving Neverland is no different. Its modus operandi is not about presenting courtroom-worthy evidence; it entails giving the victims a chance to tell their story, which is often far too quickly dismissed by Jackson's defenders or those who wish to preserve the pop-icon in their mind. As a result, Leaving Neverland has led to many of Jackson's most devoted fans condemning, with blind outrage, the film and its bubble-bursting quality.
Reed's career has several examples of television documentaries and exposés about sexually provocative subjects or children in peril. He made the doc Escorts in 2015 about high-dollar prostitution, just a year after releasing The Pedophile Hunter, about a group devoted to catching sex criminals. His approach to Leaving Neverland is simple and consists mostly of interviews intercut with archival news clips, home video, photographs, and drone footage of Jackson's secluded Neverland Ranch, where many children slept in the same bedroom with Jackson. There's no attempt to historize Jackson and his rough upbringing in the Jackson 5, nor does the film get into his other behavior—his penchant for chimps, the dramatic alteration of his appearance over time, and his unsettling collections (everything from John Merrick's bones to statues of children). Not that any of these eccentricities hold up as evidence of Jackson's alleged crimes. But Reed also doesn't interview other witnesses, such as the maid who claims she saw Jackson showering with a boy, or those who claim Jackson has a closet-within-a-closet housing child pornography.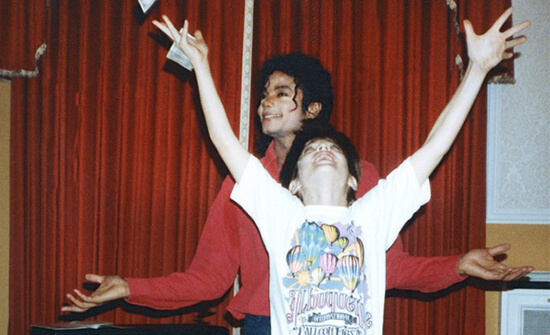 What stands as emotional evidence are the testimonies of the witnesses and victims. This is where Reed's four-hour runtime is most effective, as the protracted length bonds us with the interviewees, securing us to their stories. We hear accounts that Jackson was "like a child" in that he enjoyed watching movies, playing videogames, eating candy, and having sleepovers. Robson and Safechuck's mothers both questioned, but ultimately accepted, Jackson's behavior, as well as his request to be alone with the boys. Wade Robson was enlisted as Jackson's 7-year-old superfan friend with the help of his oblivious mother, who chose to leave half her family behind in Australia and move two of her children to Los Angeles. James Safechuck was 11 when he starred in a Pepsi commercial opposite Jackson, and curiously, the pop-star became a fixture in the Safechuck household. Later, after the men go to great personal pains to open up to their mothers about what happened to them as boys with Jackson, the mothers handle the revelation with varying senses of personal responsibility.  
Most aching is how we hear the men profess their contradictory, lingering love for Jackson, and their acknowledgment of his predatory manipulation of their emotions and loyalty, which in turn drove a wedge between their mother and their hero. We also hear their accounts of fondling, masturbation, sexual staging, pornography, and other behaviors that Jackson's many accusers, even those not captured on camera for Leaving Neverland, claim. After he settled his civil child sexual abuse lawsuit out of court for around eight figures in the mid-1990s, Jackson and his attorneys maintain familiar rhetoric about the subsequent accusers: they were just after money. And so, the story became one of jealousy and extortion, turning the mouse-voiced Jackson into a victim. Nevermind that he hired litigious attorneys to aggressively pursue and oppose anyone that might speak ill of their client. But with the post #MeToo social shift in attitudes about the importance of listening to victims, and the dangerous pattern of predatory behavior inherent in victim-blaming, the Jackson case deserves to be reexamined.
Many have questioned why Robson and Safechuck claimed in earlier trials that Jackson never touched them, and Leaving Neverland does an excellent job of putting us into the victims' headspace, to understand through empathy why a story so important might change. Both men, who did not know each other at the time of their abuse, admit that well into their teens they felt a deep affection for Jackson, to the extent that they did not register the crimes committed against them as something that was wrong. Rather, they viewed the experience as a "special friendship" with their idol, and the experience of even meeting him as a dream-come-true. As children, they could not process what was happening, and when they finally did, they allege that Jackson had conditioned the children to keep his secrets and protect him. Everyone else was the enemy, even their parents. It was not until they were adults and had children of their own, and thought about such crimes happening against their own children, that they realized the full extent of what occurred. It's this association that, even more than the graphic personal testimonies, hits the viewer the hardest.  
Leaving Neverland isn't the most in-depth journalistic investigation or creatively made documentary. Structurally, it can feel repetitive, and there's not much happening in terms of visuals. By its very nature, it's a one-sided argument that could have used additional testimonies or witnesses outside of Robson and Safechuck's families to strengthen the case. It's overlong and could have been cut down, but at the same time, there isn't a moment in its duration that feels empty. It has nothing to say about the value of his music or his influence as an entertainer, as those aspects of Jackson remain separate. It nonetheless raises important questions about Michael Jackson and his relationships with children. As we listen to the harrowing, devastating accounts of those who claim to have been abused by him, basic human empathy kicks in, and the voices of his accusers ring true. The film's ability to turn the stomach or break the heart is immeasurable. Above all, in an era when silenced victims finally have a voice, Leaving Neverland is a powerful statement against one of the most infamous voices in entertainment.