Director

Cast

Rated

PG

Runtime

101 min.

Release Date

01/08/2010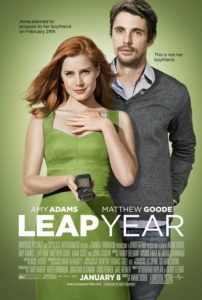 Almost everything you need to know about Leap Year is in the trailer. Why do you need to see the movie? Because you want to know who the plucky girl ends up with (as if you couldn't guess), since that's the only aspect of the story that the trailer doesn't reveal. It ought to come with a spoiler warning (this review does). Then again, you don't see a movie like this to find out what happens. Of course, the two characters on the movie poster end up together—that's why they're on the poster. You sit through this movie because you enjoy romantic comedies and the warm feelings they give you. This one is full of warm feelings and laughter and attractive stars doing endearing-if-predictable things.
The movie begins with Anna (Amy Adams), who has been dating a successful, well-groomed surgeon named Jeremy (Adam Scott) for four years. He doesn't seem to get that she wants a ring, and apparently, they don't have the kind of relationship where they talk about marriage. Jeremy goes off to a medical convention in Ireland, leaving Amy to sulk until she remembers that there's an old Irish adage that says every four years on Leap Day, a woman can ask a man to marry her. Why she can't do that any other day of the year is beyond understanding; Anna is simply desperate for a reason to get married. (Question: Are these two such traditionalists that it would end their four-year relationship if she proposed on February 28 or March 1?)
Anyway, Anna decides to follow Jeremy to Ireland and surprise him with her proposal. But, of course, her plane doesn't arrive on time and she's diverted to Cardiff instead of Dublin. At a local pub, she meets Declan (Matthew Goode), who offers to drive her to the rendezvous so she can propose. On the way, the two get into all sorts of silly rom-com trouble. They play a couple to get The Last Room in Ireland, and there's that moment where they're forced to fake a kiss to keep up the act, during which they realize that smacking lips with each other was pretty nice (see last year's The Proposal for the same scene). If after that you believe she'll end up with her boyfriend at the end of the movie, well, there's just no helping you.
Directed by Anand Tucker (Shopgirl) and written by husband and wife screenwriting team Deborah Kaplan and Harry Elfont (Can't Hardly Wait), the movie suspiciously resembles the 1945 British romance I Know Where I'm Going! by filmmakers Michael Powell and Emeric Pressburger. The two plots are grossly similar, save for a shift from Scotland in the earlier film to Ireland in the new one. In Powell and Pressburger's picture, a snooty woman (Wendy Hiller) thinks she's in love with the money of a wealthy Scottish Lord and plans to get hitched, but she's forced to wait on the mainland for the windy waters to settle before she can travel by boat to be married on his isle. While waiting, she meets a rugged Scotsman (Roger Livesey) and finds herself falling in love with him; eventually, she drops her gold-digger plot and chooses the man she actually loves. That Powell and Pressburger weren't mentioned in the credits of Leap Year is troublesome.
Leap Year plays out complete with all the expected rom-com antics, taking us nowhere we haven't been before and enjoyed a lot more. But the movie is harmless, more so than others of its kind with a PG rating. Because the result is so incredibly conventional, there's not much to savor here beyond the actors. The ever-cute Adams plays her role as if she's never lived a day in her life, an acting niche she's more than explored already (see Enchanted or Miss Pettigrew Lives for Day). Goode makes a likable beau; his Irish charm and charming good looks are certainly charming. And Scott's character Jeremy is so thinly drawn that we don't even mind when Anna chooses Declan over him—whoops, did I spoil that for you? If these few bits of acting talent are enough to save the movie for you, by all means, see it. The rest of us will be waiting for something more inventive from the genre.