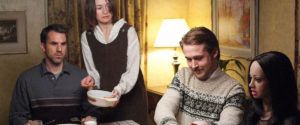 Lars and the Real Girl
3 Stars
Director

Cast

Rated

PG-13

Runtime

106 min.

Release Date

10/26/2007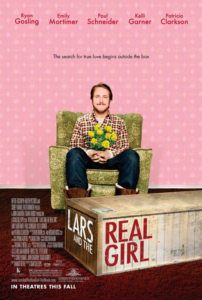 In Lars and the Real Girl, we spend most of our time watching Lars (Ryan Gosling) interact with a girl who is pointedly not real. Bianca is a sex toy, designed to be anatomically correct in every way (yes, even in that way); her synthetic hair and lifelike face are attached to a super-posable body, though Lars never takes advantage of these features. Their relationship is one of companionship. He even insists that they share separate beds, in different houses no less. According to Lars, they met on the internet; she's half-Brazilian, half-Dutch, and has nurse's training.
News of Lars' presumably first girlfriend comes as great comfort to his brother and sister-in-law, who have been concerned lately about Lars' introvert tendencies. Getting him to come over for breakfast or dinner is as easy as giving a cat a bath. They live right next to each other on the same property; in fact, they live in the house and Lars lives in the made-up garage. Lars' sister-in-law Karin (Emily Mortimer) seems more concerned than her husband, Gus (Paul Schneider), insisting there's something wrong with Lars. Gus maintains that Lars just likes to be alone. Karin's suspicions are confirmed when Lars asks if Bianca can stay with them for religious reasons; they agree, only to find out Bianca's inanimate secret.
We get hints as to what caused Lars' belief that Bianca is real and why he needs her as a friend. Surely it has something to do with his mother, who died giving birth to Lars. He still carries a blanket she made for him while pregnant; it's a petite item, light blue and baby-sized, just small enough to wear as a scarf, hiding the fact that it's his baby blanket. That Karin is exceedingly pregnant unquestionably draws out some curious feelings for Lars, reminding him of his mother. And what of his co-worker Margo (Kelli Garner), who shyly attempts to flirt with Lars? He reacts to her like a child who just spilled his milk, sprinting in the opposite direction. Clearly he's smitten.
It all takes place in a small northern town, somewhere with a tight community of rural-types initially hesitant toward Lar's delusion, but kindhearted enough to accept him, and Bianca. The local psychologist (Patricia Clarkson) advises Gus and Karin to do everything to sustain Lars' fantasy. It's something he needs, she explains. In turn, the town embraces Bianca like one of their own, dressing her, inviting her out, sometimes even without Lars. As a result, Bianca is on the school board, has a job, and attends church regularly.
Now, this all seems rather ridiculous, as if Will Ferrell should be playing Lars on a Saturday Night Live sketch. But director Craig Gillespie and writer Nancy Oliver (HBO's Six Feet Under) bring a sly humor to it all, without pointing out jokes with a zooming camera or wacky music. Their movie is subtle, if not quiet, barely emphasizing its comedy, contained within a surprisingly intense drama. Boisterous humor isn't possible when one of your leading actors is a doll. One scene has the camera panning left through a mall, flowing past Bianca in a store window, seemingly a mannequin, but is rather being dressed in a new outfit by one of the town's willing participants in Lars' delusion.
Reportedly, filmmakers demanded that actors treat Bianca like a fellow castmember. Much of that offscreen camaraderie with the doll shows up in the film, as there's authenticity in how the characters interact with her. And while they pretend in front of Lars, for Lars, it's not as though they're humoring him. Bianca is given ironic human characteristics, most importantly by everyone other than Lars, making the film's greatest accomplishment our finally feeling like an inert sex doll has a vital role to play.
Ryan Gosling's endearing gazes into Bianca's eyes are the film's greatest treat. He's an actor attracted to roles that unexpectedly grow on an audience. With Half Nelson, Gosling's budding intensity earned him a Best Actor Oscar nomination, justifiably, I believe. Otherwise, he's been a minor presence in a number of minor movies before this, like Stay and The United States of Leland. In Lars and the Real Girl, the actor does his best work, creating a tangible relationship between his character and a doll, with vast expression depicted in his eyes. Despite Lars' ersatz relationship, we hope he will finally realize his delusion is just that. An illusion of simplicity floods this picture; unexpected, given its complicated and unconventional premise. We analyze Lars and his problems, trying to crack that shell he stubbornly retains. It's a heartfelt film, unexpectedly making us laugh at, and yet feel for the complicated, damaged main character and his hopeful real-life romance.