Director

Cast

Rated

PG-13

Runtime

99 min.

Release Date

07/01/2011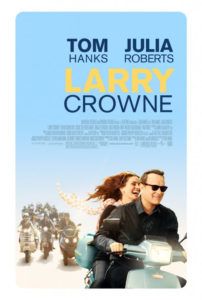 For audiences still taken by the sheer star quality of once-bankable actors Tom Hanks and Julia Roberts, both of who passed their prime in the last decade, their new movie together, Larry Crowne, should be a charming diversion. At the very least, it reinforces our knowledge that Hanks has one of the most delightful personalities in Hollywood and remains ever-watchable. His second directorial effort (after That Thing You Do), Hanks also co-wrote the movie with Nia Vardalos, whose career reached "one hit wonder" status after Hanks and wife Rita Wilson (who also appears in the film) produced her breakout sleeper My Big Fat Greek Wedding. After appearing together in Charlie Wilson's War, Hanks and Roberts reunite and display plenty of chemistry in this rather plain, unpretentious, but somewhat uninvolving romantic comedy.
Reflecting today's harsh job market, in Larry Crowne's first scene, Hanks' titular character is fired from his position at a retail superstore, as his lack of college education prevents advancement up the corporate ladder. A divorcé, Larry also learns his house is now worth less than what he owes and will have to move. On his own and without support, he resolves to attend community college and secure himself a future. He enrolls in an economics course (whose instructor is played by an amusing George Takei), in which he befriends quirky "free spirit" classmate Talia (Gugu Mbatha-Raw). She lends Larry style tips and convinces him to join her "scooter posse" (a biker gang on scooters). His other course is in public speaking and taught by Mercedes Tainot (Roberts), a disillusioned instructor whose blogger husband (Bryan Cranston) spends his days looking at porn. In time, and after her marriage fails, she begins to notice Larry, and the two discover they have a rapport.
One of the best aspects about the script is something I expected to occur, but thankfully, never happened. Usually, in this brand of romantic comedy, the second act would feature a conflict to keep Hanks and Roberts apart. Whether it would be Larry's ex-wife coming back to him or Mercedes' husband cleaning up his act, or the college learning about Larry and Mercedes' secret kiss, Hanks and Vardalos avoid unnecessary conflicts for the characters to overcome. There are no forced complications here. The story is content with being about Larry reclaiming his life vis-à-vis the slowly burgeoning romance between him and Mercedes, his newfound friends, and his new outlook on life. This may be construed as annoyingly undemanding or without apparent purpose by some viewers, while others will find the result quietly entertaining. Throughout, I never laughed out loud and I always knew how it would end, but I smiled for the duration.
Still, the frothy effortlessness of it all may distract some. When the movie's idea of a good time is a bunch of ordinary college kids on scooters following Larry to a yard sale, there's clearly an element of blandness at work. This is most evident in the supporting cast. Mildly funny at best, Cedric the Entertainer and Taraji P. Henson play Larry's neighbors, who hold a perpetual flea market on their front lawn. Talia's bubbly, flirty personality aggravates her jealous boyfriend, a seriously buffed-up Wilmer Valderrama (That 70s Show), but never in a meaningful way. Pam Grier is all but wasted as Mercedes' fellow teacher. Cranston and Takei are the only standout supporting actors, their genuine personalities adding much to their minor roles. Meanwhile, Hanks proves as enjoyable as ever, whereas Roberts is merely serviceable and spends most of the movie sulking (this is contrasted by her typical overacting during scenes of elation).
Engineered and situated as counterprogramming to Michael Bay's incessantly loud and violent Transformers: Dark of the Moon, this light and unassuming movie offer grown-up storytelling at a decibel level that won't make your ears bleed. Though they both have their issues, if forced to choose between them, I'll take Hanks' effortless romantic comedy instead of Bay's attack on the senses. During summer movie season, audiences occasionally need something like Larry Crowne to remind us that not every movie requires a $200 million budget and hundreds of CGI shots to be entertaining. Moreover, sometimes bland congeniality and predictability have more pick-me-up value than your average tentpole blockbuster. Hanks gives moviegoers the opportunity to step away from the muddy colors of 3-D and disappointing superhero fare for something simple and sweet, and for that, we must be thankful.