Director

Cast

Jack Black

,

Angelina Jolie

,

Dustin Hoffman

,

Seth Rogen

,

Lucy Liu

,

David Cross

,

James Hong

,

Jackie Chan

,

Gary Oldman

,

Michelle Yeoh

,

Danny McBride

Rated

PG

Runtime

90 min.

Release Date

05/26/2011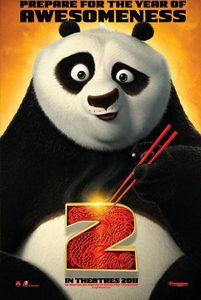 The greatest threat to the ancient China of Kung Fu Panda 2 recalls the menace plaguing a small town in Japanese master Akira Kurosawa's Yojimbo. In that 1961 classic, a gangster runs the story's feudal village with a powerful weapon against which no one stands a chance, except, of course, Toshiro Mifune's rogue samurai swordsman. Tatsuya Nakadai's enemy carries a gun, a pistol, and in doing so marks a battle between martial arts and industrialism, between the old and the new. Naturally, the wiser and more experienced opponent prevails, leaving the gunfighter cut down and the stoic ronin to continue his journey. Dreamworks Animation broadens that storyline with melodramatic family overtones spliced into martial arts comedy antics in this sequel to their 2008 hit, Kung Fu Panda.
Although the Jack Black-voiced panda, Po, isn't quite as charismatic as Mifune's iconic role, the plump "dragon warrior" has his moments bouncing fists off his belly and shouting funny lines in slow-motion. In the first scenes, he's told by his teacher Shifu (voice of Dustin Hoffman) that kung fu is in danger from a modern threat created by the evil peacock, Lord Shen (voice of Gary Oldman). Lord Shen has invented gunpowder and with it cannons, with the full intent of taking over China and wiping out all followers of kung fu. Joining the mastered buffoonery of Po in defense of all things good is the Furious Five, voiced by Lucy Liu, Seth Rogen, Jackie Chan, and David Cross, who play sideline roles to Angelina Jolie's Tigress. Together they rush out to stop Lord Shen, completely unaware of his newfangled power.
Writers of the original, Jonathan Aibel and Glenn Berger, return to expand the mythology by giving strong, interconnected emotional backstories to both Po and Shen, making the multiple face-offs between these characters during the course of the film all the more significant. And amid the physical humor (watching the bulbous Po complete impossible acrobatics never loses its charm), there are plenty of touching, teary-eyed moments, especially those involving Po's "father", the loving goose Mr. Ping, as voiced by living legend James Hong. All of the voicework is solid, although the standout is Oldman, who adds incredible dimension to his vengeful character—thanks in part to a soothsayer (voiced by Michelle Yeoh) who foresees Shen's demise by a black-and-white hero.
The setup and resolution may feel very familiar, with all the twists and turns as predictable as can be, but the film's style and quality animation make it incurably watchable. Vivid colors and thrilling battle scenes pop from the screen (no doubt more so in the optional 3D screenings), while the energetic pace makes the brief 90-minute runtime speed by. Longtime animator and director of HBO's Spawn series, Jennifer Yuh helms the film and maintains the actionized oomph and humor that made the original work so well. Visually, this is probably Dreamworks' best-looking feature next to last year's How to Train Your Dragon, with bright greens and textured reds making every scene simply gorgeous. Yuh even employs some two-dimensional hand-drawn animated sequences for flashback scenes that fit nicely into the overall presentation.
Once Dreamworks Animation establishes a franchise, they hold on kicking and screaming until they've beaten it into the ground. After four Shrek movies and a Puss in Boots spinoff due later in 2011, two Madagascar titles, and a newly developed How to Train Your Dragon sequel in the works, don't expect this to be the last adventure for Po and his brand of rotund antics. There's a scene at the very end of Kung Fu Panda 2 which suggests a third entry is on the way, maybe a story involving farmers (a Seven Samurai riff, perhaps?). And while this critic could do without most of the animation studio's oversimplified releases so often teeming with pop-culture reference and potty humor, given the solid performance of the voice cast and animation team here, another entry is more than welcome—as long as the story keeps growing, the humor remains lighthearted, and those colors are as bright as ever.