Director

Cast

Rated

R

Runtime

98 min.

Release Date

04/29/2016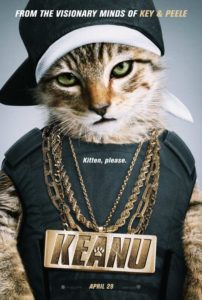 Keanu marks the first big-screen venture for the duo of Keegan-Michael Key and Jordan Peele, the architects behind Comedy Central's brilliant but now-ended Key & Peele—arguably the most surreal and hilarious sketch-comedy show since Kids in the Hall. Key and Peele have acted in separate feature films before, of course, but never have they masterminded their own project together. And while Keanu may seem to stretch a single joke over the course of 98 minutes, screenwriters Peele and Alex Rubens (a contributing writer on their show) manage to incorporate a number of the show's ongoing themes, while also providing their familiar technical acumen courtesy of the show's frequent director Pete Atencio. Keanu emits an ongoing flow of laughter, even if the material probably won't lend itself to repeated viewings.
If there was one constant on Key & Peele, it's how the show's stars never settled into a comfortable rhythm. Their always-surprising commentary, frequent identity changes, and the high production value of their sketches (each was ostensibly a polished short film) attested to their vision. During the show's five-season run, the two explored several ideas reproduced in Keanu, such as how Key and Peele each come from multi-racial parents, but they usually behave more like white people (much to their own amusement and dismay). Their sketch-comedy reveled in the interplay of formulaic racial humor, and often created a wittiness that confronted stereotypes. They're also cinema buffs, and so their sketches spoofed movie clichés or pointed out the absurdities of, say, Gremlins 2: The New Batch in a particularly hilarious sketch.
Keanu once again finds the two men playing against type, appearing as a couple of middle-class cousins who must pretend to be hardened gangstas in order to recover a stolen kitten. The contrast of cold-blooded criminals with an aww-inducing kitty-cat is hilarious in concept alone. Fortunately, the idea is explored to its fullest. Peele stars as Rell, an artist whose longtime girlfriend recently left him. In the wake of Rell's despair, an adorable mackerel tabby kitten appears at his doorstep; he names it Keanu, and the kitten instantly heals his feelings of abandonment. Two weeks later, Rell comes home with his cousin, the buttoned-down family-man Clarence (Key), and discovers his house broken into and trashed. Worse, Keanu is missing. (This might sound like a spoof on John Wick, which starred Keanu Reeves, although the filmmakers insist the similarities are a pleasant coincidence.)
Rell and Clarence track down Keanu to a Los Angeles gang leader, Cheddar (Method Man), who's given Keanu the name "New Jack". Uncomfortably passing themselves off as legendary badasses, Rell and Clarence must in effect become gang members for a day to get Keanu back. One repeated comic strain features Clarence teaching tough thugs the genius of George Michael in a getaway car. But this says nothing of the two lurching, ghost-like killers (also played by Key and Peele) who are killing everyone in their path and are also after the kitten. While the ongoing joke of the soft Rell and Clarence acting tough gets old, the film's enduring joke about hard-hitting gangstas all fighting over a kitten never loses its edge, or cuteness (courtesy of multiple kitten actors, one of them voiced by Mr. Reeves himself).
Amid plenty of funny moments where our heroes are confronted with tense, life-threatening situations, Key and Peele always find humorous ways of defusing the tension—whether it's one of a dozen George Michael references or simply an extended shot of the tabby. Those familiar with Key and Peele's show will probably enjoy Keanu more than most, since it takes some time to acquaint oneself with their unique, often referential style of humor. The references aren't direct, but the influences are both apparent and sometimes hidden in the backdrop. (For example, Rell has a Cloud Atlas poster on his living room wall. Is it any wonder why, since that film's fluid treatment of racial and spiritual identity bears an undeniable correlation to the treatment of racial identities in Keanu?) Hopefully, their next film will include Key and Peele's penchant for cross-dressing or horror movies, but until then, Keanu makes a worthy feature debut.