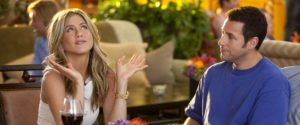 Just Go With It
1.5 Stars
Director

Cast

Rated

PG-13

Runtime

116 min.

Release Date

02/11/2011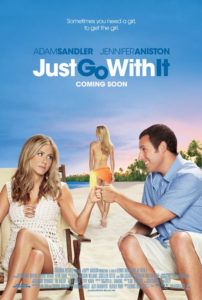 The nicest thing that can be said about Just Go With It, the latest from Adam Sandler's Happy Madison Productions, is that it's bearable. Sandler returns with his usual troupe for a high-concept romantic comedy based on the French play Fleur de cactus, or Cactus Flower for those not versed in the romance languages. Sandler and Co. insert their own brand of high-fructose sweetness and potty humor into material that's been done better elsewhere (including an uneasy 1969 version with Walter Matthau, Ingrid Bergman, and Goldie Hawn). Filled with moments typical for both Hollywood rom-coms and Sandler fare, the result is predictable and just barely watchable thanks to some surprising child performances.
Sandler plays Danny, a sleazy plastic surgeon whose cheating fiancée left him heartbroken. For twenty years since his devastating breakup, Danny has used the leftover wedding band to spin yarns about his nonexistent abusive spouse and lure unsuspecting women into casual sex. After showcasing absurd plastic surgery disasters, the movie moves forward when Danny happens to meet a beautiful grammar school math teacher, Palmer (swimsuit model Brooklyn Decker), without wearing his ring. They make a connection, but the morning after their own casual encounter she finds his ring and assumes he's married. Rather than explain that he's a man-whore, he fibs and tells Palmer that he's getting a divorce. When she demands consent from Danny's future ex-wife, he recruits his office assistant, Katherine (Jennifer Aniston), to play the role of his posh ex.
The deceiving quickly spins out of control in this escalation comedy once Katherine's clever young children become involved. Bailee Madison (from Brothers) and Griffin Gluck steal the movie—particularly Madison, who aspires to be an actress and improvises an absurd-but-hilarious Cockney accent for the duration—during a blackmail scene where they negotiate their payoff to help Danny propel his web of lies by pretending to be his children. For some reason too protracted to explain, Nick Swardson joins as Danny's cousin, who acts as Katherine's husband named "Dolph Lundgren", complete with an ambiguous Euro-trash accent. Together, everyone voyages to Hawaii on a peacemaking vacation of sorts, where Katherine bumps into her loathsome former sorority sister (Nicole Kidman) and concocts a few lies of her own.
This unending series of lies swings madly out of control, and as much as the viewer tries to take the title's advice, it's all very stupid and hard to swallow. Sandler's frequent collaborator Dennis Dugan (Happy Gilmore, Big Daddy) directs, dividing his energies between showcasing Decker's cleavage in a number of highly publicized swimsuit shots and building the predictable burgeoning romance between Danny and Katherine. Of course, while pretending to be a former married couple, the two realize they're perfect for each other, as apparently, Katherine has forgotten that her boss is a lying womanizer who cons women into bed. How appropriate that the film opens the weekend before Valentine's Day.
Yet, the movie manages to make the "unexpected" romance build naturally within the confines of this otherwise unnatural plot, thanks largely to Aniston's serviceable, likable performance. She and Sandler play their standard roles, providing a functional, low-energy, and comparably normal foundation when reacting to the other "wacky" characters. Swardson's grating presence, complete with thick-lensed spectacles and loud Germanspeak, tests the viewer's patience when he gives mouth-to-mouth to a stuffed sheep. Meanwhile, Decker shows her inexperience as an actress with every rigidly-delivered line, Dave Matthews appears at random as a closet homosexual, and Kidman's extended cameo grows increasingly unflattering as the movie progresses.
As always with Happy Madison produced comedies, there's some mildly homophobic and racist material to push through (including a questionable blackface reference). Oh, and don't forget jokes at the expense of fatties and freaks. Repetitive gags, including an in-joke about defecation and Sandler's annoying finger impression of chin scruff, become stale before they're even funny. And what would any Sandler movie be without a few crotch shots? Somewhere in this mess exists a story with heart that's lost on Sandler's sleazy protagonist, shots of Decker's (and Aniston's) glossy breasts, and the over-the-top upkeep of lies. Still, Just Go With It isn't nearly as offensive as I Now Pronounce You Chuck and Larry, nor quite as generally awful as Grown Ups. But don't mistake that as an endorsement.