Director

Cast

Rated

PG-13

Runtime

123 min.

Release Date

08/07/2009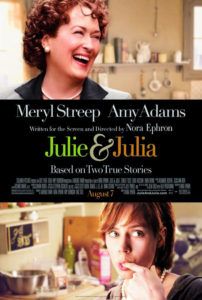 Strange how there are two women so alike—both who love to cook, both looking for a purpose in their lives, both with supportive and lovable husbands, both who make something of their lives in the kitchen—and yet only one's story proves interesting. Julie & Julia demonstrates how two characters so similar can diverge mainly based on setting and the actors playing them. The film contains wonderful performances but loses our attention when food and the love of cooking are no longer the central themes.
Meryl Streep and Amy Adams, together again after last year's Doubt, play cooks in similar roles. Streep embodies the late master chef Julia Child, whose umpteen cookbooks and television series inspired great home-cooked meals since the early 1960s, but whose blithe and carefree personality is what people remember. Adams plays Julie Powell, a call center lackey taking complaints about the post-9/11 Lower Manhattan Development Corporation. Then, Julie decides to blog about a one year experiment where she cooks Julia Child's 524 recipes.
Child's story begins in Paris, where she moves with loving husband Paul (Stanley Tucci), and, not knowing what to do with herself, she decides to go to cooking school. A large woman, she towers over the other chefs at Le Cordon Bleu, making us wonder how the filmmakers made Streep look so tall (certainly, Tucci being so short didn't hurt). She struggles to assemble a French cookbook for American readers; meanwhile, we're more enthralled by how amazingly easy she makes her complicated recipes look. Her husband relishes food as much as she does. If only the camera would've lingered a little longer, so we might watch these actors savor every bite.
Powell lives above a pizzeria, conducting her self-regulated experiment during late-night hours after work, sometimes as late as 8 or 9 p.m. Eating comes even later. Needless to say, antacids are needed. Her husband Eric (Chris Messina) woofs down her meals like they're the last he'll ever have, not really understanding nor respecting her project. She takes donations via PayPal on her blog; otherwise, who knows how she'd afford duck, lobster, butcher-shop quality proteins, fresh vegetables, and all that butter. But why is she doing this? What does Powell learn from Julia Child's recipes, living semi-vicariously through someone else? By the end of the movie, we're not quite sure.
Frequent rom-com director Nora Ephron used Child's autobiography My Life in France and Powell's book Julie & Julia: 365 Days, 524 Recipes, 1 Tiny Apartment Kitchen for source material. Funny, she didn't wait for Powell's second book, which hits stores in December 2009 and reportedly contains the details of an affair Powell had after her popularity took off, to reach bookshelves. Understandably, Ephron wanted to represent a parallel between two strong women claiming their independence in the world, establishing as many similarities as possible, even if the parallel about two happy marriages was only half-true.
Ephron doesn't make us fall in love with the food the way a movie about Julia Child should. After all, the third character is the fine cuisine conjured up between these two women, and it's an underdeveloped one. Not enough time is spent ruminating over the colors, its smells and tastes, the importance and range of ingredients, which should all be communicated either through close-ups or the actors' reactions to their consumption. We're not rushing out to drop more than we should on a world-class meal after viewing, nor are we running to the bookstore to pick up either one of Child's cookbooks or Powell's work. That we're not desperately hungry afterward feels like a severe error, since this is a crucial element in Julie and Julia's lives.
Two-and-a-half stars. This star rating comes from a very logical place. Only about half of Julie & Julia entertained me, so that accounts for two. The other portion belongs to Streep, whose presence alone makes any movie better. She's funny and heartwarming and rambunctious as Child, and her scenes are a joy. Not that Adams doesn't have talent; she's capable of making any character charming and sugary. However, Julie Powell seems so secondary to Julia Child. Her scenes are distancing; we wait for them to get over with so that Streep might reappear and return energy to the screen. Powell latches on, but we're never quite sure to what end. Her episodic journey of cooking helps her find herself. And what does she find? Mostly that Julia Child was more interesting than she is.