Director

Cast

Rated

R

Runtime

92 min.

Release Date

07/07/2023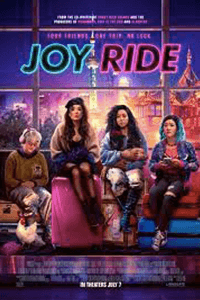 Adele Lim makes her directorial debut with Joy Ride, a raucous, raunchy summer comedy best enjoyed with a crowd. After the eternity of pandemic quarantining and the curious absence of R-rated comedies in theaters lately (aside from the disappointing No Hard Feelings), the movie will remind you how good it feels to be among a theater full of laughing people. Some of the funniest comedies in recent years—Palm Springs (2020), Barb and Star Go to Vista Del Mar (2021), Rye Lane (2023)—have debuted on streaming services, robbing viewers of the contagious laughs that can sometimes build in a movie theater. After its premiere at SXSW earlier this year, Joy Ride could have ended up on Hulu or Amazon Prime Video, where it would have been consumed and enjoyed but ultimately overlooked as another disposable piece of content. However, the filmmakers, including producers Seth Rogen and Evan Goldberg, opted for a theatrical run, where riotous comedies have a better chance of washing over their audience and tickling funny bones than they might have otherwise. Joy Ride would probably be a fun at-home watch, but it's a blast in a packed auditorium. 
The movie begins in 1988, and the Chens (Kenneth Liu and Debbie Fan) have just moved with their young daughter Lolo (Milana Wan) to White Falls, Washington, a suburban neighborhood where, as Asian Americans, they stand out in the predominantly white community. "Are you Chinese?" ask the Sullivans (David Denman and Annie Mumolo). Not knowing what's coming next, the Chens reply, "Yes, but we speak English." The Sullivans then introduce Audrey (Lennon Yee), their adopted daughter from China. From this first encounter, Lolo and Audrey bond over their shared backgrounds and grow up in a zippy montage that brings us to today. Audrey (Ashley Park) has become a hard-working businesswoman, while Lolo (Sherry Cola) is a struggling artist of amusing sex-positive sculptures and living in Audrey's garage. Although Audrey secretly dreams of moving to California, Lolo can't imagine life without her best friend since childhood. Moreover, Audrey has never felt whole, a common feeling among Chinese adoptees living in the US, where the culture isn't exactly kind to, well, anyone who isn't white.  
The plot kicks into gear when Audrey must visit Beijing to close a business deal, so she enlists Lolo as a translator, making her promise to keep those bawdy instincts in check, which, of course, she doesn't. Along for the journey is Lolo's awkward loner cousin, Deadeye (Sabrina Wu), who plans to rendezvous with fellow K-Pop superfans after arriving in China, which, of course, she doesn't. This adds a stressful element of chaos to what, for Audrey, is a work trip first. Audrey tries to balance out Lolo and Deadeye's unpredictable energy with her college friend, Kat (Stephanie Hsu), a control freak actress who stars on a popular Chinese television show called The Emperor's Daughter. But Lolo's jealousy over Audrey and Kat's friendship leads to further tension. Worse, Audrey's uncertainty about her parentage comes into question when she meets with an executive (Ronny Chieng) to close her deal, and he asks, "If you do not know where you come from, how do you know who you are?" Hoping to answer that question, Lolo plans a detour so Audrey can locate her birth mother in China, thus closing the deal. 
What begins as an introspective search for her origins—via train, truck, boat, and motorcycle—quickly descends into an irreverent spiral involving thousand-year-old egg shots, a stash of illegal drugs, stolen identities, a notorious tattoo, and a memorable performance of Cardi B's "WAP." The screenplay by longtime Family Guy writers Cherry Chevapravatdumrong and Teresa Hsiao could have better developed the unclear business impetus for the trip. Regardless, once things get going, it hardly matters. Lim, who co-wrote Crazy Rich Asians (2018) and Raya and the Last Dragon (2021), embraces the formulaic road movie template, delivering blows of shock and gross-out humor but with an earned tenderness woven into the hilariously rowdy proceedings. The setup leads to a predictable scenario worthy of comparisons to Girl's Trip (2017), with a dash of the self-discovery found in Flirting with Disaster (1996) and a what-just-happened quality reminiscent of The Hangover (2009). Then again, perhaps the aptest comparison is last year's Return to Seoul, although that connection may not become apparent until the surprisingly moving last third of Joy Ride. 
The movie features an ongoing exploration of Asian identity in different parts of the world that comments on the attributes of various Asian cultures, which will resonate with some and be new for many Western audiences. But Joy Ride never feels like a commentary on the lack of Asian representation in Hollywood movies, even as it supplies a step in the right direction. All the while, the blue-humored setup follows a familiar road movie map—complete with a falling out that, in the climax, is resolved with a big speech in a public place—but the personalities enhance the material. What resonates most are the universal characters, and how the four friends complement and challenge each other. Lim and her writers give the actors time to breathe life into their roles, ensuring they don't feel like one-note types. Park, Cola, Hsu, and Wu each have moments of explosive comic timing and sentiment, showcasing how funny and emotionally raw they can be. Chevapravatdumrong and Hsiao's screenplay is generous in that way. On the surface, Joy Ride looks like a wild time—and it is—but it's not an empty, throwaway experience. It has a tricky way of sneaking authentic and touching scenes amid its crudest moments of humor.