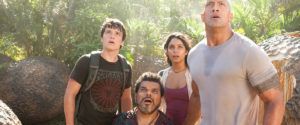 Journey 2: The Mysterious Island
2 Stars
Director

Cast

Rated

PG

Runtime

94 min.

Release Date

02/10/2012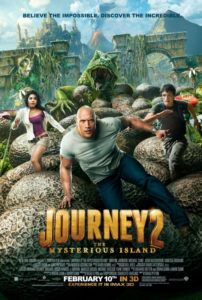 Every few years, Michael Caine sullies his good name with some inexplicable, out-of-left-field role that not only raises eyebrows but forces us to wonder if he's having a laugh at our expense. Back in the 1970s, he followed a string of greats like Sleuth and The Man Who Would Be King with that cornball Irwin Allen killer bee flick The Swarm. In the '80s, he followed tour de force roles in Sidney Lumet's Deathtrap and Woody Allen's Hannah and Her Sisters with a shameful part in Jaws: The Revenge (you remember, the one where they kill the shark by ramming it with a boat). In the '90s, there was the Steven Seagal actioner On Deadly Ground; in the '00s, Goldmember. This decade, between appearing in prestigious Christopher Nolan films, comes Caine's unfathomable role in Journey 2: The Mysterious Island, the unnecessary sequel to 2008's Journey to the Center of the Earth 3-D.
Loosely based on the Jules Verne classic, The Mysterious Island features only one of the characters from the previous movie, Josh Hutcherson's Sean Anderson. When the movie opens, Sean's uncle, played by Brendan Fraser before, is nowhere to be found. The troubled teen Sean now lives with his mother (Kristin Davis) and his stepfather Hank (Dwayne Johnson, still sporting his extra heft from Fast Five), and he believes that his adventurer grandfather has found the mysterious island from Verne's text. If you recall from the first movie, everyone in the Anderson family believes that Verne's books were not works of fiction; rather, they were fiction written around real-life places. Here, we discover not only that The Mysterious Island is real, but that it's also the same island referenced in Treasure Island, Gulliver's Travels, and countless tales about Atlantis. Topping off the pseudo-nautical story with hints of 20,000 Leagues Under the Sea, screenwriters Brian and Mark Gunn overload the material. What, Verne's book didn't have enough imagination for you?
Anyway, in a desperate attempt to bond with Sean, struggling stepdad Hank agrees to take Sean down to the South Pacific, where encoded radio transmissions hint that Sean's grandfather has found Verne's island from the book. After a bumpy ride and crash landing in a jalopy-of-a-helicopter piloted by Palauan local Gabato (Luiz Guzman) and his daughter Kailani (Vanessa Hudgens), Sean and Hank lead their foursome into the jungle to face dinosaur-sized lizards and insects. As Sean so bluntly explains, the island's biogeography is in reverse; that which is big in the normal world is small here—hence massive butterflies and birds, but elephants the size of a lap dog. Enter jungle survivor Alexander Anderson (Caine), Sean's grandpa, who has miraculously survived for years on this island by himself. But, just as in the first movie, there's no time to explore this extraordinary world, since some contrived natural disaster looms and forces our heroes to hightail it through the scenery in about 90 minutes.
Caine's character engages Hank in some playful jibes that make for some slight laughs, but mostly Caine keeps adults in the audience tickled by his blithe presence, and the sheer lunacy of seeing this 78-year-old actor riding a giant bee or swimming in underwater scenes. Everyone else is on autopilot: Johnson flexes his pectorals in a funny if stupid scene (fortunately, he forgoes his eyebrow trick), but it's impossible to take the movie's attempts at family drama seriously with that massive frame of his. Johnson's muscle-bound character would've been better suited to an actor whose arms didn't weigh more than the combined weight of his costars.  Guzman propels obnoxious comic relief by acting like a buffoon, hooting and hollering over every little thing. Hudgens is the intended sex appeal in her skin-tight shirt, given the camera's habit of lingering on her breasts. But strangely enough, the movie feels like a vehicle for Hutcherson, the young actor from The Kids Are All Right who will inevitably become a mega-star after The Hunger Games hits theaters.
There's nothing about this family-friendly movie that's outrageously offensive, but there's nothing about it that's particularly interesting, well-executed, or inventively conceived either. It's a mishmash of science-fiction ideas blended together by director Brad Peyton in a CGI blob of bright colors and fantastical creatures. Subpar effects render the movie's creatures with videogame realism. 3-D won't likely improve the experience. My 2-D screening was, on the whole, gorgeous for its vividness, in an impressive-for-Syfy sort of way; darkening the movie with 3-D glasses will only make matters worse. With hints of Jurassic Park, Honey I Shrunk the Kids, and even Avatar thrown in the mix, youngsters who don't know any better may have fun watching the island's monsters and pretty colors and simplistic storyline, but those of us who know better roll our eyes at the promise of a lunar-bound sequel. Ah well, at least the movie is keeping Michael Caine well-paid.