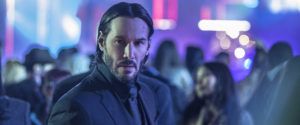 John Wick: Chapter 2
3 Stars
Director

Cast

Keanu Reeves

,

Common

,

Laurence Fishburne

,

Riccardo Scamarcio

,

Ruby Rose

,

John Leguizamo

,

Ian McShane

,

Franco Nero

,

Peter Stormare

Rated

R

Runtime

122 min.

Release Date

02/10/2017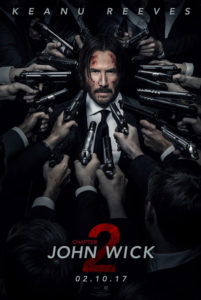 John Wick: Chapter 2 does exactly what good sequel should: it replicates aspects of the original while also expanding its mythology through a measure of novelty and one-upmanship. Keanu Reeves returns to his instantly iconic role looking more weathered and Hellenistic than ever. But Reeves also carries a quiet, brooding nobility that has become his signature, as evident in The Matrix trilogy or A Scanner Darkly (2006). To be sure, Reeves has never demonstrated a knack for layered emotions, but he carries himself in such an enduring, engaged way that he exudes cool. Thrust deep into the intricate world of hired killers and assassins, Reeves' titular character is stoic but determined, and he amasses a body count of what must be hundreds. So while the film may not be for the squeamish, it delivers everything fans of the 2014 original could hope for.
Chad Stahelski, Reeves' stunt double in The Matrix films, follows his directorial debut on John Wick with another solid actioner. Stahelski made the original alongside David Leitch, who's off preparing to direct a sequel to Deadpool. On his own this time, Stahelski once again demonstrates control of his craft. He does for shoot-em-ups what John Woo was doing three decades ago with The Killer and Hard Boiled—he turns unrelenting violence into a frenetic ballet of headshots and martial artistry. Reeves maneuvers countless goons in deliberate, calculated steps the viewer cannot help but watch and appreciate for the sheer design of his movements. Fortunately, Chapter 2 does more than deliver expertly choreographed violence; it further explores its fascinating criminal underworld, revealing details about this elaborate subculture of killers to, in part, make way for an impending sequel.
From the outset, animal lovers will be pleased to learn that our hero, who went on a rampage in the original after Russian gangsters killed his Beagle puppy, does not suffer another loss of this magnitude. From the end of the first film, the retired killer maintains his adorable, nameless Pit Bull, who, much to the viewer's relief, emerges from the proceedings unscathed. And while the preservation of his animal friend provides a relief for those traumatized by the cruel impetus in the first chapter, there's a notable lack of motivation in Chapter 2. The story begins after an unnecessary opening sequence in which Wick disposes of some Russian gangsters (headed by a cartoonish Peter Stormare) who stole his car. Once this pointless preface is over, Wick faces a man from his past, the Italian Santino D'Antonio (Riccardo Scamarcio).
Back before Wick retired, he gave D'Antonio a "marker" that—according to the intricate world established by screenwriter Derek Kolstad—means Wick is obligated to kill someone of D'Antonio's choosing. Markers cannot be broken according to the Continental, the guild of criminal goings-on that apparently runs, well, everything. Turns out D'Antonio wants to take the place of his sister, Gianna (Claudia Gerini), as a Continental chairperson. Being retired but unable to escape his marker, Wick begrudgingly heads to Rome and carries out the "impossible" mission to free himself of his debt, earning more than a few mortal enemies in the process—including Gianna's badass bodyguard (Common). Of course, D'Antonio double-crosses Wick, making our hero realize that as long as the Continental exists, he will never have peace.
Part of the joy of John Wick and this sequel are the rules established by the Continental. Stahelski shows the procedures that follow D'Antonio putting a price tag on Wick's head, and it involves an old-timey secretary's pool filled with tattooed women, outdated computers, and rotary telephones. Elsewhere, a bombastic Laurence Fishburne appears as the ringleader of the underworld-beneath-the-underworld, and the reunion between Neo and Morpheus will leave some giddy. Blasting through a ridiculous number of baddies and enduring no end of physical abuse, Wick proceeds without dry one-liners or moments of incredulity to relieve his continued physical punishment (both delivered and received). Even so, there's a reticent humor beneath Chapter 2, as if the filmmakers are well-aware of the Continental's ostentatious quality and the sheer outrageousness of the film's action scenes.
Stahelski and his cinematographer Dan Laustsen capture some incredible action amid gorgeous scenery. Shot mostly in Italy, Chapter 2 features a bravado extended sequence filmed in Rome's Galleria Nazionale d'Arte Moderna. The art-conscious viewer may cringe as bullets crack marble sculptures or blood splatters across a priceless painting (don't worry, it's all CGI), while we can only look on and marvel when Wick enters a lower-level gallery comprised of mirrors and neon. In fact, Laustsen has put great care into the lighting, as every major action sequence features expressive, radiant, phosphorescent energy. Loaded with both basic and stylistic pleasures, John Wick: Chapter 2 provides a smorgasbord of gunplay, hand-to-hand combat, car chases, and slick production design—all while maintaining the integrity of its predecessor and making a forthcoming sequel an exciting prospect indeed.