Director

Cast

Natalie Portman

,

Joel Edgerton

,

Ewan McGregor

,

Rodrigo Santoro

,

Noah Emmerich

,

Nash Edgerton

,

Robert Boyd Holbrook

Rated

R

Runtime

98 min.

Release Date

01/29/2016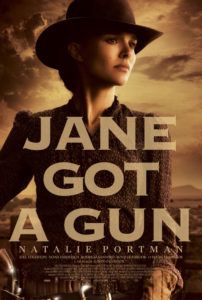 Jane Got a Gun marks the first 2016 entry into the infrequent Western genre, which last year featured at least four great contributions (Bone Tomahawk, The Hateful Eight, The Revenant, and Slow West). Natalie Portman stars as the titular Jane, a rare Western heroine far less angry than Sharon Stone in Sam Raimi's The Quick and the Dead (1995); far less sexualized than Barbara Stanwyck in Samuel Fuller's Forty Guns (1957); and much classier than Madeleine Stowe, Mary Stuart Masterson, Andie MacDowell, and Drew Barrymore in Bad Girls (1994). Portman leads an impressive cast in a slow-burning story about a woman who must defend herself against an unruly gang that's shot up her husband. For a film in development since 2012 and having survived inconceivably bad luck from pre-production to distribution, Jane Got a Gun doesn't play like the complete disaster it could be.
Set to go before cameras in March of 2013, the film's production halted when, on the first day of scheduled shooting, We Need to Talk About Kevin director Lynne Ramsay didn't show up for work. With their original director having bailed on them, financier Scott Steindorff and producer Portman scrambled to find a replacement. Joel Edgerton, who co-wrote the script along with Brian Duffield and Anthony Tambakis, suggested that his Warrior director Gavin O'Connor replace Ramsay. O'Connor agreed and shooting picked up shortly thereafter. But the film's troubles didn't end there. Co-star Jude Law also decided to leave the production (though he was initially hired to replace Bradley Cooper, who in turn replaced Michael Fassbender). Law was replaced by Ewan McGregor, who ended up swapping roles with Edgerton to play the film's villain instead of Jane's ex-fiancé. After production wrapped, the release date was shifted a number of times because the original distributor, Relativity Media, was filing Chapter 11. The Weinstein Company eventually picked up distribution, discarding it into January's cinematic dump heap. And let's not even get into the $750,000 lawsuit the producers filed against Ramsay.
The film opens in 1871. Portman's Jane Ballard oversees her New Mexico ranch in her husband's absence, raising a little girl and minding the home. When her spouse, Bill (Noah Emmerich), returns with several gunshot wounds in his back, he warns that his former gang's leader John Bishop (McGregor) and company are coming for them both. Jane and Bill know what they're in for, and gradually over a series of flashbacks, we learn why as well. Meanwhile, Jane drops her daughter off with a neighbor and seeks out the one man she knows can help: Dan Frost (Edgerton), with whom she clearly has a complicated history. Though he turns her down at first, Dan begrudgingly comes around to help protect Jane and Bill, if only because he loves her. Also via flashback, we learn about Jane and Dan's romantic past, and how everyone involved in the love triangle is connected to Bishop.
The story takes a customary Western yarn, ties it up in flashbacks and backstories, and eventually untangles just where you thought it would. Not that predictability of conventionalism is inherently bad, but it requires a certain quality to surpass such orthodoxy. Jane Got a Gun lacks that certain quality. It relies on gradual character revelations, fade-outs to times past, and expositional dialogue. There are plot twists and turns along the way, a few of which are genuinely surprising. Nevertheless, the story never takes hold, arguably because of the structure. Maybe as part of the troubled production footage was left on the cutting room floor; it certainly feels that way. A chronological sequence of events may have helped involve the audience in the dramatics much more than its nonlinear structure.
If it seems like the behind-the-scenes troubles are probably more interesting than the film, you might be right. It's hard to greet Jane Got a Gun with much more than an admirable shrug. It's a serviceable film, but it's also evident where improvements could have been made. The cast is uneven, beginning with Portman, who looks far too polished and pretty to play a rugged frontierswoman who has endured what Jane is said to have endured. Edgerton's moody and knowing Dan chews scenery like a true Western hero, but McGregor looks silly under the black hair dye used to create his villainous eyebrows and mustache. O'Connor's otherwise confident production is undone by the film's structural issues, where a more traditional, linear storytelling style would have been more appropriate for this quite traditional tale. Overall, there was a lot of fuss about this picture and, as it turns out, it's not worth much fuss at all.