Director

Cast

Rated

PG

Runtime

93 min.

Release Date

11/11/2011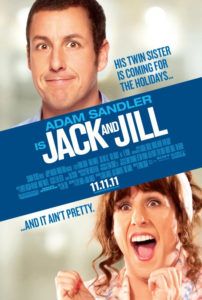 Adam Sandler's twin comedy Jack and Jill contains everything you've come to expect from a Happy Madison production: farting; borderline racism; slapdash direction; grammar-school-level scripting; talking animals; a single joke beaten to death; celebrity cameos (some large and some very small both in terms of screentime and star level); and more farting. The only thing missing is the objectification of women, usually a staple in Sandler movies. But this one's rated PG, so Sandler and Co. will have to make up for that next time. Don't forget the gratuitous product placements. When it's all over, you'll want a cup of Dunkin' Donuts coffee on an American Airlines flight linking up with your scheduled passage on Royal Caribbean's new "Allure of the Seas" vessel, where you will no doubt want a Subway sandwich. Oh, and Al Pacino and Johnny Depp will be there. (So will David Spade, but in a lesser capacity.)
Sandler co-scripted along with Click scribe Steve Koren, basing their efforts on a story by Ben Zook as well as Sandler's experiences with his own siblings. Sandler takes a cue from Eddie Murphy's usual fat-suit-drag routine and plays both eponymous twins here. Jack, an L.A.-based advertising guru, is a typical Sandler character—a wealthy guy with an attractive wife (Katie Holmes, who has little to do) and a couple of bright children (Elodie Tougne and Rohan Chand, neither as charming as Bailee Madison from this year's Just Go With It). His irritating Bronx-based sister, Jill (also Sandler), comes to visit for Thanksgiving, and we immediately understand why Jack is annoyed with her. The reason is simple. Jill is annoying. Sandler never attempts to disappear into the Jill character, despite the potential of a good man-in-drag comedy (think Some Like it Hot or even Mrs. Doubtfire). Rather, he puts on a dress and wig and makeup, does his usual aggravating lady voice, and thus Jill is born.
The plot's nitty-gritty consists of Jack needing to appease his unseen bosses by landing Al Pacino (playing himself) as the new Dunkin' Donuts spokesman. Meanwhile, Jill decides she's going to stay with her brother through Hanukkah and do all those annoying things unwanted houseguests do. You know, like riding a jet ski in your swimming pool. We can all relate to that. Jack yells at her, Jill runs off crying, and Jack issues a fake apology. Repeat. Of course, once Pacino inadvertently meets Jill, it's like Pepé Le Pew chasing after Penelope Pussycat. He loves her and she wants nothing to do with him. But Jack encourages the relationship if it means it will get Pacino into his commercial, not realizing until later how much he loves his twin and how cruel he's been. Also, at any moment, director Dennis Dugan might cut to Jill's pet bird Poopsie (yes, Poopsie) doing something wacky, or Jack's adopted Indian son Scotch-taping random objects to his body for a laugh.
Pacino puts more effort into his cameo than most celebrity guest shots do in Sandler pics. Much like Jack Nicholson in Anger Management, Pacino has as much screentime as Sandler, often poking fun at himself. While on stage performing Richard III, Pacino loses it on an audience member whose cell begins ringing; later, his own cell rings on stage and he happily accepts the call if it means a date with Jill. In the end, he delivers a dancing rap for the inevitable Dunkin' Donuts commercial, referencing films like Dog Day Afternoon and Carlito's Way in the lyrics. It's an energetic performance, certainly more so than any of Pacino's recent dramatic projects (like 88 Minutes or Righteous Kill), and the song-and-dance bit almost reaches the heights of Tom Cruise's appearance in Tropic Thunder, an obvious inspiration here. For good measure, Sandler also includes cameos by Regis Philbin, Dana Carvey, Shaquille O'Neal, John McEnroe, Tim Meadows, Billy Blanks, Bruce Jenner, and others. The aforementioned Depp gets the biggest laugh in a surprise appearance, hilariously wearing a Justin Bieber t-shirt.
But like much of Sandler's recent output, Jack and Jill is painfully tedious and sophomoric, with an added dimension of annoyance given Sandler's dual roles. The plot goes exactly where you'd expect it to, inciting only irregular chuckles, and, finally exasperation when the music swells and we're supposed to feel something but do not. It used to be that one could guiltily take pleasure in an Adam Sandler comedy. Remember those days? Titles like The Waterboy and Big Daddy are less durable comedies than more assured movies like Happy Gilmore and The Wedding Singer, but enjoyable nonetheless. The trouble is, I can't recall the last Happy Madison production that made an impression on me. Perhaps 50 First Dates? It's been several years, to be sure. But out of some vague sense of interest still lingering from his earlier comedies, I'll continue to see Sandler's movies. He just makes it harder and harder when he continues to dish out stinkers like Jack and Jill.