Director

Cast

Robert Downey Jr.

,

Gwyneth Paltrow

,

Guy Pearce

,

Ben Kingsley

,

Don Cheadle

,

Rebecca Hall

,

William Sadler

,

Paul Bettany

,

James Badge Dale.

Rated

PG-13

Runtime

130 min.

Release Date

05/03/2013
In the realm of the Marvel Cinematic Universe, Iron Man 3 feels like a smaller, independent gem compared to some of the other, more fantastical Marvel releases. Perhaps because it has the unfortunate task of following The Avengers, the colossal-sized box-office phenomenon from 2012, against which everything seems dwarfish; perhaps because the director and co-writer Shane Black has infused the material with some unique quirks, namely a narrative structure and tropes uncommon to the Marvel Studios brand and more attuned to his own distinct comic actioners. Better than its immediate predecessor but not quite topping the original, this third entry in the franchise proves to be one of the best from Marvel yet, and more than sufficiently sustains our confidence in Marvel, even against the sheer force of The Avengers. Complete with another sharp-tongued performance from star Robert Downey Jr., a very strong supporting cast of newcomers to Marvel, and the usual slew of special FX-laden bombastitude, Iron Man 3 also manages to be the first Marvel superhero film with a political commentary ingrained into the narrative.
Black's story structure recalls that of his last (and first) directorial effort, the underseen and underappreciated Kiss Kiss Bang Bang (2005). That film, which featured Downey Jr. in his pre-Iron Man days, when his name was more often associated with drug rehabilitation than his superstar status, featured the actor as the self-aware narrator of a noirish mystery. For the first time of many, Downey Jr. played a charmingly egomaniacal smart-ass who becomes a hero. Indeed, one can't help but feel that, back in 2005, Jon Favreau and Marvel watched Black's film and resolved that Downey Jr.'s supremely arrogant-yet-lovable character was perfect for billionaire-playboy Tony Stark. Aside from the money and genius, Downey Jr.'s persona in both films is the same, as are the story structures from Kiss Kiss Bang Bang and Iron Man 3. Both follow Downey Jr's character looking into his past for answers; both are about two seemingly separate "cases" that ultimately turn out to be related. Strange yet effective is how Iron Man 3 actually follows the same trajectory as Kiss Kiss Bang Bang, since the neo-noir and superhero genres are miles apart. Nevertheless, Black has created an association in his own distinctive way.
In the months following the events in The Avengers, Stark returns to his Malibu home with the love of his life, CEO of Stark Enterprise's Pepper Potts (Gwyneth Paltrow), but he's wrought with anxiety over what happened in New York City. The threat from space and beyond is bigger than he is, and Stark worries if he can protect Pepper. A more immediate threat presents itself in the franchise's resident Osama bin Laden, the Mandarin (Ben Kingsley), a ruthless terrorist whose loyal forces commit random bombings around the world. When one of them puts Stark's bodyguard Happy Hogan (Favreau) in a coma, Stark publically vows revenge, and in doing so, makes himself a target. Once the dust settles after the Mandarin's retaliation, Stark is left without his usually limitless source of futuristic technology to support him. Believed dead but actually stranded in the middle of nowhere, he investigates the Mandarin's string of bombings to discover a frightening pattern. The search leads Stark to Aldrich Killian (Guy Pearce), a scientist whom he once refused to endorse, and Maya Hansen (Rebecca Hall), a genetic researcher and Stark's ex-fling. Together Killian and Hansen have been trying to engineer their own super-soldiers, some resulting in fire-breathing abominations.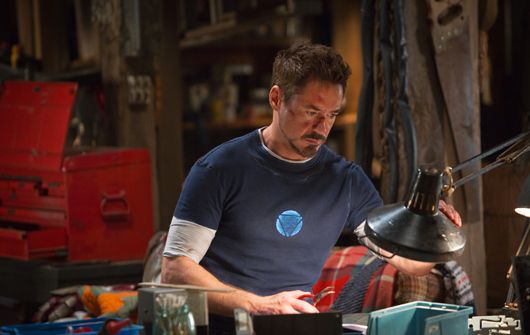 It's surprising how little time Downey Jr. spends in the Iron Man suit. The script by Black and Drew Pearce has Stark dressed down, incognito, hiding from everyone while he conducts his investigation and remains off the Mandarin's radar. During this time, he befriends a young boy named Harley (Ty Simpkins), a fatherless rascal who admires Iron Man; but this isn't the kind of corny hero-worship rapport you might expect. Stark's scathing quips are their most potent toward Harley, who (intentionally?) aggravates Stark's anxiety by asking, "How'd you get out of the wormhole?" Downey Jr.'s impeccable comic timing enlivens the riotous banter between them, and these small scenes steal the film away from what eventually develops into a rousing finale. Though most of the film follows Stark's one-man-investigation story, Iron Man 3 doesn't abstain from the blockbuster-sized wows expected from a summer release. A number of impressive sequences, such as a mid-air rescue and the attack on Stark's home, elicit the kind of awe you hope for in a Marvel film. Moreover, the film's plotting offers more than a few twists along the way, resulting in multi-layered performances from Pearce, Hall, and especially Kingsley.
The director's evident signatures make the film exceptional for a Marvel film, even if he's used these tropes before elsewhere. In the mid-1980 to early '90s, Black was being paid millions as a screenwriter of action-comedies such as Lethal Weapon (1987) and The Last Boy Scout (1991), but a string of flops, including Last Action Hero (1993) and The Long Kiss Goodnight (1996) made Black into a washed-out celebrity, his career arc not dissimilar from Downey Jr.'s. Only recently, with Kiss Kiss Bang Bang and now Iron Man 3, has Black reemerged with renewed creative energies, yet he's still employing those same old formulas. The majority of his screenplays involve the dual-strains-made-one structure mentioned above; they each involve a snarky protagonist, some of them even aware of their presence within their own story; and, like Iron Man 3, many of those films take place around Christmastime and use snowy settings to instill mood. That Black has carried over those recurring qualities of his and retained a personal touch in a major studio film is astounding and much welcomed.
Black's approach deepens Stark through the character's enveloping anxiety, in turn making Stark emotionally vulnerable and more consequential than, say, in Iron Man 2. Of course, presenting a physical threat helps too, not only to Iron Man but to the soon-kidnapped Pepper. Black has based the screen story in part on writer Warren Ellis' "Extremis" storyline from the comics, which gives way to deadly conspiracy and, in the end, a rare feeling of absolution for Stark. Along the way, Black incorporates other memorable figures from the comics, such as James Rhodes (played by Terrence Howard first, Don Cheadle second and again here), whose previous War Machine suit has been painted in American red, white, and blue. Stark mocks the paint job, called the Iron Patriot, and with it Rhodes, thumbing his nose at the American establishment. Politically, Iron Man 3 aligns itself with Stark and shows little respect for authority. Most significantly, a mid-film twist suggests a political commentary on the Mandarin's status as a terrorist poster boy and patsy for larger interests.
The darkest of the three Iron Man films, given the terrorist subplot and Stark's heavy psychological condition, Iron Man 3 might also be the funniest and most complex. Die-hard comic aficionados may balk at how Black changes classic characters for his own means, but the filmmaker's innovations keep the audience at attention. Just as evident as it was in Kiss Kiss Bang Bang, Robert Downey Jr. and Shane Black make a great actor-director pairing. Black's ability to write snappy, pop-culture-laced dialogue is just as applaud-worthy as Downey Jr.'s gift for delivering motormouthed orations. All of the exciting superhero elements and Marvel-specific fun only add to the experience. Most satisfying—and perhaps most essential to this franchise-within-a-franchise that is the Iron Man trilogy's presence in the bigger universe of The Avengers—is how Iron Man 3 works as a stand-alone entry, bringing an air of closure to the Iron Man trilogy without reducing the film to yet another building block toward The Avengers 2. Along with Black's signatures and Downey Jr.'s personality, the film is refreshingly individual.