Director

Cast

Anthony Ramos

,

Corey Hawkins

,

Leslie Grace

,

Melissa Barrera

,

Olga Merediz

,

Daphne Rubin-Vega

,

Gregory Diaz IV

,

Jimmy Smits

,

Marc Anthony

,

Lin-Manuel Miranda

Rated

PG-13

Runtime

143 min.

Release Date

06/10/2021
If you want a film that reminds you why they're called motion pictures, In the Heights will do the trick. Adapted from Lin-Manuel Miranda and Quiara Alegría Hudes's Tony-winning Broadway musical, the material breaks free of its origins in splendid fashion. Stage musicals are limited to a few façades and changes of scenery. Everything's on display simultaneously, and even in the most well-directed productions, gaining focus could prove a challenge. Director John M. Chu, who made Crazy Rich Asians (2018), reframes the story by shooting in New York City and using hundreds of performers and extras who illuminate the show's margins. Rather than presenting two-dozen performers on the stage and leaving the audience unsure where to look, Chu isolates performances and dancers, drawing our attention to countless little moments that may have been otherwise lost. His camera is in constant motion, moving around and amongst his actors. Like, say, Singin' in the Rain (1952), it's a film that understands a film is not a stage—it's a film, and so the camera should move with its characters to create a sense of motion through the rhythms of editing and camerawork. 
This all might seem very obvious. But if you watch enough movie musicals, particularly those adapted from Broadway hits, you'll quickly recognize which ones are stagey and which ones are cinematic. Clint Eastwood must've been so enamored with Jersey Boys on Broadway that he decided to make a statically shot film version in 2014, complete with a camera that practically replicates sitting in the first rows of the August Wilson Theatre. There was movement, sure, but the movement was so restrained that it hardly made the viewer want to move. By contrast, Chu makes us wish movie theaters had a dance floor. In the Heights has an infectious sense of movement, so that tapping your toes or patting your armrest to the hip-hop and salsa tempos hardly feels adequate. The film is alive with Miranda's music and sharp, reference-laden lyrics, the sort that almost make you regret their speed if only to allow you more time to appreciate the wit of each line. The same goes for choreographer Christopher Scott's elaborate work with the film's dancers, who perform in city streets, public pools, and nightclubs. It's all a little virtuosic, and I haven't even mentioned the story and themes. 
The screen version finds its central character, Usnavi (Anthony Ramos), in a tropical paradise in the Dominican Republic. He owns a bar called El Sueñito, or little dream, a telling name for what's to come. Usnavi spins a yarn to a group of children about the fateful days leading up to a blackout one hot summer (not so) long ago. His bar's name, somewhat on the nose, echoes how the people in Washington Heights arrived in the so-called Land of Opportunity from places such as Puerto Rico and Cuba decades earlier, with a dream of building something better. However, they escaped one trap to be ensnared in another, where capitalism and a profoundly racist culture left them powerless. Today, their once distinct neighborhoods have become gentrified, not to mention homogenized by hipsters and the ultra-rich, and rich hipsters. Thus, the film's central question becomes one of either "getting out" of the neighborhood or embracing the place you call home.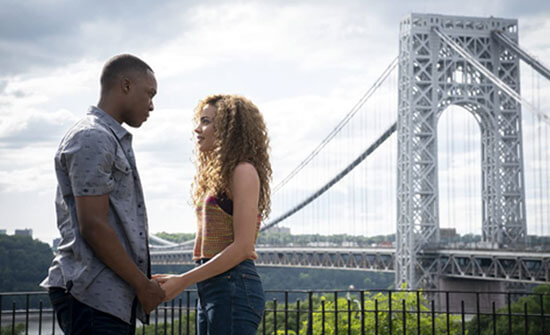 Hudes wrote the screenplay, excising some characters and songs to reinforce the material's themes. But the mosaic structure remains intact, concentrating on a few strains. There is Usnavi, who wants to leave the neighborhood and open a bar in the Dominican Republic, just like his father had. But, just as he plans to leave, he falls for Vanessa (Melissa Barrera), who dreams of escaping downtown to become a fashion designer. Meanwhile, Nina (Leslie Grace) is a student at Stanford and considers dropping out because of how white elitists have treated her there—a tough choice considering her father, Kevin (Jimmy Smitts), has all but sold off his cab company to support her education. Kevin's top dispatcher, Benny (Corey Hawkins), pines after Nina and feels betrayed when Kevin announces plans to sell the small empire he has built. On the periphery is Abuela Claudia (Olga Merediz), the neighborhood's matriarch whose presence reminds everyone of what their parents hoped to escape. She sings the number "Paciencia y Fe," in which she travels back in her memories to 1950s Cuba in the film's most evocative sequence. It all unfolds in the summer's hottest days, though Chu doesn't quite capture the oppressive heat as well as Spike Lee did in Do the Right Thing (1989).
If the usual unreality of breaking into song and dance proves too much for some viewers, Chu pushes In the Heights further with effects only contemporary cinema can provide. In one scene, Benny pantomimes as he dances, and his gestures come to life in an array of animated diamonds, golf clubs, and lightsabers. Another scene features CGI banners hanging from Washington Heights buildings in wavy, digital movements. And a strange, out-of-place number called "When the Sun Goes Down" features Benny and Nina singing on their fire escape overlooking the George Washington Bridge at sunset. Then, all at once, they break free of gravity to dance on the side of the building (that, or I missed when they were each bitten by radioactive spiders). While these flourishes signal the production as uniquely cinematic and not a staged musical, they're distracting in a film that already plays funny games with reality and imagination. The grounded presence of Washington Heights is invigorated into a fantasy landscape by the freeform rules of movie musicals, but somehow ornamenting these moments with special FX felt like too much—even though one should expect such antics from a contemporary musical. 
But these are quibbles. In the Heights is generally a fun and thoughtful film. It was supposed to arrive in theaters last year, but like many major studio projects set for release in 2020, it was delayed due to the pandemic until audiences could catch the show in theaters. And the film demands to be seen in theaters. Only when seated in front of a massive screen, surrounded by darkness and hopefully some other theater patrons, will viewers appreciate the full scale of Chu's production. Regardless, most will probably catch the film at home—and if that's you, I would recommend watching with the sound turned up and your distractions minimized (good advice for any at-home viewing). In these conditions, you can appreciate not only the choreography, music, and wealth of diverse voices, but how joyously Chu and cinematographer Alice Brooks move around them. It's even stunning when the camera comes to a halt for the occasional moment of quiet tenderness, and the stillness brings our emotions into clarity. 
At times In the Heights can seem to gloss over its complex issues of gentrification, discrimination, and immigration with the simplistic, even optimistic solutions of song and dance. Miranda's music and brilliant lyrics, of course, feel loaded with textuality that invites further consideration. Whatever ideas Miranda, Hudes, and Chu confront, however, they do so with a light touch. After all, despite Miranda's meta-ness, revisionism, and postmodernism— most famously in Hamilton—he also embraces the classical mode of the musical, complete with a romantic idealism about the potential goodness of the American experience. As mentioned, there's plenty about the characters' sometimes grim reality in America, but that's of tertiary concern. It comes after the film's status as a musical and its embrace of these ethnic groups, predominantly of Latin American descent, and their community. Whether you relate to the identities represented or not, In the Heights makes you feel like a resident of their neighborhood through the most sharable and universal mediums. As Usnavi says early on, these "streets were made of music."