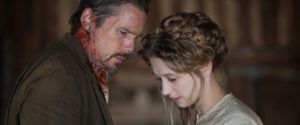 In a Valley of Violence
3 Stars
Director

Cast

Rated

R

Runtime

104 min.

Release Date

10/21/2016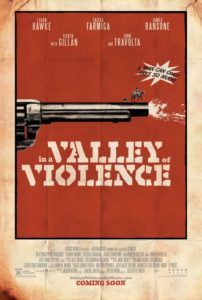 Having specialized in homage exercises, writer-director Ti West tries his hand at Western filmmaking with In a Valley of Violence, which proudly acknowledges its influences to the delight of Western fans. West's entire body of work thus far has been about drawing from established material, making the most of today's nostalgia craze. His stylish debut House of the Devil (2009) riffed on a string of 1970s doomed babysitter movies, while The Innkeepers (2012) took from tension-building ghost stories from the 1960s. Stepping away from his almost exclusive presence in horror, West attempts a slow-burning Western with atmosphere to spare and, for him, a better-than-usual cast. The result doesn't offer any heavy revisionist themes, but rather embraces Western tropes in a loving, if simplistic way.
Ethan Hawke, fresh off his fascinating performance in another Western (The Magnificent Seven, the remake), plays a lone gunman who goes by the name of Paul. In the ambling opening scenes, he rides into the dusty town of Denton alongside Abby, his trusty canine companion (played by Jumpy the dog). Desperate to get to Mexico, Paul finds himself confronted by a local blowhard, Gilly (James Ransone), who fancies himself the toughest man in Denton, a town populated by no more than a dozen. Though Paul just wants to be left alone, Gilly needlessly pushes and ends up with a broken nose, which has tragic reverberations later in the film. Dog lovers should prepare to have their hearts broken, and then later savor the John Wick-style vengeance.
Run by Gilly's father, the resident Marshal (John Travolta), Denton somehow remains standing after a silver boom has come and gone. At first, the Marshal's intentions seem suspect, as he's run all religion out of town and rules with an iron hand, as evidenced when Burn Gorman's bedraggled priest is ejected from the city limits and robbed of his wellbeing. But even after the Marshal sets matters at ease with Paul, and our mysterious hero must later return to deliver frontier justice to Gilly's fellow goons (Larry Fessenden and Toby Huss), the Marshal seems uncharacteristically pragmatic. Inconsistencies aside, Travolta does his best work in years, sporting a wooden leg, grizzled beard, and a touch of comical incredulity toward Gilly's stupidity in letting the situation with Paul spin wildly out of control.
In a Valley of Violence earns a lot of goodwill as a result of its performers. Hawke, in particular, brings his later career gravitas to his role, though his character doesn't say much and mostly interacts with Abby. In later scenes, his wrath over Abby's fate channels the powerful bond of every pet owner. Ransone, best known from the Sinister franchise, has a Christian Bale-lite look that serves Gilly's brutish, vindictive intensity. On the peripheral of the central revenge story, romance blooms between Paul and a young, chatty local woman named Mary Anne (Taissa Farmiga), who wants to be rescued from Denton. Her dim-witted, dead-toothed sister is engaged to Gilly and comes to life courtesy of Karen Gillian. Of course, Jumpy, a ridiculously well-trained border collie and blue heeler mix, steals the show early on, and his absence in the second half wholeheartedly justifies the bloody outcome in dramatic terms.
Formally speaking, West's approach does not always fit the material and could be tweaked to deliver a more cohesive experience. For instance, Jeff Grace's score borrows more than a few notes from Ennio Morricone's music in various Sergio Leone pictures, specifically The Good, the Bad and the Ugly (1966) and Once Upon a Time in the West (1968). However, the music here plays quieter and seems more recessive than a booming Morricone score, aside from its presence in the animated opening credits. The entire film may have been more effective had the music's volume been dialed up. Another element inconsistent with Westerns occurs during a dream sequence that was shot with a digital camera and a single light source, the effect of which feels like a "found footage" excerpt. Although teeming with style and atmosphere, West's aesthetic display seems occasionally unpolished.
Then again, the film's indie production quality is part of its charm. Notable actors like Hawke, Travolta, and Farmiga seem to enjoy chewing the scenery in a low-budget genre piece, and everyone onscreen appears to be having fun performing their roles. Likewise, West lends a film student quality to In a Valley of Violence that echoes directors like Clint Eastwood and Quentin Tarantino—filmmakers who synthesized and hybridized Westerns from yesteryear into their own innovative, formative material. While West's picture remains defined by its B-movie origins and some wobbly technical applications, the measured pace, satisfying conclusion, and fine acting throughout will be enough for those fond of the far-too-underrepresented Western genre.