Director

Cast

Steve Coogan

,

Paul Rudd

,

Jack Gore

,

Alison Pill

,

Jake McDorman

,

Jesse Luke

,

Eric Womack

,

Jenny Gabrielle

,

Lora Martinez-Cunningham

Rated

R

Runtime

94 min.

Release Date

06/29/2018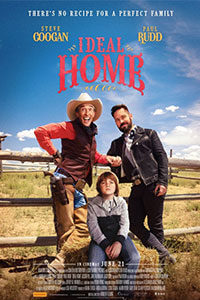 Steve Coogan has mastered the art of playing egomaniacs with an inflated sense of their own stardom, whether he's the iconic radio personality Alan Partridge or an exaggerated version of himself in The Trip and its two wonderful sequels. In Ideal Home, Coogan plays Erasmus, a celebrity chef with a cooking show and a successful line of recipe books in a Southwestern ranch theme. His significant other for the last ten years, Paul (Paul Rudd), serves as his producer. They're an irascible couple, with the short-fused Paul growing tired of Erasmus' more self-centered antics, enough so that Paul has been thinking of taking a job for Rachel Ray. But director Andrew Fleming introduces a child into the mix, Erasmus' grandchild from his estranged son, and in taking care of the boy, everyone learns some valuable lessons about family. With far more integrity and emotional heft than something like Bad Grandpa or Dirty Grandpa, Ideal Home is a predictable story told with self-awareness about its social value, while Coogan and Rudd remain the centerpieces to this often hilarious, occasionally raunchy comedy.
Having escaped his imprisoned criminal father, Erasmus' 10-year-old grandson, played by Jack Gore (the pyromaniac boy from Wonder Wheel), goes from poverty to a privileged lifestyle in New Mexico. Named Angel, he insists on being called Bill. And so, Erasmus and Paul try to figure out how to raise Bill, while also realizing that they've both got a lot of growing up to do before they can become effective parental figures. It's a cliché setup that the filmmaker, Fleming, treats as precious. The film asks the question: Can two men actually raise a child? But we ask: Isn't that question dated by about thirty years, after the sitcom My Two Dads? Aside from Bill's initial, homophobic reaction, he quickly settles on the idea of having two father figures. As for the plot, there's no grand custody case to win, no stern opposition to overcome; however, there's a series of consolations that must be made with Bill in mind—namely, Erasmus and Paul must stop bickering, lock away their gay porn, end the reckless drinking, and learn to become responsible adults.
Annoyingly, one of the ways the parents learn to bond with the initially quiet, uncooperative Bill is taking him south of the border—meaning Taco Bell. It's meant as an ironic choice since master chef Erasmus is used to more haute cuisine. But the product placement is unrelenting and becomes a significant story detail throughout (even more so than Taco Bell's presence in Demolition Man, where the food chain was the only restaurant left in the new utopia). Of course, both men, devoted food snobs, secretly relish eating fast food, which serves as the film's attempt to legitimatize Taco Bell. Fortunately, the natural charm of Rudd's deadpan delivery and the outlandishness of Coogan's onscreen ego lead to several roaring laughs. At one point, a representative from child protective services (Allison Pill) shows up at the house, and Erasmus appears, woken out of bed, in a t-shirt that reads "I shaved my balls for this?"
At the same time, Ideal Home suffers from a condition of self-congratulatory progressiveness that recalls Stanley Kramer's Guess Who's Coming to Dinner, which, in 1967, patted itself on the back for depicting an interracial relationship. Telling stories about marginalized people is important, but so is making those stories feel like more than a social cause. Fleming, who also wrote the film, never allows the audience to forget that Erasmus and Paul are LGBT parents. Rather than deal with it matter-of-factly, the writer-director has aimed his comedy at audiences somehow skeptical that two men could effectively raise a child. Over the end credits, for instance, Fleming shows us dozens of family photographs of real-life same-sex couples with their children, seemingly as further evidence that such family dynamics work. Chances are, if you're watching this film, you already have no doubt of the effectiveness of LGBT parenting—and so Fleming's argument seems unnecessary, if unmotivated by the plot.
Had Ideal Home introduced a character that questioned Erasmus and Paul's abilities as parents because of their sexual orientation, then perhaps the story wouldn't seem self-propelled—even the title acts as an argument against a nonexistent counter-argument. Instead, Fleming's story serves as a touching portrait of same-sex parents that, of course, do a great job raising Bill. The lack of any real conflict aside, the comedy produces many laughs courtesy of the onscreen presence and confidence of both Coogan and Rudd, both acting flamboyant in a way that feels intentionally over-the-top, yet with a persistent ability to tug our heartstrings. Several lines and moments remain memorable and laugh-out-loud funny, regardless of its transparent ambitions as a socially progressive comedy. Fans of either Coogan or Rudd will enjoy Ideal Home for its purely comedic strains, and the evident chemistry between its two stars.