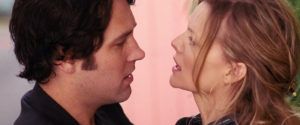 I Could Never Be Your Woman
3.5 Stars
Director

Cast

Rated

PG-13

Runtime

97 min.

Release Date

02/12/2007
Amy Heckerling crafted an iconic piece of 1980s comedy with Fast Times at Ridgemont High, poked fun at the MTV generation with Clueless, and yet her latest film, I Could Never Be Your Woman, a comedy about the media's negative attitude toward older women, was buried under mounds of bureaucratic Hollywood gobbledygook. Never reaching theaters because of sloppy studio control and some bickering over distribution costs, the film went straight to DVD, despite its considerable star power with leads Michelle Pfeiffer and Paul Rudd. Even so, the film remains an incredibly smart, heartfelt, classy picture with enough laughs and social commentary to demand your attention.
In the pre-title sequence, Mother Nature (played by a bitingly funny Tracy Ullman), robed like a Greek goddess, monologues about women unwilling to accept nature: "We don't want to get old. No, we want to stay young forever," she mocks. "You know what I say to 'em? Tough shit!" Rosie, played by Michelle Pfeiffer, has insecurities from Ms. Nature whispering in her ear, playing devil's advocate to Hollywood's rule that as women age, they become out of date and uninteresting. Certainly, Pfeiffer herself invalidates that rule, but perhaps only because she retains virtual, perpetual youth. Indeed, the fifty-year-old actress has preserved her beauty over the years, while other actresses her age fade away to make room for new, youthful talent. It's a sad truth of Hollywood's sexual politics, and one Heckerling feels deserves a kick in the pants.
Rosie is a forty-something television producer and single parent of spunky preteen girl Izzie (Saoirse Ronan). She falls for twenty-something actor Adam (Rudd) on the set of her hipster show You Go Girl, discovering that while the difference in age doesn't bother her, pop culture's views seem to influence her decision-making processes. Rosie faces the potentiality that Adam could be seducing her to advance his bit role into a spin-off show while simultaneously juggling her jealousy around Adam's younger female costars (like Clueless alum Stacey Dash). She finds herself weighing a younger man's needs against what she can provide—all with Mother Nature blathering about Rosie's biological clock winding down.
Rosie's daughter, meanwhile, barely fends off pressures to succumb to pop culture's beauty ideals in the course of her first period and boy-crush. Heckerling discovered Ronan, who later went on to be nominated for an Oscar for Atonement. As a child actress, she has none of the showiness the Dakota Fannings and Freddie Highmores of today's cinema maintain. Instead, Ronan's naturalism is charming, warm, and hilarious. At one point, she prank calls celebrities from her mother's cell phone, dialing The Fonz himself, Henry Winkler. And her sung musical spoofs manage insightful teases on Brittney Spears and George W. Bush.
Heckerling wrote the script back in 1999, after raising an adolescent daughter and producing ABC's takeoff show Clueless left her with a newfound criticism of Hollywood's sexist views on women. Paramount initially planned to produce the script, but, as Heckerling told Entertainment Weekly, "There was some concern about doing a movie with an older female protagonist—not anybody's favorite demographic," which is coincidentally the point of her film.
Reckless French producer Philippe Martinez, head of minor finance company and film studio Bauer Martinez Entertainment, opted to pick up the film, giving Heckerling her needed capital to produce the picture. Wrapping in 2005, MGM was set to distribute but shelved the project because Martinez had negotiated $1 million and 15 percent of the gross to Pfeiffer—too much for MGM's executives. Due to several of Martinez's empty promises and hasty decision making (detailed in Entertainment Weekly's article), the film was halted from its theatrical release and slated for release exclusively on DVD for February 12th, 2008.
Heckerling, who has directed a mere nine movies in her twenty-five-year career, could hardly jump back into action after the devastating blow. As a result, I Could Never Be Your Woman now sits alongside crud on Blockbuster's direct-to-video-laden shelves, hardly getting the attention it deserves. It's a shame, really, because both Pfeiffer and Rudd give strong comic performances, some of their best in recent years. Moreover, the film is a bright, enjoyable romantic comedy, filled with light feminist ideas on Hollywood's absurd fixation on youth. This one is worth seeking out.