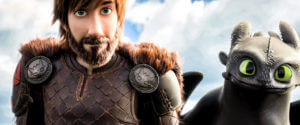 How to Train Your Dragon: The Hidden World
3 Stars
Director

Cast

Jay Baruchel

,

America Ferrera

,

Cate Blanchett

,

Gerard Butler

,

Jonah Hill

,

Kristen Wiig

,

Christopher Mintz-Plasse

,

Craig Ferguson

,

Kit Harington

,

F. Murray Abraham

Rated

PG

Runtime

104 min.

Release Date

02/22/2019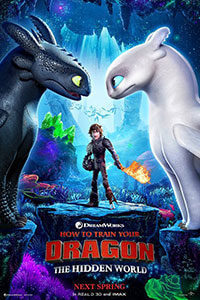 DreamWorks Animation's How to Train Your Dragon trilogy comes to a satisfying, emotional close with the final chapter, called The Hidden World. It's rather surprising that the franchise, based on Cressida Cowell's twelve-part book series, ends here. When Disney can't seem to get enough out of its intellectual properties from Marvel to Star Wars—creating prequels, spinoffs, and trilogies within even larger extended universes—it's somehow noble that DreamWorks has resolved to quit while they're ahead. How often does a major studio choose not to squeeze a series that remains bankable for every last drop? Then again, DreamWorks has already done a lot of squeezing between the movie trilogy and two separate TV series—Dragons: Rider of Berk (2012-2014) and Dragons: Riders to the Edge (2015-2018)—not to mention countless toys, videogames, and other merchandising. And so, it's not exactly a rare demonstration of creative integrity triumphing over potential financial gains. Fortunately, The Hidden World is easily the best-looking entry on visual terms, and the familiar plot and themes aren't so repetitive that the basic appeal of its boy-and-a-dog setup has lost its charm.
Writer-director Dean DeBlois, who's been with the series since the 2010 original, demonstrates with this third movie how much both Cowell's characters and computer-animated filmmaking have grown in the last decade. The young Hiccup (Jay Baruchel) and his adolescent companions were dull products of the DreamWorks brand when they were first introduced, complete with generic expressions, meta-dialogue, and hip voicework. But they were carried along by the charm of their dragon counterparts, most of all Toothless, the black-as-pitch Night Fury who became the Alpha, a dragon whisperer, in the 2014 sequel. Hiccup and his band of overactive pals made significant leaps between the two movies, transitioning from youngsters-in-training to the next generation of leaders of the Viking village Berk. But in The Hidden World, they're deciding the future of the rowdy village, even if most of them lack the facial hair to prove they're adults. Indeed, the superior animation, script, and character design here seems distractingly concerned with growing facial hair on its characters over the course of the 104-minute feature. Of course, that doesn't apply to Astrid (America Ferrera), Hiccup's love interest and the only member of their group with a rational head on her shoulders. It's very much about boys becoming men in that respect.        
The movie opens as Berk, once a Viking village that hated dragons and hunted them, fully embraces dragons as pets. More than that, the Berkians have become the crazy cat ladies of the Viking world; their small camp is overflowing with dragons as they continue to liberate the flying, fire-breathing beasts from those who would entrap them. Hiccup realizes that Berk must consider finding a more suitable living space for adequate human-dragon coexistence, and this is escalated by a new threat: Grimmel (F. Murray Abraham), the legendary hunter of Night Furies who made them all but extinct, has targeted Berk—specifically Toothless. Rather than risk the safety of Berk by fighting Grimmel, Hiccup resolves to lead his clan to the much-rumored "Hidden World," a mysterious dragon utopia often discussed by his late father (Gerard Butler). And so, quite similar to the plot of How to Train Your Dragon 2, the Berkians must set out into the unknown to find a mystical dragon realm enclosed by forgotten caves and untouched by humans, while also facing off against a dragon-hating villain with an army behind him.
From the first shot onward, it's almost distracting how far superior The Hidden World looks compared to its predecessors. The animation is atmospheric and tangible, which occasionally provides an odd contrast to the cartoony character designs of the Berkians. The facial expressions are a little too real, but the result avoids entering the Uncanny Valley where realism and artificiality clash. Textures and lighting have impressive depth and subtlety, signaling that DreamWorks, a studio eons behind Pixar and Disney in terms of animation, has made some significant advances in recent years. DeBlois also includes sequences that rely on the power of the animation alone, such as when Toothless begins a series of mating rituals with an all-white female Night Fury. These long passages without dialogue carry on as the two animals interact in a courtship dance reminiscent of scenes between the enchanted bots in WALL•E, and they're bound to be the most enthralling minutes in the movie for both adults and children. 
Meanwhile, the supporting characters have become either nonentities or something to be tolerated. Behind his bad upper lip stubble, the egomaniacal Snoutlout (Jonah Hill) makes awkward passes at Hiccup's mom, Valka (Cate Blanchett), a most fascinating component in the second movie who has been reduced to a voice of reason here. The siblings Ruffnut (Kristen Wiig) and Tuffnut (Justin Rupple, replacing T.J. Miller) never stop bickering, and the latter has fashioned his long hair into a faux beard because he can't get grow one himself. Fishlegs (Christopher Mintz-Plasse) barely registers, though he has a full mustache now seemingly because he's the responsible parent of a small baby dragon. And the heroic Eret (Kit Harrington), so significant in part two, has only a handful of lines. Grimmel is serviceably intimidating as a villain who uses the venom of poisonous dragons as a mind-controlling agent against other dragons. But the enduring quality of the How to Train Your Dragon stories is the simple, heartening relationship between Hiccup and his adorable puppy-dog dragon Toothless. Everyone else feels like filler.  
Although the movie wasn't based directly on one of Cowell's books, it finds an elegant way to conclude the series on its own terms. Throughout, DeBlois introduces the idea that protecting animals by keeping them in captivity may not be the best solution for the animals. The theme brings to mind, say, SeaWorld and its so-called mission of "rescue and rehabilitation" of marine animals from the wild. There comes a point where human beings determined to rescue animals soon become jailers. In the end, The Hidden World is about the acceptance of change for the better, no matter how painful that may be to the (human) individual. The outcome, similar to the ending in the new Pete's Dragon, finds Hiccup and Toothless going their separate ways. And since letting go is a sign of maturity on Hiccup's part, he's finally able to grow a beard. However obvious some of The Hidden World's motifs may be, it's a beautifully animated and tender watch that completes this trilogy on a respectable note.