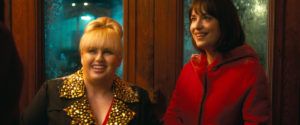 How to Be Single
1.5 Stars
Director

Cast

Dakota Johnson

,

Rebel Wilson

,

Alison Brie

,

Leslie Mann

,

Damon Wayans Jr.

,

Anders Holm

,

Nicholas Braun

,

Jake Lacy

,

Jason Mantzoukas

Rated

R

Runtime

110 min.

Release Date

02/12/2016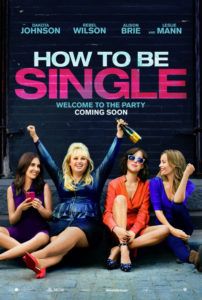 How to Be Single feels more like a failed television pilot than a feature film. Derivative of Sex in the City and detached from its own titular concept, the story involves four single women in New York City navigating their love lives and sexual conquests. But perhaps it's not fair to blame the material for its similarities to HBO's popular series. Liz Tuccillo, who wrote the novel on which this film is based, also served as one of Sex in the City's writers. Abby Kohn, Marc Silverstein, and Dana Fox adapted Tuccillo's first novel into this tonally disjointed romantic comedy. Trying to reach audiences interested both in a standard rom-com and more bawdy, girls-night-out fun, director Christian Ditter's film never blends those two concepts together as well as Sex in the City did.
After watching the spoofy 2014 comedy They Came Together starring Paul Rudd and Amy Poehler, every romantic comedy set in New York feels just a little cornier—because, you know, it's like New York is a main character in the film. Indeed, Taylor Swift's "Welcome to New York" plays over the opening credits of How to Be Single and proves unintentionally funny. The setting differs from Tuccillo's book in that the protagonist originally sets out to explore the entire world on her own, not just New York. For obvious reasons of budget and narrative centralization, the locations were limited. Moreover, How to Be Single never teaches us anything about being single, either; the central characters spend most of their time wishing they were in solid relationships instead of being lonely, sexless, or babyless.
Recent college graduate Alice is played by Fifty Shades of Grey lead Dakota Johnson, once again providing a blankly timid but adventurous young woman. Alice splits from her nice boyfriend Josh (Nicholas Braun) to explore being single, because she feels that hiking the Grand Canyon is something only single people are allowed to do. She moves in with her Manhattan-based sister, the overworked and baby-resistant doctor Meg (Leslie Mann), who secretly wants a child of her own. Alice's coworker Robin (Rebel Wilson) is the sole character who enjoys her single status, and she celebrates it with nightly bouts of drinking and random sex, followed by rough next-mornings. (STDs—here we come!) On the periphery and completely unassociated with these three is Lucy (Alison Brie), a numbers-punching analyst who believes the answer to the perfect mate resides in her Excel spreadsheets.
Of course, these characters (save for Wilson's Robin, aka British Melissa McCarthy, who's present only to behave awfully and make shocking remarks) each end up courting various menfolk: Unapologetic bachelor and bar owner Tom (Anders Holm), single dad David (Damon Wayans Jr.), and even Josh show up in Alice's life as short-lived hookups. Meg finds a sperm donor and mate in Jake Lacy's Ken. And Lucy finds an affable bookstore worker in Jason Mantzoukas' George. Meanwhile, Robin rolls through men like a bowling ball through pins, knocking them down without worry of pregnancy or disease. Such blind and consequence-free promiscuity in The Hangover and the James Bond series is absurd with male characters, and it's equally absurd with this female ensemble.
Beyond the lacking story, the cast proves mostly ineffectual, with Mann being the only truly likable character. Johnson and Brie seem devoid of personality or memorable characteristics, whereas Wilson couldn't be more annoying. Alice's "Dear Abby" narration and her would-be spiritual awakening are never at the forefront of How to Be Single. We watch these four women go through their various trials to find love or acceptance of their respective lifestyles, but none of them really find any solidarity in being alone. Wouldn't it be strange if there was a modern film that depicted the true benefits of being single and alone? (Ingmar Bergman explored that subject several times.) But How to Be Single uses its title as a bait-and-switch tactic to lure the audience, delivering only formulaic storylines that were explored more thoroughly and satisfyingly on Sex in the City, and ultimately a message that a woman cannot stay single for too long. A sad message, to be sure.