Director

Cast

Daniel Radcliffe

,

Juno Temple

,

Max Minghella

,

James Remar

,

Heather Graham

,

David Morse

,

Joe Anderson

,

Kathleen Quinlan

Rated

R

Runtime

120 min.

Release Date

10/31/2014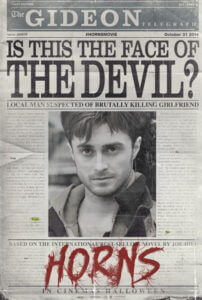 Horns, based on the book by Joe Hill (son of Stephen King), taps into the young adult supernatural romance trend that made Stephenie Meyer's Twilight series so popular. However, it's a darker and bloodier treatment courtesy of director Alexandre Aja (The Hills Have Eyes and Piranha 3D remakes), who adopts the story's black humor and lovelorn tone into a hard-R production. Daniel Radcliffe takes center stage as a scruffy hipster wrongly accused of killing his girlfriend. When his character renounces God, he develops a pair of horns that endow him with magical powers, allowing him to investigate the murder. And despite some minor similarities to J.K. Rowling's franchise, including the protagonist's ability to speak to snakes, Radcliffe effectively sheds his Harry Potter persona.
"Are you horny?" asks Merrin (Juno Temple) in the opening scene, a flashback to an idyllic time between her and her boyfriend Ig Perrish (Radcliffe), who have been together since childhood. It's an artificial, pun-filled moment since Ig wakes up a few days later with nubby horns growing out of his forehead. In his small, Pacific Northwestern town, he's been labeled Merrin's murderer; though no evidence exists to convict him. His public defender and friend Lee (Max Minghella) doesn't have much of a case either, and horns suddenly sprouting out of Ig's head doesn't really scream innocence. Fortunately, his newly grown horns come with an unexpected perk. When he tries to have them removed, he notices that people around him behave in peculiar ways—beyond paying no attention to his horns, they confess their deepest, darkest thoughts and act out their base impulses, seemingly unconcerned with sin.
While trailed by a gaggle of reporters, Ig uses his newfound ability to seek out the truth about Merrin's death and clear his name, but his powers also help him learn things he shouldn't—for instance, how his parents (Kathleen Quinlan, James Remar) think he's the killer. And as Ig gets closer to answers in this murder mystery, we see flashbacks of his relationship with Merrin remembered through dreamy soft lighting, and tense moments recalled from the night of their breakup and her death. Through it all, we ask ourselves how, why, and from whom Ig received these horns. An early scene finds him drunk and urinating on the candlelight vigil at the place where Merrin's body was found; he smashes a cheap statuette of the Madonna, and one presumes he's now cursed by God. Or perhaps he's been empowered by Satan—after all, before long, he's carrying a pitchfork and talking to serpents. But what kind of curse actually helps the victim? And since when did Satan care about avenging the loss of true love?
With plenty of Biblical allusions in Keith Bunin's script and religious iconography littered throughout, the film's supernatural rulebook is inconsistent but undoubtedly godly. At first, Aja has fun unleashing Ig's powers in a number of devilish sequences where, for example, he prompts the reporters following him to battle each other for an exclusive interview. These scenes are morbid in their black comedy and the best part of Horns. By the finale, when Radcliffe morphs into an angel and then a fiery lava-bleeding demon within a few seconds of each other, we have no idea what's going on with his powers or why. At least the special effects are believably realized and shot in crisp lighting by cinematographer Frederick Elmes (Blue Velvet).
Being a film by a director versed in extreme violence, from head-bashing mutants to penis-eating fish, Horns has its fair share of gore too. Aja's blood-soaked finale feels over-the-top next to the slow crawl to get there, with shot-out legs and horrific face-exploding gunshots. It's a drastic shift that jolts the viewer, but it's also a sloppily assembled sequence that leaves us scratching our head over the film's tonal irregularity and plot holes. Radcliffe gives a solid performance under prosthetic horns, engaging in a few scenes of physical humor when he tries to remove them using desperate means. But once it becomes apparent who the culprit is (and you should figure it out early on), the deficient murder mystery underscores the clumsily explained supernatural elements, which are both in service of the central romance. Fans of this kind of thing (think Warm Bodies) may be able to forgive its confused mythology, but horror and supernatural aficionados should seek a bloody fairytale elsewhere.