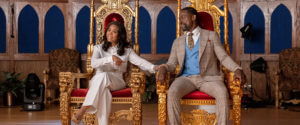 Honk for Jesus. Save Your Soul.
3 Stars
Director

Cast

Rated

R

Runtime

101 min.

Release Date

09/02/2022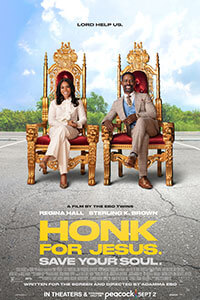 What begins as a broad indictment of religious hucksters reveals itself as a portrait of broken people in Honk for Jesus. Save Your Soul., a satire and part mockumentary starring Regina Hall and Sterling K. Brown. Adapted from their 2018 short of the same name, the film is the feature debut of the identical twin sisters Adamme and Adanne Ebo, the former serving as writer and director and the latter as producer. The film takes place after a sex scandal temporarily causes a Southern Baptist megachurch to close its doors. Pastor Lee-Curtis Childs (Brown) and his wife Trinitie (Hall), dubbed the "First Lady" of the church, arrange for a documentary crew to "chronicle the ultimate comeback" on Easter, just a few weeks away. What unfolds is a comic portrait that gradually causes the audience's smile to drop in reflection of the greed and exploitation on display at Wander to Greater Pastures—a congregation whose operators don't quite get into the fraud and conspiracy of Jim and Tammy Faye Bakker. But they aren't exactly saints, either.  
The comedy resembles one of Christopher Guest's mockumentaries (Waiting for Guffman, Best in Show), except more grounded. At first, there's an unmistakable and often hilarious irony when Lee-Curtis and Trinitie sit down for interviews in golden thrones and brag about their "Christian work." Their go-to adjectives are "divine" and "sanctified," as in their "sanctified success" or "divine additions" to their megachurch, including a dance studio and praise-miming course (which plays a bigger role later). Greater Pastures was once 26,000 members strong, affording the Childs all manner of luxuries: sports cars, a gorgeous pool, and a mansion that devotes more square footage to closet space than most of us have in our entire homes—ranging from Lee-Curtis' Prada couture and Trinitie's collection of hats that cost upwards of $2,000 apiece. "God don't like ugly," Trinitie explains. But a scandal involving Lee-Curtis and five legally adult teenage boys from the congregation has since soured their reputation in the community, even if they don't seem to be suffering financially. 
For much of the film, the cameras follow Lee-Curtis and Trinitie, who hope for a puff piece to promote their megachurch's "resurrection" reopening. How they expect to release the eventual doc in time to support their cause, and why they didn't hire filmmakers over whom they would have more control, remains unclear. Off-screen, the documentarians insist on their fly-on-the-wall presence, even though the Childs often address the crew, saying, "We can cut that, right?" or "Let's shut the cameras off now." We also see archival videos from past sermons. Take one where Lee-Curtis declares his disdain for the "homosexual agenda." However, his own sexuality remains deeply suppressed, evidenced by his aversion to vaginal sex with Trinitie and his continued pursuit of young men, despite the Childs paying a considerable but undisclosed amount to keep Lee-Curtis' victims quiet and out of court. The film doesn't pretend that Lee-Curtis and Trinitie have done a convincing job of masking their greed and predatory nature. Instead, Ebo reveals how the methods of sexual predators and spiritual predators align in Lee-Curtis, and how Trinitie's mental gymnastics around his behavior enable her husband.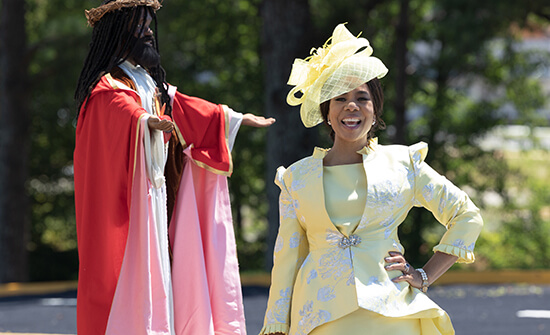 Structurally, Honk for Jesus jumps around from one perspective to another. The viewer keeps track of the many formal transitions between documentary footage and dramatic portrayal because Ebo and cinematographer Alan Gwizdowski distinguish them—the non-diegetic camerawork in a 2.35:1 aspect ratio and faux-doc scenes in 1.85:1, alternating between polished and handheld cameras. Still, there's not always a clear narrative correlation behind the switch, especially in the final third. But the couple remains aware of the doc crew, and in those non-diegetic camera scenes, we witness private moments shared with the audience alone. Take when the Childs visit the competition—an up-and-coming megachurch, Heaven's House, run by the Sumpters (Nicole Beharie, Conphidance). They're opening a new location on Easter, and the Childs ask them to shift their date as a courtesy. The Sumpters, cutthroat businesspeople who posture themselves as down-to-earth spiritualists, know better than to back down from their date and reveal the Childs' false front in a tense scene. 
The director also cuts into the need for showmanship in religious institutions that rely on selling spirituality to the masses as entertainment. Lee-Curtis' refrain—"It's showtime," complete with jazz hands inspired by Roy Schieder's tired gesture in All That Jazz (1979)—underscores the superficiality of what they do. A pitch-perfect moment comes when Lee-Curtis incites a teen girl, Aria (Selah Kimbro Jones), to speak in tongues. Afterward, Aria admits, "I love good theater." Still, in the last hours before their grand reopening, the Childs rely on a veritable Black Buddy Christ statue and a roadside honking campaign to raise awareness—an uncharacteristically cheap gimmick for multimillionaires who should be able to afford better promotion. That aside, Hall and Brown's awareness of and glances at the doc's camera become the film's persistent commentary on the mediated nature of megachurch-brand faith. 
Ebo goes even deeper into the characters through Hall, whose Trinitie suppresses the desire to speak up against Lee-Curtis' troublesome behaviors initially, such as when he reveals his streak of dogmatisms ("What good are disciples if they are undisciplined?") or insults her ostentatious hats. Gradually, she strengthens her resolve, and their mutual microaggressions and disagreements—for instance, over whether it's pronounced "ah-men" or "ay-men"—become battles. Hall is outstanding in the blowout scene, where she appears painted in praise-mime makeup as a symbol of her silence up to this point. Unfortunately, the film never gives Brown's character the same chance to shed his façade; his shame and perceived sin prevent him from escaping the repressed identity he crafted for himself. 
Daniel Kaluuya's 59% Productions bowed Honk for Jesus. Save Your Soul. at the Sundance Film Festival this year, where Jordan Peele's Monkeypaw Productions picked it up for distribution alongside Focus Features and Peacock. The film's talent behind the camera remains impressive, and it's likely to earn plenty of attention—not only for Brown and Hall's committed performances but for the critique of exploitative megachurches and the people who run them. For those versed in last year's The Eyes of Tammy Faye or HBO's The Righteous Gemstones, the film is familiar territory, albeit set apart by its dramatic scenes involving Trinitie's arc. And those who keep up with megachurch scandals (over fifty of them in the last twenty years) will recognize that the film might have been funnier had the Ebos made their satire more exaggerated. However, the film proves to be less a caricature than an unflattering reflection of the real thing.