Director

Cast

Rated

R

Runtime

93 min.

Release Date

11/08/2019
Shia LaBeouf is central to Honey Boy as both performer and screenwriter. He draws from his experiences as a young chatterbox actor whose coach and mentor was an abusive alcoholic he called "Dad." In the film, LaBeouf plays his own father in a performance of restless energy, the sort that has defined the actor as an urgently watchable screen presence despite his public instability. After his breakout on the Disney Channel's Even Stevens, he made the difficult transition into adult roles. He then transitioned again from commercial fare such as Michael Bay's Transformers series to arthouse performances in Lars von Trier's Nymphomaniac (2013) and Andrea Arnold's American Honey (2016), earning himself a reputation for raw emotions and magnetism. But his talent came at a cost, from a mental toll to some very public displays of bad behavior—drunkenness, arrests for disorderly conduct, and use of racial epithets at police officers. He eventually channeled his energy into performance art, which he conceived alongside Nastja Säde Rönkkö and Luke Turner, further signaling the actor's need to work through his emotional strain using his talent. By the final frames of Honey Boy, it becomes achingly apparent that the film is at once a work of auto-fiction and confessional. 
Sitting down to Honey Boy, it's not immediately apparent that LaBeouf has invited his audience into a private and personal work of drama therapy, a practice that allows participants to confront emotional and psychological hangups by performing in front of an audience. The technique encourages people to use their creativity as a distancing filter, so rather than addressing issues directly as, say, psychotherapy might, the process of performance achieves the desired therapeutic catharsis. But LaBeouf and director Alma Har'el, who makes her first fictional feature here after some documentary work, enters the audience into the space of thinly-veiled dramatizations of real-life events. The protagonist is Otis Lort (Lucas Hedges), an actor who, in 2005, lands himself in a rehab center after a frenzied post-shoot bender. He's a confessed "egomaniac with an inferiority complex," but his therapist (Laura San Giacomo) insists that Otis look to his past for answers. She diagnoses him with PTSD—stemming from his childhood back in 1995 when the young Otis (Noah Jupe) rose to stardom with the help of his father, James (LaBeouf). As the similarities between LaBeouf's life and the film begin to add up, one could not be blamed for thinking of Pedro Almodóvar's Pain and Glory, and how it also works through reality by way of art.
In the flashback scenes, LaBeouf plays his father under a clownish costume—thinning hair, sideburns, and a southern accent. James is a Vietnam veteran, former rodeo clown, and recovering addict. The 12-year-old Otis, wise beyond his years, has hired his father as a chauffeur, chaperone, and acting coach. "You wouldn't be here if I didn't pay you," the boy tells James, which is true on multiple counts—besides his temper and substance abuse, Otis' father is both an absent father and convicted sex offender. Living together in a cheap motel, Otis performs on a soundstage by day and trains with his father, performing rigorous exercises, at night. They read lines, with James offering his good instincts to improve on his son's performance; they juggle balled-up socks with one another until Otis drops one, the punishment for which is ten pushups; they even share cigarettes. In the morning, Otis prepares his dad's coffee and sets it on the bedside table as he expects. It's a troubling relationship to watch, as James' cruel streak creates trauma before our eyes—such as when he belittles his preteen son for having a small penis and weak-sounding urine stream, giving the boy a complex that carries into adulthood. Still, Otis is a child who wants little more than to hold his father's hand and feel wanted, a notion that proves no less affecting for how sentimental it is.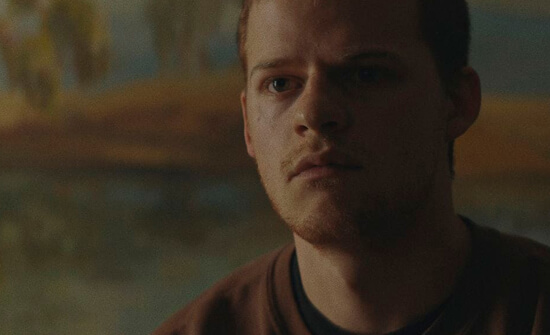 Their codependency is disturbing, albeit familiar for children from troubled homes. James manipulates his son through verbal and physical abuse, yet his instruction, and even the pain he causes Otis, may be the reason that Otis has a future in acting. Meanwhile, Otis' mother, altogether absent from the screen (but voiced by Natasha Lyonne), has hired a Big Brother named Tom (Clifton Collins Jr.) to provide the boy with a positive role model—which is perceived as an affront to James' ability to parent. Otis is caught in the middle, a notion captured in an aching scene where his parents refuse to speak to each other over the phone. The boy serves as an intermediary, acting out James' shouting and his mother's responses in full performance mode. It's a telltale sign that the older Otis will need to act out as his parents to reconcile the lingering damage of such exchanges. Elsewhere, the boy, captured by an incredibly nuanced Jupe, has brief encounters with a young sex worker (FKA Twigs) from the neighborhood, and the two share a few beautiful and complex moments, offering his only reprieve from his father's dominating presence. Even so, we cannot help but feel for James when, in tears, he asks his son to imagine how it feels for a grown man to be so dependent on his son. 
LaBeouf's script offers no dramatic closure to the relationship between Otis and James, nor does it explain what happened to James or why he's no longer present in the older Otis' life. Instead, the reconciliation occurs in Otis' mind in a series of dream sequences. The dreams contain obvious imagery, such as the final scenes of Otis following a chicken—a symbol for James, who once used a chicken in his clown act. With that, Honey Boy ends on a familiar note, where the older Otis resolves to make a film about his father—the very film LaBeouf made, and we are watching. It's a note that, regardless of similar uses in other films of this ilk, underscores the real-life parallels and enriches the material. Har'el, along with her two credited editors (Dominic LaPerriere, Monica Salazar), has structured Honey Boy with several sharp cuts between the two periods in time, whereas the dreams flow out of conscious scenes and reveal themselves gradually. Visually, cinematographer Natasha Braier does not differentiate the dreams from the other scenes, which have muted brown colors and a handheld camera urgency to them. The more expressive scenes take place between Jupe and FKA Twigs at a chimerical poolside, such as their tender pantomime of a baseball game. 
Har'el, who worked with LaBeouf on a few of her earlier short films, weaves together the past and present into a complete character study that works on multiple levels. As the older Otis, Hedges captures LaBeouf's uneasy and overstrung quality, evidenced most recently in this year's The Peanut Butter Falcon. Of course, we can also see how well-observed Hedges' performance is by watching the flashbacks of LaBeouf as James, another of the film's terrific performances—the actors have the same internal pacing and downward stare, like a caged tiger. At the same time, Jupe's version of Otis informs both Hedges' performance and the real-life LaBeouf, creating an entrenched meta conceit for the film that generates a profound sense of empathy in the viewer. Some of the symbolism and dramatic situations may seem pointed, but they're no less impactful. There's a brilliant scene when a therapist, Alec (Martin Starr), suggests that Otis should scream in the woods to blow off steam. When Otis returns and thanks him for the advice, Alec questions if he's being sincere or just acting. "Both," Otis replies. To be sure, there's an element of affected performance and genuine emotion here, which is how drama therapy works. The methods may seem trite at times, but the film delivers the intended outcome nonetheless. Let's hope that's true for LaBeouf as well.