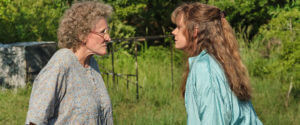 Hillbilly Elegy
1.5 Stars
Director

Cast

Rated

R

Runtime

117 min.

Release Date

11/24/2020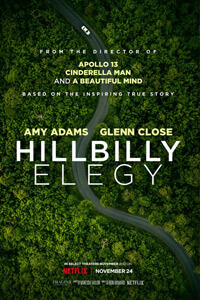 "I never got to tell people how much she meant to me," says J.D. Vance in Hillbilly Elegy. Played by Gabriel Brasso as an adult, J.D. is talking about his no-nonsense Mamaw (Glenn Close), the backwoods grandmother who taught him the value of family loyalty, hard work, and personal responsibility. As it turns out, J.D. did get to tell people all about his Mamaw in his best-selling 2016 memoir, yet this sort of grandiose line puts a fine point on the film's sentimentality. Most of director Ron Howard's Netflix original plays out this way: The dialogue and omnipresent voiceover telegraph its themes; the performances showboat for Oscar consideration; and the adaptation of a somewhat controversial book becomes an inoffensive crowd-pleaser, absent of any psychological complexity. It's all laid out in a fashion that leaves few questions and even fewer memorable moments. Hillbilly Elegy is the sort of film that's rated R (for swearing and drug use) but feels like it could be rated PG because of how inoffensive and unchallenging it remains throughout. 
Vance's book arrived in the same year as Donald Trump's election to office, and for many, it signaled a clear view that the poor and downtrodden lacked drive and questioned whether any government support would be worthwhile. But we can't all be millionaire venture capitalists, as Vance would become after graduating from Yale Law School. However, the film version, adapted by Vanessa Taylor (The Shape of Water), eschews any such political or ideological subtext to service an accessible, almost feel-good drama. Though, most of Hillbilly Elegy proves deeply unpleasant. The story revolves around the elder J.D. remembering his teenage experiences (played in flashbacks by Owen Asztalos), dealing with his abusive, drug-addicted, irresponsible mother, Bev (Amy Adams), who blames the world for her problems and refuses to apologize for her behavior—even as she abuses her son, gets high at work, and generally puts herself at risk. "My family may not be perfect," says J.D. in another bit of schmaltzy narration, "but they made me who I am."

The film interweaves two timelines. In the 2010s, the college-age J.D. tries to put his past behind him and feel worthy of Yale bluebloods, keeping his hillbilly past a secret from his future wife (Frieda Pinto, underutilized). All the while, he remembers his adolescent years in the late 1990s, in Middletown, Ohio, and among the "hill people" of Appalachia. Recalling his past with glossy sheen, J.D., whose family harkens from Kentucky, learns The Code from his foul-mouthed Mamaw. "Family is everything," she tells him (Fast and Furious fans will approve). It's a curious lesson given what happens in the two-hour runtime. After receiving a violent beating for rightly calling out his mom for nearly killing him, J.D. watches Bev spiral into unemployment, poverty, and drug addiction, using every excuse to justify her behavior as a martyr-mother ("I never had a life where I wasn't thinking about the kids," she whines). Not until J.D. begins to rely more on Mamaw for guidance does he avoid becoming a juvenile delinquent and reflection of his mother. In the end, he learns to leave Bev behind and focus on himself (apparently, The Code is more of a loose guideline than a strict rule). However, his journey from a struggling teen to a Yale graduate is never explained. 
If the oversimplified dramatics dull most of our investment in the characters, the mawkish voiceover finishes the job. Fortunately, most of the acting in Hillbilly Elegy is quite good. Both Brasso and Asztalos do a fine job with the unfortunate task of trying to make J.D. believable, though he never manages to have more dimension than a wholesome teddy bear (somehow, we're meant to believe he makes it to Yale without knowing there's more than one kind of white wine). Adams dials her performance to eleven, complete with some weight gain, bellowing insults, and violent outbursts at her character's children. It's an impassioned performance of a miserable, irredeemable character. Instead of feeling empathy for Bev, she becomes a monster on par with Mo'Nique's role in Precious (2009). Close, meanwhile, renders Mamaw with convincing grit—despite her appearance in plastic rimmed spectacles and oversized, pastel-colored cat t-shirts. And while awards commentators have written much about Adams and Close finally getting their respective Oscars, a film like Hillbilly Elegy raises questions such as: What's more important, getting an award for a career of good work or a performance that deserves to be awarded?
Typical for Howard, the director takes potentially sharp material and softens the edges. The divisive book now resembles an after-school special, complete with an embarrassingly corny scene where a friend attempts to peer-pressure J.D. into smoking pot. The camerawork by Maryse Alberti appears evenly lit and matter-of-factly presented, without a single visual flourish worth remembering. The score credited to Hans Zimmer and David Fleming overemphasizes, if not entirely fabricates, every emotion the audience should feel. Howard avoids nuance at every turn, including an emotional climax where Mamaw realizes she must raise J.D. herself, but only after a hammer-over-the-head memory montage that plays like the film's highlight reel. Hillbilly Elegy even manages to mix its messages. J.D. learns there's no saving people that don't want to be saved, a betrayal of The Code. And yet, the film cannot resist concting a heartwarming moment between mother and son. "Don't give up, Mom," says J.D., before he gives up on his mom. Too riskless to have a perspective and too watered-down to leave an impression, Hillbilly Elegy evaporates from the mind almost as quickly as it entered.