Director

Cast

Taraji P. Henson

,

Octavia Spencer

,

Janelle Monáe

,

Kevin Costner

,

Kirsten Dunst

,

Jim Parsons

,

Mahershala Ali

Rated

PG

Runtime

127 min.

Release Date

12/25/2016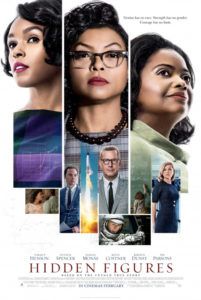 In 1962, NASA maintained a department of male engineers and mathematicians to crunch the numbers required for space travel. Their female counterparts checked their calculations, and within that subsection, an African-American group of so-called "colored computers" also worked for NASA. Hidden Figures tells the "based on true events" story of three Black women who worked for the U.S. space program, and how they made a difference for their race and gender. The film is a feel-good account of a civil rights and feminist victory, but it's not so much a history lesson as a crowd-pleaser. Told in simplistic broad strokes designed for mass consumption in obvious ways, this is affecting and effortless entertainment with an important and timely message at its center—and what's more, it features three talented performers at the center: Taraji P. Henson, Octavia Spencer, and Janelle Monáe.
20th Century Fox had purchased the rights to author Margot Lee Shetterly's nonfiction book well before its 2016 publication. Allison Schroeder and Theodor Melfi adapted the material into an accessible screenplay, and Melfi (St. Vincent) directed the picture with a populist mindset. To be sure, it's impossible not to be moved by or cheer for the victory of Henson's character, Katherine Johnson (who just turned 98 in real-life and had a NASA research facility named after her). But in the still-segregated Virginia where "colored" drinking fountains and sections of the library were still in practice, Katherine struggled to be recognized for her brain, as opposed to her skirt or the color of her skin. Alongside her friends, Dorothy Vaughan (Spencer), an aspiring supervisor of the computers of color, and Mary Jackson (Monáe), an aspiring engineer, Katherine made history.
When Katherine transfers to an all-male task force assigned to the computations for John Glenn's Friendship 7 orbit around Earth, she's noticed by the group's director, Al Harrison (Kevin Costner), who respects Katherine for her imagination and uncommon skill with numbers. Not so favorable is her direct supervisor, Paul Stafford (Jim Parsons), a petty sort of character meant to evoke audience jeers. As the only African-American and one of only two women working under Harrison, Katherine's race becomes an obvious issue when a small, empty coffee pot labeled "colored" appears in their think tank. Fortunately, Harrison refuses to tolerate any behavior that causes the U.S. to fall behind the Soviets, and if that means desegregating NASA so his best computer doesn't have to walk to another building to use the "colored ladies room," then so be it.
Meanwhile, Dorothy butts heads with her scornful boss (Kirsten Dunst), who refuses to help when Dorothy voices interest in becoming a supervisor. "Y'all should be thankful you have jobs at all," says Dunst's snooty roadblock. Instead, Dorothy takes it upon herself to learn Fortran, the computer language used by the new IBM supercomputers that will replace the human computationalists. She soon plays an essential role in getting NASA's computer room up-and-running. Elsewhere, Mary goes to court for the right to attend an all-white school to meet the requirements of becoming a NASA engineer. Even more on the periphery, Katherine, a widow, finds new love in a smitten suitor (Mahershala Ali). However, many of the domestic scenes feel obligatory and unnecessary to the film's main story about NASA.
There isn't much about Hidden Figures that isn't predictable. Everything works out happily ever after, of course, and the three women overcome adversity to become decorated heroes in NASA's legacy. And while most viewers will anticipate every beat of the story, knowing what happens doesn't make it any less enjoyable. The charming performances remain so because of the fine actors behind them. Henson adopts a bashful, smart, and in one scene ferocious persona. Spencer plays the same sort of quietly subversive role that she won an Oscar for in The Help. But it's Janelle Monáe's presence of outspoken attitude and sexiness that steals the show, making her two costars seem rather dull by comparison. Costner and Dunst also do solid work, while Everybody Wants Some!! actor Glen Powell stars as John Glenn in another cocky turn.
Given its PG rating, the production looks to the past with a wry sense of humor and airiness, avoiding some of the uglier trials these women of color must have faced. Based on true events or not, Hidden Figures doesn't commit itself to its period, nor does it commit to the facts—the screenplay uses a lot of composite characters and artificially dramatized events. It's more about connecting with the audience and drawing out historical parallels, even if that means using modern, period-inappropriate songs by co-producer Pharrell Williams on the soundtrack. Some of the dialogue, too, seems so on-the-nose that it distracts. Nonetheless, it's a capably made film, the sort that crowded theaters will greet with resounding applause when it's over. In an era when discussions about race are not only culturally germane but imperative, Hidden Figures is the right crowd-pleaser for the right time.