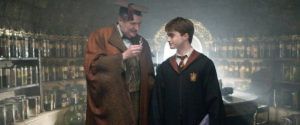 Harry Potter and the Half-Blood Prince
3 Stars
Director

Cast

Daniel Radcliffe

,

Rupert Grint

,

Emma Watson

,

Jim Broadbent

,

Helena Bonham Carter

,

Robbie Coltrane

,

Warwick Davis

,

Michael Gambon

,

Alan Rickman

,

Maggie Smith

,

Timothy Spall

,

David Thewlis

Rated

PG-13

Runtime

153 min.

Release Date

07/15/2009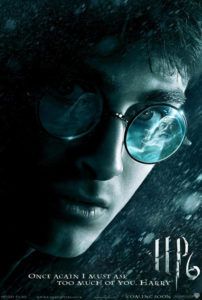 Harry Potter and the Half-Blood Prince presents the first film in this ongoing series to earn its recommendation primarily based on the drama therein—not the top-notch special effects, magic-engrained setting, or marvelous set pieces conceived to recreate author J.K. Rowling's fantastical world bisected between muggles and wizards. Though perhaps not the best directed of the six films thus far, it's certainly the most affecting and proves beyond measure the emotional toll these characters have had on their audience over the last eight years.
Harry Potter (Daniel Radcliffe) returns to Hogwarts after in his previous adventure proving without a doubt that the evil Voldemort has indeed returned, despite the claims of naysayers. The wise Professor Dumbledore (Michael Gambon) knows The Dark Lord's followers are increasing, as important figures have disappeared throughout the magic world. Danger and the impending emergence of evil wait around every corner. Only Hogwarts can offer protection, and after all, classes must resume. But a feeling of dread perpetuates throughout the school, represented by the ever-present overcast skies, suspicions among and between students, and the film's muted color scheme.
Dumbledore invites back former potions professor Horace Slughorn (the windy Jim Broadbent) to return to his post, but does so with an ulterior motive. Inside Slughorn's head resides a memory detailing crucial information about He-Who-Must-Not-Be-Named. Since Slughorn has an affinity for taking the best and brightest under his wing, under instruction from Dumbledore Harry plays teacher's pet to get the necessary information. Meanwhile, Draco Malfoy (Tom Felton) has become one of Voldemort's followers, called a Death Eater, and under the tutelage of crooked Professor Severus Snape (Alan Rickman), has some equally crooked plans for the school's headmaster.
Also causing mayhem are teenage hormones. The young wizards and witches officially leave their childhoods behind and dive into adolescence. Bright witch Hermione (Emily Watson) realizes she loves the clueless Ron (Rupert Grint), while Ron finds himself "snogging" with a tart named Lavender Brown (Jessie Cave). Harry notices that Ron's sister Ginny (Bonnie Wright) has blossomed into a beautiful young woman, but she's too busy locking lips with other boys to notice him back. Despite these teen love story turns of the heart, they're involving and play out in a most rewarding manner, inducing plenty of awkward laughs and heartwarming sentiments.
These films have always boasted the very best of Britain's long line of theater-experienced players, whose names include Gary Oldman, Kenneth Branagh, Maggie Smith, Brendan Gleeson, David Thewlis, Emma Thompson, Imelda Stauntonm, and Ralph Fiennes, among those already mentioned in this review. But in The Half-Blood Prince we see the sort of multilayered performances that earn Oscars, namely those by Gambon and Broadbent, particularly the latter. Their touching roles show pain and guilt and worry behind their respective weathered brows, and so everything going on around them harbors those same pensive anxieties. Though, the rest of the cast deserves their praises as well, beginning with Radcliffe who continues to mature both physically and as a performer. As the character grows so does the actor playing him. The audience has watched now for years as this young tike developed into a fine actor whose promise, and ability to keep up with his considerable senior costars, is evident.
Writer Steve Kloves, whose talent comprised the screenplays for films 1-4, returns to the series after a brief break off The Order of the Phoenix, and brings back his depth and understanding of these characters. His lack of presence was apparent and missed on the last film, so luckily he's written the next two films encompassing The Deathly Hallows. With any luck, we can expect the type of seriousness displayed here to continue on into the two-part finale (coming in 2010 and 2011). Likewise, filmmaker David Yates will be back in his director's chair, finishing out Rowling's stories on film.
Though Yates has improved some after his rather amateurish and disappointing work on The Order of the Phoenix, his visual approach here is more about color filters and saturations than creating a consistent directorial voice. What might be misinterpreted as personal style feels more like an appropriate-if-inconsistent construction of mood. All those gloomy colors and soft lighting effects do create atmosphere however—thick with the tangible essence of Rowling's world. But they're rendered mostly through computer effects. Characters disappear into poofs of smoke and memories have an artificial haze, whereas Alfonso Cuarón managed a sense of bewilderment in The Prisoner of Azkaban, certainly the best effort in this franchise, through fluid camerawork and pace to match.
What Yates does wonderfully is allow his actors to capture us with the drama of the story in its most basic form. Magic tricks and flashy wand-waving recede into the backdrop. In fact, very few effects scenes or elaborate battles stand out upon reflection. We care less about the enchantments and more about the charm of the characters, their romances, and their discovery of the mysteries and horrors waiting for them. The actors give performances of depth and weight, and in turn they disprove the (superstitious) limitations of a fantasy film and enter the picture into full-fledged melodrama in the best way possible. Such a strange way for a billon-dollar blockbuster franchise film to behave.