Director

Cast

Adam Sandler

,

Chris Rock

,

David Spade

,

Kevin James

,

Rob Schneider

,

Maria Bello

,

Selma Hayek

,

Tim Meadows

,

Colin Quinn

,

Maya Rudolph

Rated

PG-13

Runtime

102 min.

Release Date

06/05/2010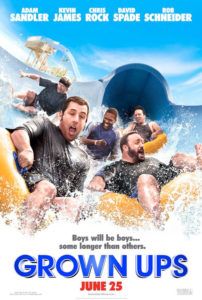 Lazy and inept as comedies get, Grown Ups features a plethora of talented stars doing very little to entertain us. This languid approach to your standard Adam Sandler-produced fare features a reunion of sorts between mid-1990s Saturday Night Live alumni, including Sandler, Chris Rock, David Spade, Rob Schneider, and Kevin James filling what would have surely been the late Chris Farley's role. The movie has them going to the water park, playing basketball, and just hanging out and remembering old times. They all look like they're having a good time. Too bad the audience can't say the same.
For the makers of this movie, it's enough that these stars appear onscreen together all at once. Something like a story isn't as important as the names on the movie poster. But it's not enough for the audience, who has to endure the lackadaisical performances and tedious plotting. With this cast, each actor having helped define modern comedy in their various years on SNL and subsequent feature films, audiences expect something more than run-of-the-mill, which is what we get. This will go down on each of their credits as one of their worst movies, except for Schneider, whose filmography reads like a catalog of discarded refuse.
Much akin to another dud-of-a-comedy, Couple's Retreat, the story finds several groups of friends joined at a vacation spot, working through their troubles together. Five school buddies whose youth basketball coach has died meet at a lakeside resort to honor their mentor. Each of them brings along their families and none-too-serious emotional baggage: Über-rich Hollywood agent Lenny (Sandler) carts along his snooty wife (Salma Hayek) and spoiled children to teach them livin' large doesn't hold a candle to roughin' it in the backwoods. Effeminate house-husband Kurt (Rock) teaches his pregnant wife (Maya Rudolph) and kids to respect him for his cooking and cleaning. Eric (James) wants to stop spoiling his children, first by getting his wife (Maria Bello) to stop breastfeeding their four-year-old. New Age guru Rob (Schneider) seems happy rubbing maze therapies on his elderly wife (Joyce Van Patten), whose old age is the movie's ongoing and increasingly unfunny joke. And Marcus (Spade) remains a lonely drunken loser.
So the setup places these actors, some of them (such as Bello and Hayek) quite talented, into generic situations, purveying lewd humor for the lowest snigger imaginable. At one point, Bello's character squirts breast milk into the mouth of Rudolph's character. In another scene, all the boys get caught peeing in a public pool. Another scene features Ebony Jo-Ann, who plays Rock's mother, falling face-first into a cake. Cue an echoing cough amid the silent audience. The only thing more grating about the movie than the humor is how it ends. Not only is there a scene where each of the couples takes turns admitting their problems to one another, but there's a showdown basketball game between the main friends and the team that lost so many years ago (which includes third-tier SNL castmembers like Colin Quinn and Tim Meadows).
The gags never go beyond pratfalls and potty humor. What's more, all your average Sandler movie maxims are apparent here, from the obligatory Steve Buscemi cameo to plenty of sex and fart jokes. The bulk of the intended-but-nonexistent laughs come from Sandler and Co. recounting memories from their zany childhoods, remembering how crazy this or that experience used to be, and then laughing at the memories hysterically. Trouble is, when the stories are barely worthy of a chuckle, and we haven't experienced them, it becomes off-putting. It's like listening to someone tell a story that they think is hilarious but it isn't; or like a comedian laughing at his own comedy. The audience always feels on the outside, as if we're watching these pals from a distance, wishing we were in on the joke. Sadly, we never are.
Written by Sandler and Fred Wolf, it's obvious the actors stuck to the script, delivering their lines as if someone was holding the cue cards for them just off-screen. One wonders if the cast was allowed to improvise, but based on the generic quality of the acting it seems unlikely. This is a shame because one can't help but imagine how much better Grown Ups would've been if these comic minds had all joined together and developed their ideas collectively—these are all potentially hilarious performers. And perhaps I'm wrong. Maybe they did improvise. But if that's true then this was some of the lamest ad-libbing in recent memory. There's not one good belly laugh in the whole movie, and considering the cast, that's a terrible shame.