Director

Cast

David Oyelowo

,

Charlize Theron

,

Joel Edgerton

,

Amanda Seyfried

,

Thandie Newton

,

Sharlto Copley

,

Harry Treadaway

,

Yul Vazquez

,

Carlos Corona

,

Hernán Mendoza

Rated

R

Runtime

110 min.

Release Date

03/09/2018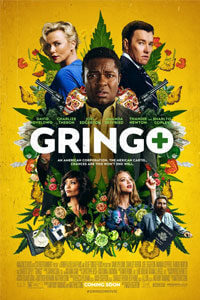 After the release of Quentin Tarantino's Pulp Fiction in 1994, Hollywood produced a number of darkly comic crime movies with ensemble casts, punchy language, and often grim violence in the style of author Elmore Leonard. Titles like Get Shorty (1995), Bottle Rocket (1996), Out of Sight and Lock, Stock and Two Smoking Barrels (both in 1998) often centered on would-be bank robbers, career criminals, and characters who orate in pop-culture references. Charlize Theron starred in a particularly forgettable one called 2 Days in the Valley from 1996, and she appears in another one called Gringo, that arrives about two decades after its prime era of relevance. In the subsequent decades, a few filmmakers such as Guy Ritchie, or brothers Martin and John Michael McDonagh have managed to keep the post-Tarantino spirit alive. Gringo's director Nash Edgerton isn't one of them, although he's demonstrated before, alongside his talented brother Joel, that he's capable of helming an expert crime story. Go watch The Square (released in the Edgertons' home country of Australia in 2008, stateside in 2010), a slick neo-noir story reminiscent of Double Indemnity or The Postman Always Rings Twice.
Here, the script by Anthony Tambakis and Matthew Stone has too many twists and turns, too many shifts in tone, too many one-note characters for Nash, or anyone else for that matter, to make them feel part of a cohesive whole. Stone has authored several films of this ilk, from 1995's dud Destiny Turns on the Radio (starring Tarantino no less) to lifeless crime-comedies Big Trouble (2002) and Intolerable Cruelty (2003). Like those, Gringo smacks of self-awareness in all the wrong ways (in the final shot, a character looks out at the audience and smiles knowingly, and fortunately stops just short of winking at us), especially given how few laughs result from the antics. The overqualified cast includes Theron, Joel Edgerton, David Oyelowo, Thandie Newton, Amanda Seyfried, and Sharlto Copley as an assortment of wrongdoers with selfish agendas. Their criminal antics in Gringo sometimes result in laughs, but not often enough, and the film's attempts to make humor out of abrupt bloody violence (realistic-looking too, given Nash's background in stuntwork) fall flat.
Oyelowo plays the hapless Harold, a Nigerian immigrant seeking the American Dream at his college friend's pharmaceutical company located in Chicago. While feigning a friendship with Harold, power-hungry founder Richard (Joel Edgerton) and co-exec Elaine (Theron) send him on regular trips to Mexico to oversee the early stages of production on their new wonder drug, Cannabax, a medical marijuana pill that promises to carve out the impending market across the U.S. after its legalization—that is, if Richard and Elaine can somehow outmaneuver both the DEA and the Mexican cartels. But the cuckolded Harold learns that Richard, his so-called friend, has been sleeping with his wife (Newton), and what's more, plans on cutting Harold out of a merger with another pharmaceutical giant. Everything about Richard in the early scenes suggests he's despicable, untrustworthy, greedy, philandering, and a downright awful human being, and yet the film's characters keep wanting to trust him. Perhaps making a Trump comparison is too obvious.
Anyway, on his latest trip to Mexico to check the operation's progress, Harold resolves to fake his own kidnapping and steal the ransom. This is just the first of many kidnappings, both faked and real, throughout Gringo. At the same time, a Beatles-obsessed local drug lord called "The Black Panther" (Carlos Corona) orders his goons to find Harold because Richard's company seeks to straighten out their organization and cancel marijuana distribution to the local cartels. There're also two brothers (Hernán Mendoza, Ricardo Esquerra) determined to kidnap Harold, falsely believing he's a high-value American. Meanwhile, Richard hires his brother (Copley), a reformed mercenary now devoted to humanitarian work, to locate and extract Harold to avoid paying any ransom. And let's not forget about the young American guitarist (Harry Treadaway) who takes his girlfriend (Seyfried) to Mexico on the pretense of a vacation, except he's really there on a mission of corporate espionage to steal a few samples of Cannabax for a competitor. (Curiously, the filmmakers miss out on an obvious joke, as the audience never sees what might've been the wacky results of someone taking Cannabax.)
Double-crosses and twists saturate the material, leaving Gringo with a modest degree of unpredictability that keeps the viewer guessing, albeit with few moments of levity or any genuine investment in the characters. Loyalties change, some characters turn out to be something more than we thought, but most turn out to be exactly what they seem to be. The single dimension of these characters, besides Harold, proves uninvolving. The film's entertainment value comes from the performances. Oyelowo provides physical humor in his character's moments of panic or exaggerated reactions to pain; Theron savors her scenes as an executive who uses sexuality to get her places; Joel Edgerton is effective, in that his character is detestable; and Copley is always engaging as one of his over-the-top crackpots. Most of Gringo is familiar and, at 110 minutes, overlong. With nothing to distinguish itself beyond its cast, the over-plotted film is also over-edited (with three editors listed on the credits) and looks drab, leaving the experience rather joyless and messy.