Director

Cast

Nicole Kidman

,

Tim Roth

,

André Penvern

,

Frank Langella

,

Paz Vega

,

Parker Posey

,

Milo Ventimiglia

,

Derek Jacobi

Rated

PG-13

Runtime

103 min.

Release Date

05/14/2014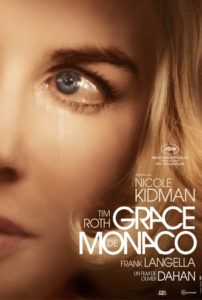 A couple of years ago, one of the most talked-about upcoming releases was Grace of Monaco, starring Oscar-winner Nicole Kidman as screen icon Grace Kelly. Kidman promoted the film on the cover of Vanity Fair in fall 2013 for an awards-season release, but the supposed release date came and went with no film to be seen. By the time it played opening night at the 2014 Cannes Film Festival the following May, its delays were already generating bad buzz. French filmmaker Olivier Dahan, whose heavy-handed direction guided Marion Cotillard to her Best Actress Oscar win for playing Edith Piaf in the biography La Vie en Rose (2007), reportedly quarreled with distributors at the Weinstein Company about his cut. According to Time magazine, Dahan called Harvey Weinstein's version "a piece of shit" and disputed its release. Another year passed until Grace of Monaco finally debuted not in theaters or even VOD, but on cable television's Lifetime network and streaming on Netflix.
Of course, this isn't the first (nor the last) film to receive a truncated or director-unapproved edit from the Weinstein Company; though, never has such a high prestige pic been relegated so low. Only occasionally do some filmmakers emerge semi-victorious. South Korean director Bong Joon-ho fought and won a dispute to get his version of Snowpiercer into theaters, albeit in limited release. Others have not been so lucky. Certainly, Dahan is among them. It's a shocking development in this case, given the people involved and the subject matter. After all, the appeal of Grace Kelly is timeless and innately cinematic. The daughter of a Philadelphia construction magnate, Grace boasted an air of sophistication and sensuality that led Alfred Hitchcock to cast her in Dial M for Murder, Rear Window, and To Catch a Thief. When she went to Cannes to promote her 1954 release The Country Girl, which earned her a Best Actress Oscar, she met and fell in love with Prince Rainier of Monaco. Hollywood's most elegant starlet retired from acting, became a princess, and thought she would live "happily ever after," according to Grace of Monaco's expositional newsreel opening.
When the film opens a few years after her marriage, Kidman's Grace hasn't yet learned her new home's language or rules of court. Dissatisfied with her marriage and unfulfilled by her new life, her eyes are perpetually glossy with tears, and she looks tired. That's when, in 1961, Hitchcock (Roger Ashton-Griffiths) shows up and asks her to return to acting for the title role in Marnie, as a frigid kleptomaniac. Considering the offer because of her marital disenchantment, she takes advice from a priest (Frank Langella) whose significance in Grace's life isn't adequately explained, and when he resolves to return to the Vatican, it devastates her. Meanwhile, her country is in crisis. French president Charles de Gaulle (Andre Penvern) has issued Rainier (Tim Roth) an ultimatum to either introduce an income tax and pay it to France or face invasion. Unsure of how to respond, Rainier considers his unfavorable options. In the meantime, unversed in the decorum of the European aristocracy, Grace becomes a Galatea for a Pygmalion court tutor (Derek Jacobi) and learns how to speak and act like a princess—all in preparation for a Red Cross ball where she calls out de Gaulle.
Filled with glamorous settings and expensive gowns, the film's production designer Dan Weil and costumer Gigi Lepage certainly deliver the goods via lush setting and Cartier jewelry, although cinematographer Eric Gautier uses muddy filters and oppressive close-ups that spoil the grandiosity of the production. Indeed, Dahan and Gautier repeat the same style shot on several occasions, where Kidman's perpetually teary eyes and nothing else fill the frame. Moments like this scream of modern French filmmaking and contain a pretentious, faux-poetic intent that never feels justified by Arash Amel's lifeless screenplay. Dahan also includes misused visual references to Kelly's body of work, such as a sequence in a hotel room where Grace and Rainier argue while fireworks burst outside the window, mirroring (yet tonally contrasting) a romantic scene between Kelly and Cary Grant in To Catch a Thief.
From start to finish, Grace of Monaco overemphasizes the idea that Grace's life was supposed to be a fairy tale, but wasn't. Through the course of the film's plotting, which involves some contrived espionage elements and needless attempts at suspense, Grace learns that if she wants a fairy tale life, she must make it for herself—it becomes "her most important role" to play princess. Sadly, the screenplay never allows us to get inside Grace's head or understand what she sees in Rainier, despite some stirring moments delivered by Kidman (including a powerful speech in the finale's gala sequence, the sole moment where viewers might find true engagement). Kidman occasionally looks the part; at other times, her collagen-injected features stand out and we witness a very modern actress trying to look classical. She's little more than serviceable in the role. But it's Dahan's showy direction that overstates every scene; he tries to compensate for an emotionally inert drama with style and instead underscores how affectless the whole thing manages to be. It's hard to imagine any edit of this footage—Dahan's or the Weinsteins'—whisking the audience away, as opposed to leaving a sense of indifference. Still, given the prestige involved, it deserved better than Lifetime.