Director

Cast

Rated

R

Runtime

91 min.

Release Date

09/16/2022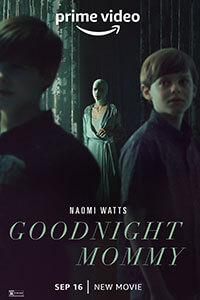 Goodnight Mommy marks the second time Naomi Watts has starred in a Hollywood remake of an Austrian arthouse thriller. The first was Funny Games from 2007, remade shot-for-shot by writer-director Michael Haneke from his 1997 film. Haneke replicated his original's mood and aesthetic flawlessly, and he justified its existence with some outstanding performances by Watts and Tim Roth. The second is based on Veronika Franz and Severin Fiala's unnerving 2014 feature. The new version comes from director Matt Sobel (Take Me to the River, 2015) and screenwriter Kyle Warren (TV's Lethal Weapon series), but they hew closely to the original narrative without adding anything new. Although the two remakes are otherwise unrelated, both feature Watts as a woman held captive in an isolated house by two young, disturbed boys. It's a strange and ultimately meaningless coincidence—except to note how Haneke masterfully carbon copies the original film to the extent that he creates a fascinating oddity, while Sobel delivers a stereotypical American remake of an arthouse hit, complete with broader performances and unsubtle dramatics. 
Even those unfamiliar with Franz and Fiala's debut—which they followed with the equally disturbing The Lodge (2019)—may not be too surprised by the twists and turns in the new Goodnight Mommy. Sobel's heavy-handed treatment and the child performances overemphasize every point, making the movie's secrets obvious. The story finds identical twins Elias and Lukas (Cameron and Nicholas Crovetti) delivered to their mother's elaborate country house, where they discover that "Mommy had a little procedure." Played by Watts, Mommy appears in a ski-mask-style head bandage and looks like Édith Scob from Eyes Without a Face (1960) or Elena Anaya in The Skin I Live In (2011). The boys think she's acting strangely, too: she's short-tempered, refuses to sing their customary bedtime song ("You are my sunshines…"), and sets some strict new house rules. Lukas suspects she may not be their mother and convinces Elias to call for help, but Mommy puts their phone in the garbage disposal. Later, when Elias declares that she's not their mother, she slaps him and forces him into a cold shower. 
Joan Crawford-level parenting aside, the remake offers a few unsettling dream sequences that illustrate the extent of Elias' fear—including one that suggests the boy has seen Under the Skin (2013) when, in a refreshingly practical effect, Watts appears as a black monster wearing a human suit. Twins Elias and Lukas Schwarz played the brothers in the original, and their uncanny presence suggested they might be capable of horrible things. Unfortunately, the Crovettis, best known for HBO's Big Little Lies, appear too wholesome to be genuinely creepy. They have an innocence to their appearance and a lightness to their faces that the Schwarz brothers combated with their hardened, unsmiling expressions. Worse, they always register as two child actors playing their scenes big for the camera instead of losing themselves in their roles like the Schwarz twins. 
Because of this, the remake hints all too broadly at the twist—which I won't disclose here—whereas the original preserved its secrets until it was ready to reveal them. Sobel and cinematographer Alexander Dynan frame and block scenes so that the viewer cannot help but notice specific details that give away what's happening. Dynan worked with director Paul Schrader to give sublime visuals to First Reformed (2017) and The Card Counter (2021), and he creates a few memorable sights here, usually involving mirrors and Mommy's eerie mask. Perhaps the most jarring scene involves Elias watching his mother perform a striptease for herself to Edwyn Collins' "A Girl Like You." Of course, Watts is wholly committed to her performance, as usual. When she knocks down the bedroom door—in shots inspired by The Shining (1980)—the tension is palpable. And later, when her character is taped to a bed and told to confess her false identity, Watts delivers a range of emotions that reminds us she doesn't have an Oscar but should. 
If it's a critical cliché to point out how superior the European aesthetic is compared to the Hollywood alternative, then so be it. Last year's Best Picture winner aside, English-language remakes rarely outperform their antecedents, delivering only a commercial for the original. Viewers disappointed or unimpressed by the new Goodnight Mommy, which debuts on Amazon Prime Video, should check out Franz and Fiala's film. Everything that is accentuated and unsubtle in Sobel's hands is understated and disquieting in the Austrian version. Sobel's approach lacks the persistent dread of its predecessor and ends up feeling like a Lifetime production, save for its macabre flourishes. The remake takes a haunting concept and demonstrates how, in lesser hands, it can feel commonplace. But fans of Watts are encouraged to give the remake a casual viewing if only to witness how she elevates a lackluster film.