Director

Cast

Rated

R

Runtime

2019-08-16

Release Date

08/14/2019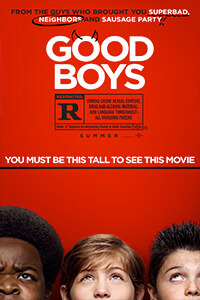 The new comedy Good Boys doesn't have much to offer in terms of narrative, nor does it deliver sophisticated jokes or wit. It's a lowdown, raunchy flick that uses the age of its 12-year-old characters as a persistent source of ironic humor. Gene Stupnitsky makes his directorial debut, having co-written the screenplay alongside Lee Eisenberg, his writing partner from the underwhelming comedies Bad Teacher and Year One. Don't hold that against them. They've come up with a hilarious concept here: a group of inexperienced, preadolescent friends talk with potty-mouths, play with sex toys, and deal drugs—though most of the time they don't grasp the full context of what they're doing.  
The story follows Max, played by Room star Jacob Tremblay, as he tries to learn how to kiss in advance of a basement "kissing party," where he hopes to smooch his grammar school crush. He's joined by his best friends: the future drama kid Thor (Brady Noon) and the cannot-tell-a-lie Lucas (Keith L. Williams). Together, the tweens call themselves the "Bean Bag Boys," which Max tells people with an ultra-cool squint, as if he were James Dean. Why do they call themselves that? They have bean bag chairs. Duh. 
Stupnitsky and Eisenberg's script carries the trio from one disaster to the next. They steal Max's father's drone to spy on his neighbor in hopes of seeing her kiss her boyfriend, but they end up losing the drone and having to carry out a drug deal to get it back (never mind why). Charting the maneuvers of the plot isn't really the point. The movie is about three preteen boys who don't yet understand that anal beads aren't "a-nahl beads" and shouldn't be worn as a necklace. It's about the boys believing with all their hearts that anyone who takes any drug is a lost cause. It's about earning street cred by taking more than one sip of beer. It's about taking a four-mile journey to the mall, which for a kid feels like a Tolkienian there-and-back-again adventure. 
Every situation takes place from the perspective of the naive 12-year-olds, and it's a joke that remains funny for the movie's 98 minutes. It also thumbs its nose at college-age dudes (you know, the sort of people who usually star in raunchy comedies like this). One scene takes place at a frat house and makes light of a privileged white male who celebrates his date rape victim dropping the charges. (As I suggested earlier, this is not a movie of good taste.) And for much of the runtime, the Bean Bag Boys face two teenage girls (Molly Gordon, Midori Francis), who pursue the boys like something out of a Terminator movie. 
By the last ten minutes or so, the movie gets sentimental but no less funny. It shows how quickly children change at that age. Some develop new interests and find different friends. Some hit puberty faster than others. For every absurd joke that involves a ball-gag or misunderstood word (my favorite line was about how the boys wanted to avoid becoming "social piranhas"), there's a hint of truth about boyhood and growing up clueless about how the world works—at least, I found it mildly relatable to my experience.  
But I'm already doing you a disservice by writing this mostly positive review. It's best to watch Good Boys with lowered expectations. It's not high art. It's not even middlebrow. Stupnitsky has set his sights low, and sometimes as viewers, we need a thoughtless laugh. Moreover, there's a certain school of criticism which argues that if a comedy has made you laugh, then it has done its job. Anything else (emotional investment, formal dynamism, good acting) is extra. Good Boys doesn't have many of those extras, but I laughed. Here's a movie that should be watched at the end of a long day, preferably in a packed movie theater or with several friends to ensure infectious laughter. Let the movie do its thing, and you'll probably get some pleasure from it.